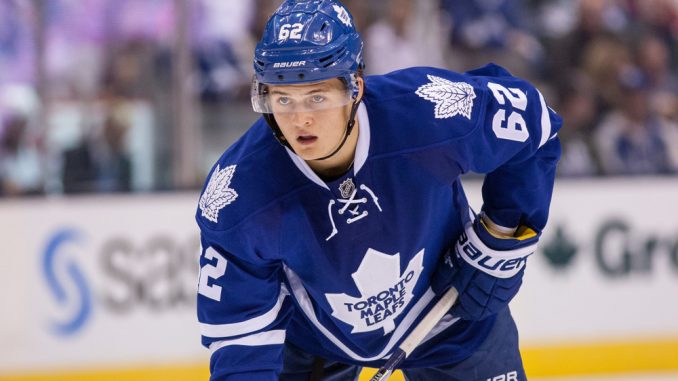 Toronto Maple Leafs beat Winnipeg Jets in OT 5-4. Here is the game summary and highlights from Tuesday, February 21, 2017 game.
| | | | | | |
| --- | --- | --- | --- | --- | --- |
| | 1 | 2 | 3 | OT | FINAL |
| WINNIPEG | 2 | 2 | 0 | 0 | 4 |
| TORONTO | 1 | 2 | 1 | 1 | 5 |
GAME SUMMARY | EVENT SUMMARY | FACEOFF SUMMARY

ON THE SCORESHEET
Leo Komarov opened the scoring at 1:02 of the first period with his ninth goal of the season before scoring his 10th goal of the season at 19:28 of the second period. Tonight's game is Komarov's third multi-point and multi-goal game of the season. He has points (2-4-6) in five consecutive games.
Nazem Kadri scored the second goal of the night for the Maple Leafs. Kadri has points (5-2-7) in five consecutive games.
William Nylander recorded the primary assist on Komarov's power play goal and later scored his 17th goal of the season on the power play at 3:30 of the third period. Nylander leads the Maple Leafs with 19 power play points (8 goals, 11 assists).
Jake Gardiner had the secondary assist on Nylander's power play goal and later added the overtime winning goal at 2:29 of overtime. Gardiner has points (1-3-4) in two consecutive games. Tonight's overtime winning goal was his second overtime winning goal of the season (Dec. 17 vs. Pittsburgh).
Josh Leivo earned assists on Komarov's first period goal and Kadri's second period goal. Leivo has had multiple assists three times in his last five games.
Nikita Zaitsev
registered his 25
th
assist of the season on Komarov's first period goal. Zaitsev leads Maple Leafs defencemen in assists.
Morgan Rielly also picked up an assist on Kadri's goal. Rielly has recorded 16 of his 23 points on home ice this season (3 goals, 13 assists).
Auston Matthews registered assists on Komarov's second period goal, Nylander's third period goal and Gardiner's overtime winning goal. The three assists give Matthews a team-leading 52 points (28 goals, 24 assists).
Frederik Andersen stopped 16 shots to earn the victory.
SHOTS FIRED
The Maple Leafs outshot the Jets by a 37-20 margin in all situations. Toronto led Winnipeg in 5-on-5 shots by a 30-15 margin.
Toronto had a 75-36 lead in shot attempts in all situations and a 58-25 lead in shot attempts at 5-on-5.
Josh Leivo, James van Riemsdyk and Nikita Zaitsev each registered four shots on goal.
Jake Gardiner, Nazem Kadri and James van Riemsdyk each registered nine shot attempts.
ON THE ROAD AGAIN
The Maple Leafs are 15-10-4 at home this season.
Toronto's all-time record 30-18-1-8 in 57 games against the Jets and 16-8-1-3 in 27 games in Toronto.
Toronto is 9-8-6 against the Western Conference this season and 4-5-3 against the Central Division.
Tonight's attendance was 19,583.
MAPLE LEAFS LEADERS
| | |
| --- | --- |
| Faceoff Wins | 14 (Bozak) |
| Faceoff Win Percentage | 67% (Bozak) |
| Hits | 6 (Polak) |
| Blocked Shots | 2 (Gardiner, Rielly) |
| Takeaways | 2 (Gardiner, Komarov) |
| TOI | 24:48 (Gardiner) |
| Power Play TOI | 4:19 (Gardiner) |
| Shorthanded TOI | 3:20 (Rielly) |
| Shifts | 32 (Komarov, Rielly) |
| 5-on-5 Shot Attempt Percentage | 85.7% (Komarov – 18 for, 3 against) |
OF NOTE…
At 19:55 of the first period in tonight's game, video review confirmed that Bryan Little's stick was above the height of the crossbar when he deflected the puck into the Toronto net. According to Rule 60.5 "An apparent goal scored by an attacking player who strikes the puck with his stick carried above the height of the crossbar of the goal frame shall not be allowed. The determining factor is where the puck makes contact with the stick." No goal Winnipeg.
The Maple Leafs were 3-for-4 on the penalty kill tonight and 2-for-5 on the power play. Toronto is 5-1-2 when scoring multiple power play goals this season and 7-9-6 when allowing a power play goal.
Toronto is 23-5-5 when scoring first.
The Maple Leafs are now 2-14-3 when trailing after a period and 3-16-1 when trailing after two periods this season
Toronto has a 10-11-6 when outshooting their opponent.
Connor Carrick left tonight's game with an upper-body injury and did not return.
Nazem Kadri won 67 percent (4 won, 2 lost) of his defensive zone faceoffs.
Nikita Soshnikov did not start a shift in the offensive zone at 5-on-5.
UPCOMING GAMES:
Thursday, Feb. 23 vs. New York Rangers, 7:30 p.m. (Sportsnet Ontario, TSN 1050)
Saturday, Feb. 25 vs. Montreal Canadiens, 7:00 p.m. (Hockey Night in Canada, TSN 1050)
Tuesday, Feb. 28 at San Jose Sharks, 10:30 p.m. (Sportsnet Ontario, FAN 590)
Thursday, March 2 at Los Angeles Kings, 10:30 p.m. (Sportsnet Ontario, TSN 1050)
Friday, March 3 at Anaheim Ducks, 10:00 p.m. (TSN 4, FAN 590)
POSTGAME QUOTES:
HEAD COACH MIKE BABCOCK
On the defence handling the loss of Carrick:
Obviously it's not ideal, we spread the minutes around pretty good. Most guys did a very good job. I thought we spent a lot of time in the O-zone so that helped them as well. It would have been way worse if they were wearing us out in our own zone but obviously you don't want to lose him early. He moves the puck for us and [Carrick and Gardiner] are a good pair. He's got an upper-body injury, I don't know – if you leave the game you're obviously not playing right away so that'll give us a chance to watch Marchenko.
On the team finding a way to continue to come back:
I thought we did a good job of that. Obviously early we were good and [Andersen] wasn't and then he made some good saves down the stretch and we won the game. Some nights Freddy picks us up, tonight we picked him up. I thought that was positive. It was one of those games where we're on top of it lots so we knew we would get our chances if we just stayed with it.
On the success of the Komarov-Kadri-Leivo line:
Naz is playing good again and Leivo, I thought, was the best player in the first half of the game on the ice as far as a forward. Leo has got it going. That line has been better since Leivo got on it because they play on the cycle. He's kind of more of a match that way. But, I mean, Naz has had a pretty good year and good for him.
On the Nylander-Matthews pairing:
It's like anything, there's things I like about it – I like [the Matthews line] with Brown because it's a cycle line that dominates. Willy's not as much of a cycler, he's more of a rush player. I thought obviously [Matthews] had three assists tonight and it was a game that it didn't ever appear like there was a lot of room for him to skate. Willy can score.
On what makes Nylander an asset on the power play:
He can flat-out shoot the puck, he can skate, turn and gets his feet around in a heck of a hurry. He's got an elite, elite shot and he can score from the hashmark area.
FREDERIK ANDERSEN (16 SAVES)
On facing Patrik Laine:
He didn't have a lot of space there on the first one. The second one he had a pretty wide open part of the net. He got it up really quick and it was heavy. I didn't really – I got a little piece of it but didn't get it all the way out. It was a good, well-placed shot too.
On how much the Calder Trophy race has been discussed in the room:
None.
On the penalty kill's performance:
It was huge. The last one was great, it gave us a chance to win it and go to overtime and obviously pull it off 3-on-3. We got a little bit of extra space and executed perfectly.
On the play of the defence after Carrick left the game:
Everyone played great and stepped up once Connor went out. It's obviously tougher when you're one less guy.
On his collision with Byfuglien in the third period:
It's probably one of the bigger collisions but it wasn't bad. I was happy he didn't hit me in the head or anything. He didn't have a lot of space because we got good pressure from the D and I was happy to see he got to the two minutes obviously and we could go on the power play with the chance to win it.
JAKE GARDINER (OVERTIME WINNING GOAL)
On tonight's win:
It was a huge game for us. I think having a deficit early and coming back a few different times showed a lot of maturity in our group. I thought we battled hard tonight.
On playing extra minutes without Carrick:
That was tough, it was a lot of skating in something like tonight. When you lose a guy like Connor it's a huge loss to the team and I think our forwards did a good job keeping them off our defensive corps and we were able to get the win.
On if he considered passing to Nylander on the OT winner:
Originally I was going to pass and he gave me – the defenceman went over to Willy so I had to shoot it.
On the team keeping its composure in a back-and-forth game:
It was one of those games where we felt like we were outplaying them most of the game and they buried a few. It was a feeling in our locker room, which is when we're winning games, we're going to be fine, we're going to win this game. I think that helped us pull it out tonight.
AUSTON MATTHEWS (3 ASSISTS)
On the team getting momentum from the penalty kill in overtime:
That's my fault obviously. It was a huge penalty kill by our guys, it gave us a lot of momentum and then we were able to clip it out there. It's a big two points.
On if he intended to miss the net to find Nylander on his power play goal:
We did it once in practice and I didn't really have a lane so I was 50 percent trying to score and 50 percent whatever happened. It was a pretty fortunate bounce and a really big goal for us.
On if he and Nylander work on the play off the end boards:
We've only done it once in practice and that was probably two months ago so it was a pretty lucky play. The boards are pretty bouncy here so we were fortunate.
On the team's resilience tonight:
It was huge. We knew it was going to be a playoff type of game tonight. They came out flying, they played a really solid game. Like you said it was back and forth. For us, it's definitely a big two points, good momentum for us to win it in overtime.
On keeping emotions under control during a tight game:
You just stay level-headed, not get too high or low and just keep plugging away and we definitely did that. For us, we definitely showed a lot of resilience tonight.
On outshooting Winnipeg by a wide margin:
Hellebuyck played a really solid game and he was making a lot of big saves for them. They've got some big D so they're good at boxing out and not letting you get those second chance opportunities. We were definitely hounding pucks after we shot it, our D was pinching and keeping the puck alive. That's how we did it tonight.
WILLIAM NYLANDER (1 GOAL, 1 ASSIST)
On taking the pass from Matthews off the boards for his goal:
We worked on that one in practice at the beginning of the year just for fun. It ended up working out there. I thought I was going to miss the net, I had so much spin on the puck, but it was a great play.
On if he expected the puck to bounce to him:
No, I was just going for a rebound at the front of the net.
On trying to set up Komarov tonight:
He was on fire. He could have had a third one there that was off the bar. He's playing really well so it's fun to see.
On he and Matthews practicing the play off the end boards:
It was no goalie in the net. We were just playing around.
On the challenge of the shot on the power play goal:
The puck was spinning a lot, it almost hit the post. It was lucky.
On tonight's atmosphere in the building:
It was lots of fun. We gave up a couple of goals and had to battle back. It was a good team effort for sure.
On matching up against big, heavy team:
I think we've been playing well against those teams throughout the year. We want to keep building off of this and keep it going.