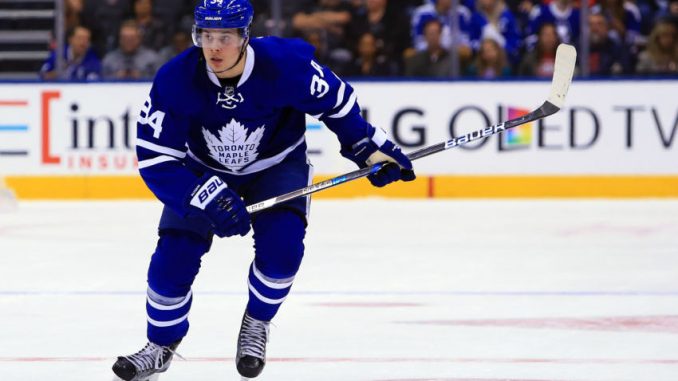 This article was last updated on April 16, 2022
Toronto Maple Leafs blank Washington Capitals 2-0. Here is the summary of the game played on Tuesday, October 17, 2017.
| | | | | | |
| --- | --- | --- | --- | --- | --- |
| | 1 | 2 | 3 | OT | FINAL |
| TORONTO | 0 | 0 | 2 | 0 | 2 |
| WASHINGTON | 0 | 0 | 0 | 0 | 0 |
GAME SUMMARY | EVENT SUMMARY | FACEOFF SUMMARY

ON THE SCORESHEET
Connor Brown opened the scoring in tonight's game at 5:53 of the third period. He has two goals in two career regular season games at Washington.
Nazem Kadri scored an empty net goal at 19:38 of the third period. Kadri has points (1-1-2) in two consecutive games.
Morgan Rielly picked up the lone assist on Brown's third period goal and had the primary assist on Kadri's empty net goal. Rielly has four assists in his last four games.
Zach Hyman registered the secondary assist on Kadri's empty net goal for his first assist of the season.
Frederik Andersen stopped 30 shots to earn his first shutout of the season and the 11th shutout of his career. Andersen is the first Maple Leaf goaltender to record a shutout on the road in Washington.
SHOTS FIRED
The Maple Leafs and Capitals each registered 30 shots on goal in all situations. Toronto outshot Washington by a 26-25 margin at 5-on-5.
Toronto had a 57-56 lead in shot attempts in all situations and a 50-45 lead in shot attempts at 5-on-5.
Nazem Kadri and William Nylander each registered four shots on goal.
William Nylander had a team-high seven shot attempts.
HEADED HOME
The Maple Leafs are 3-0-0 on the road this season.
Toronto's all-time record is 61-67-10-4 in 142 games against the Capitals and 24-42-4-3 in games played in Washington.
Toronto is 3-1-0 against the Eastern Conference this season and 2-1-0 against the Metropolitan Division.
The Maple Leafs return home for the second leg of their back-to-back when they host the Detroit Red Wings at Air Canada Centre on Oct. 18 at 7:30 p.m.
MAPLE LEAFS LEADERS
| | |
| --- | --- |
| Faceoff Wins | 8 (Kadri) |
| Faceoff Win Percentage | 100% (Marner) |
| Hits | 4 (Hainsey, Komarov) |
| Blocked Shots | 4 (Zaitsev) |
| Takeaways | 1 (Four players tied) |
| TOI | 26:05 (Zaitsev) |
| Power Play TOI | 2:20 (Five players tied) |
| Shorthanded TOI | 4:57 (Hainsey, Zaitsev) |
| Shifts | 31 (Gardiner) |
| 5-on-5 Shot Attempt Percentage | 70.6% (Marner – 12 for, 5 against) |
RECORD WHEN…
The Maple Leafs were 3-for-3 on the penalty kill and 0-for-2 on the power play tonight. Toronto is 2-0-0 when not allowing a power play goal and 2-0-0 when not scoring a power play goal this season.
Toronto is 3-1-0 when scoring first in 2017-18.
The Maple Leafs are 2-1-0 when tied after one period and 3-0-0 when tied after two periods.
Toronto has a 1-0-0 record when tying their opponent in shots on goal.
The Maple Leafs are 1-0-0 in Tuesday games.
OF NOTE…
Nazem Kadri won 83 percent (5 won, 6 lost) of his defensive zone faceoffs in tonight's game and went 3-for-3 on defensive zone draws when matched up against Washington centre Nicklas Backstrom.
Matt Martin and Dominic Moore started 100 percent of their 5-on-5 shifts in the defensive or neutral zones.
Morgan Rielly was on the ice for the largest Maple Leaf shot attempt differential at 5-on-5 (9 – 22 for, 13 against).
UPCOMING GAMES:
Wednesday, Oct. 18 vs. Detroit Red Wings, 7:30 p.m. (SN1, TSN 1050)
Saturday, Oct. 21 at Ottawa Senators, 7:00 p.m. (Hockey Night in Canada, FAN 590)
Monday, Oct. 23 vs. Los Angeles Kings, 7:00 p.m. (TSN4, TSN 1050)
Thursday, Oct. 26 vs. Carolina Hurricanes, 7:00 p.m. (Sportsnet Ontario, FAN 590)
Saturday, Oct. 28 vs. Philadelphia Flyers, 7:00 p.m. (Hockey Night in Canada, TSN 1050)
POSTGAME QUOTES
HEAD COACH MIKE BABCOCK
On earning shutout at Washington:
I thought we started real good, I thought we got a little carried away in the second period. Good win for us, big goal by Brown obviously. I thought we were really skating at the start, kind of got involved in their game rushing up and down the ice instead of maybe playing more heavy on the cycle. Still, a big win for our team. Turned over a few too many pucks, but a big win.
On Brown's play with Bozak and van Riemsdyk:
I liked that Brownie worked hard, he was good on the penalty kill, he got to the net and they got the puck there. We didn't have a lot of that type of play tonight – like I said, it was a lot of rush instead of being heavy. It was great to see him get to the net and be rewarded. I thought Mitch [Marner]'s line too with Moore and [Martin], I thought they had a big night too. I thought they played real good.
On how the team reacted when goals weren't coming easily:
I think they just played. I don't think it's that new, we've been in lots of games. In saying that, the last two games offensively we haven't been as good. We have to have a look at that and find a way to be better and generate more offence. We think we can and so we'll have a look at it and get ready for the Red Wings.
On the team's ability to keep Washington to the perimeter:
I thought we did a pretty good job in that way. I would have liked us to spend much more time in the offensive zone. To me, there's no sense being on your heels, you may as well just be on your toes and go after them. I think our team is capable of doing that. As we get more confident, we will.
FREDERIK ANDERSEN (30 SAVES, SHUTOUT)
On his performance tonight:
I felt good, just continuing working hard and moving well. I feel good.
On keeping the Capitals to the perimeter:
I think they were good at allowing me space to get on top of the crease and take away the space. That way I had a better chance of stopping the pucks if they did have screens in front. I think we did a really good job of that. Like I said, I was able to get up on top of the paint.
On winning five of the first six games:
Any points you get early you just put in the bank and you're happy that we're doing well so far. I think we've still got to work, obviously, to improve our game as the season goes. Usually you see the League keep getting better and better and all the rest gets to play to win.
On being the first Maple Leaf goaltender to shut out Washington on the road:
That's nice. Obviously, you don't mind the shutouts. I think it's fun for the team and myself to have a game where pucks don't go in and it's good.
CONNOR BROWN (GAME-WINNING GOAL)
On his goal:
[Morgan Rielly] made a good play to keep that puck alive. I just tried to stay on top of the goalie and Mo made a nice little effort to get it through. Right place, right time.
On Bozak's forecheck leading to his goal:
He did a good job all over the ice. Playing with those two guys, they're really easy to play with. There wasn't much of an adjustment period. I thought we had a really good first period, for the most part we were on the gas. We got a little too loose when we weren't scoring, but we stuck to the game plan pretty well.
On the need for patience to break through and score:
Freddie [Andersen] was great and so was Holtby. I think we gave up a little too much more than we'd like, but I think we did a lot of good things to get through the neutral zone and hang on to pucks. It was good to find one.
PATRICK MARLEAU (THREE SHOT ATTEMPTS)
On tonight's performance:
I think Freddie [Andersen] obviously played great and then we finally got our forecheck going there in the third and got a few bounces in front of the net. We were trying to do it carrying the puck in all night long and we finally realized we've got to get it in and get to work. Once we did that we were able to get some sustained pressure.
On picking up a win over Washington:
It should just build some momentum, but realize how much work you have to put in to beat those teams. Teams are going to be coming in and ready for us, we have to be up for the challenge.
On getting ready to play his 1,500th career game:
I've been around for a while. I take pride in being able to lace them up and be out there. I love playing the game.
On what Connor Brown brings:
The sheer compete level he has out there is pretty impressive and he's got some skill level to go along with it. He's always hounding the puck and he's positioned very well.
On added importance on winning tonight's game for his teammates after the series loss last year:
I think whenever you lose a series to a team and you play them the next season you want to win those games. Obviously, they picked up the win last year and you can't really do anything about it now. To get the win tonight, it's got to feel good.
MORGAN RIELLY (TWO ASSISTS)
On what went into tonight's victory:
Preparation – we had time to prepare for the game. We knew what we had to do, we came out and we played a good team game and that's what happens. It's not about one night, it's about doing it again and again and again.
On the Bozak forecheck leading to Brown's goal:
I thought our forecheck was good all night. I thought there were times in the game when we were really able to control the play and play off the cycle and that's what we want to do. We don't necessarily want to trade chances off the rush with a team like that. That's part of the game plan going into it was grind down low and create offence that way. Certainly, credit to the forwards, all four lines had their moments in the game where they were able to control the play and keep the puck in the offensive zone and create offence that way.
On picking up wins over teams that are consistently strong in the League:
It's a good feeling, but like I said, we have to be able to do it consistently. We've got some tough matchups in the near future that we have to be ready for. We take this one, it feels good but we move on – we play tomorrow, don't we? We play tomorrow so we start thinking about that one.
On winning five of six games to start the season:
When it's crunch time and you're getting close to the end of the year like we were last year when we were right in the mix, you look back on these kinds of close games and you think about the value that is in these points. To get these ones and to get a good feeling in our room and get rolling a little bit is a great feeling. But, it's only six games so we've got a long way to go. You're absolutely right, those points do feel good.
You can publish this article on your website as long as you provide a link back to this page.