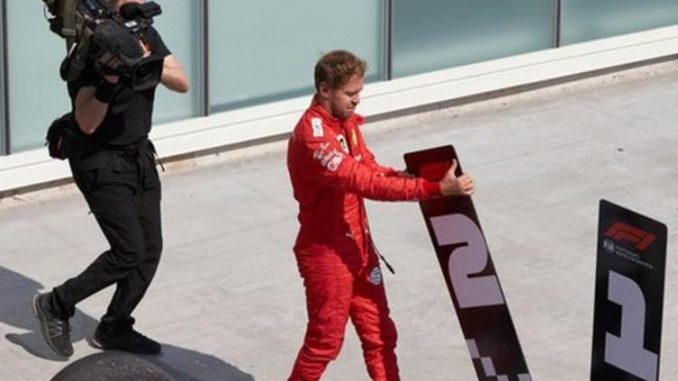 If Formula 1 needed a drama to liven up a season that has so far been dominated by Mercedes, it certainly got it at the Canadian Grand Prix.
Lewis Hamilton took his fifth victory in seven races this year, and Mercedes' winning streak continued – but only after Ferrari's Sebastian Vettel, who won on the road, was handed a five-second penalty for dangerous driving.
The man on the receiving end of the behaviour for which Vettel was punished was Hamilton, and so the Briton's 78th career victory, which puts him even firmer on course for a sixth world title than he already was, turned into one of his most controversial.
Vettel initially refused to go on to the podium before being collected by officials, and then, while on it, walked away from an interview.
Vettel had led the race from the start, after taking a superb pole position on Saturday, his first for 17 races.
But Hamilton had never been far away, and after the pit stops the Mercedes began to close in, reducing what had been a five-second lead for Vettel to less than a second in 10 laps.
For another nine laps, Hamilton piled on the pressure, always within a second of the Ferrari. And then Vettel made a mistake.
He went in to the Turn Three/Four chicane too fast, had a snap of oversteer, took to the grass and rejoined the track. As he did so, he had another snap, caught it, and continued to drift wide out to the kerb. Hamilton, whose front wheel was in front of Vettel's rear, had to back out of it and Vettel retained the lead.
The stewards investigated the incident and decided to penalise Vettel, saying they "reviewed video evidence and determined that (Vettel) left the track at Turn Three, rejoined the track at Turn Four in an unsafe manner and forced (Hamilton) off track. (Hamilton) had to take evasive action to avoid a collision."
A number of F1 regulations apply to this sort of incident. One says: "Should a car leave the track the driver may re-join, this may only be done when it is safe to do so and without gaining any lasting advantage."
The question here being, did Vettel gain a lasting advantage by doing what he did?
Another says: "Manoeuvres liable to hinder other drivers, such as deliberate crowding of a car beyond the edge of the track or any other abnormal change of direction, are strictly prohibited."
And another: "It is not permitted to drive any car unnecessarily slowly, erratically or in a manner deemed potentially dangerous to other drivers at any time."
What was Vettel's view?
Once in the green room before the podium ceremony, he shook Hamilton's hand and said: "Where am I supposed to go?"
"Achh," Hamilton said, deciding it was not the right moment to express his own opinion.
Thanks to Hamilton's seventh Canadian win the Mercedes man now has a 29-point advantage in the title race
Hamilton said: "The Ferraris were really quick. I just had to put him under pressure and force a mistake because they were so quick on the back straight that even if I got close into Turn 10 he would just pull away. And he made a mistake.
"Ultimately the rules say when you go off you have to come back on in a safe manner and I was alongside and I had to back off to avoid a collision and I guess that's why they made the decision."
Asked whether he would have preferred to race on without Vettel receiving a penalty, Hamilton said: "If you try to force a guy into a wall, are you saying you shouldn't get a penalty for that? I was going to crash with him, so I had to brake.
"I was just driving the normal line so I shouldn't have been in that position of being close to crashing. It was his responsibility to avoid that, but it ended up being mine. So because of that I lost a chance of passing.
"I won. Of course I want to do it on the track. Even after I knew he had a penalty, I was pushing and thinking maybe I would get another chance. But I was just sliding around and he was too quick on the track."
Later, after watching the incident again, he said: "I watched the replays. It was obviously very close. What I can say is, if I was in the lead and made a mistake and went wide, I would probably have done the same thing, because it happened so quick and you are just trying to hold your position.
"I would have tried to squeeze him, too, and that is ultimately what happened. My opinion on that has not shifted.
"If you did not have that rule, I would have kept it lit and we would have crashed. One way or another it was going to go badly."
Ferrari have appealed against the five-second penalty that cost Sebastian Vettel victory in the Canadian Grand Prix.