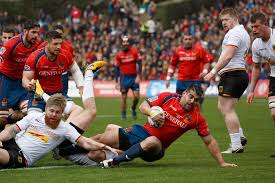 The chances of Spain losing to Belgium were slim, Spain had beaten all the contenders, Russia 20-13 in February in Russia, Romania 22-10 in Spain, they crushed Germany 84-10. Belgium also defeated Germany 69-15 in Belgium but lost to Romania 62-12 in Romania and lost to Russia 48-7 in Russia. All Spain had to do was beat Belgium in Belgium to go to the World Cup and relegate Romania to the repechage route via Portugal and Samoa.
It didn't play out that way and now the focus is on the referee and governing bodies. The optics aren't good, an all Romanian officiating crew was put in charge, appointed through Rugby Europe whose President Octavian Morariu is also Romanian. The referee in charge was Vlad Iordachescu and after the result his Wikipedia article was hacked
The comments on social media were scathing, several comments pointing to an apparent double-standard in rugby in applying fair play. In the Ireland v England match a South African match official was stood down for spending time in the England rugby camp. In contrast a full Romanian crew were allowed to continue in a match that had important implications for their nation.
The consequence for Canada is favourable however, it means Spain will now travel the repechage route through Portugal and Samoa instead of Romania. Canada lost to Romania last year 29-5 in Canada, Canada defeated Spain 37-27 in Spain. In 2016 Romania defeated Canada 21-16, in 2015 at the World Cup it was 17-15 for Romania. Spain is the preferred opponent in the repechage tournament and increases Canada's odds of getting to the World Cup.
Spain, a demoralized rugby country, will first have to play Portugal, the winner of that goes through a home and away series with Samoa. The loser of that series will face Canada and likely Hong Kong plus an African contender in November.