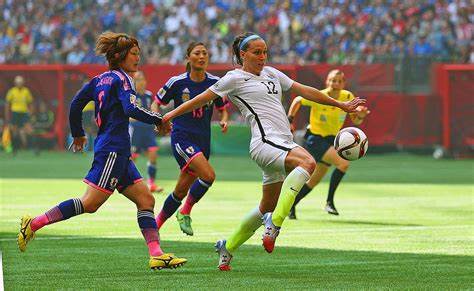 Fifa has issued a warning to the Saudi-backed satellite broadcaster Arabsat to stop transmitting illegal feeds from the ongoing Fifa Women's World Cup, which have been stolen by the pirate broadcaster, BeoutQ.
Soccer's global governing body says it is 'continuing to explore each of its legal options' and is collaborating with rights holders to end unauthorised broadcasts of the tournament and some of its other media rights in the Middle East and North Africa (MENA) region.
BeIN Sports bought the rights to the competition and the illegal transmissions are the latest in a raft of the Qatari pay-TV broadcaster's productions that have been bootlegged by BeoutQ, amid a trade blockade being enforced by Saudi Arabia on Doha.
A French court last week ruled that BeoutQ transmissions are being carried by the Riyadh-based Arabsat network, and said that BeIN had become a prominent target in the distribution of BeoutQ's pirate operation.
Fifa said in a statement: 'Fifa is aware that unauthorised transmissions of the Fifa Women's World Cup 2019 are being made available across the MENA region, primarily Saudi Arabia, via the pirate broadcaster known as BeoutQ.
Serie A prepared to pull Supercoppa from Saudi Arabia over BeoutQ issue
'BeoutQ's unauthorised transmissions of the Fifa Women's World Cup 2019 are made available by way of Arabsat satellite frequencies. Fifa is therefore seeking the cooperation of Arabsat in addressing the misuse of Fifa's intellectual property.
'In addition, Fifa continues to explore each of its legal options as a means to address BeoutQ's unauthorised broadcasts. In this regard, Fifa is working with a number of other rights holders whose rights have also been infringed by BeoutQ.'
Fifa's latest move follows a similar threat from Serie A, Italian soccer's league body, which last week decided to take legal action against Saudi Arabia in response to the Gulf state's backing of broadcast piracy.
Luigi De Siervo, Lega Serie A's new chief executive, said that the body could pull the plug on Saudi Arabia's plans to host the next Supercoppa while illegal transmissions by BeoutQ continued to devalue its rights in the region, worth around UK£400 million (US$503.4 million).
BeoutQ emerged in 2017 following a Riyadh-led diplomatic and trade boycott of Qatar, which was followed by several neighbouring Gulf states, saw BeIN's transmissions of sporting events such as the Fifa World Cup soccer, grand slam tennis and Formula One no longer made available in Saudi Arabia.
It has led to a series of actions taken by Qatar and BeIN Sports to try and stem the flow of piracy.
In December last year, the World Trade Organisation (WTO) approved Qatar's request to form a panel that would investigate Saudi Arabia for violating its obligations under the WTO's guidelines on trade-related aspects of intellectual property rights.
Earlier in October, BeIN launched a US$1 billion international investment arbitration against Saudi Arabia over its widespread piracy. It later pressured the US government to place Saudi Arabia on its Priority Watch List to try and bring down BeoutQ.