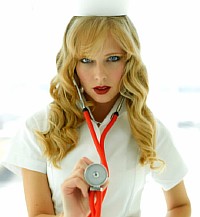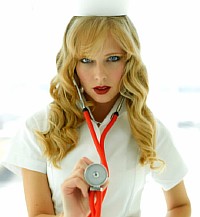 Men love to fantasize about their lady love and they just adore a woman who plays out their dream fantasies in the intimate confines of the bedroom.
Fantasising is an essential part of love-making and couples who have a fulfilled sex life will agree that they cater to their innermost desires. Psychotherapist Dr. Arvinder Singh explains, "Fantasising doesn't mean that men want the girl in real. It's like a one night stand with their lady love where they just want to explore numerous possibilities, moving away from the ordinary. Fantasy helps a man attain the unattainable and he gets the feeling that he can be with a new woman every time."
So here are the 10 women men fantasize about:
1. English teacher:
It is the most commonly found pinup poster in a man's room. Women dressed as teachers holding a stick and ready to spank a petulant boy is the favourite dream act for a man. Be it the adolescent Rishi Kapoor in Mera Naam Joker or the Summer of '69, men have always fantasised about their gorgeous high school English teachers. "In your teens, if a man gets to meet a hot and experienced woman it's a major testosterone boost. Moreover English teachers are the ones who are best dressed, and most of the times in saucy Western outfits," says art designer, 25-year-old Kamlesh.
"It's in their adolescence that a man experiences attraction towards an elder woman. In between the age group of 12-16 years they face a psychological connection towards their teachers. It's like the first taste of the secrets tucked away in the adult world," opines Dr. Samir Parekh, a psychologist. Dr. Singh adds, "This kind of behaviour is very colonial in nature. People in India always think that a person who can speak English properly is superior to them. So if this quality is present in a woman she will obviously become desirable to her beau."
2. Nurses:
The Virgin mobile ad which shows a group of men keen to get themselves touched by a ravishing nurse stands testimony of this undying fantasy in men. From the day they are born, men are nursed by their mothers, so the whole concept of being taken care of remains a favourite pleasure in their mind space. "Guys never grow up and they want their partner to treat them like a child and fulfill all their needs. They want to be taken care of, loved and cuddled. Even though women look great in a nurse's costumes, I think it's all about love at the end of the day and the feeling of passionate security that is symbolic with this fantasy," says senior communication executive, 25-year-old Dev.
"Nurses stand as a metaphor of affection, care and support which completes the human desire of overall well being. You see life in a more content and beautiful manner," opines Dr. Jintendra Nagpal, a psychologist. Dr. Singh adds "Men have an animal extinct which treat womens as a sexual object. If they are scantily dressed it's a turn on for obvious reasons. On the other hand, if she is fully clad then the fascination is about what lies underneath. In this case it's the later. The mystery of the unknown is the biggest sexual thrill that a man is turned on by."
3. Playmates:
Naked women with sculpted curves, perfect facial features and bootylicious celebs like Pamela Anderson and Carmen Electra are every guy's perfect fantasy. Playboy's playmates are every man's secret fantasy. "Attraction to a Playmate is obvious for every guy. While reaching puberty, young men are desirous to experience things which they are still too young to atually face. The only tools that are available to them in India are magazines like Playboy or Debonair. The fascination starts from there and continues till the time they are matured adults. The visual stimulation factor of these chiselled bodies coupled with the erotic content in these adult magazines is the secret passage connecting boyhood with manliness." says Amar, a 23-year-old film editor.
"A person's sexual thought process is very individualistic in nature and can't be generalised. However, over exposure of these women on the net, television and print leads to the male mind being increasingly pre-occupied with these stimulating thoughts and pictures. The attraction begins from there. Also Playmates always pose in interesting costumes like a saucy rabbit suit, which makes them all the more attractive as sexual objects," explains Dr. Nagpal.