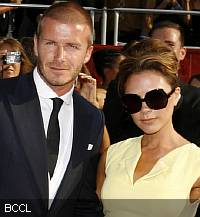 This article was last updated on June 18, 2022
Canada:

Oye! Times readers Get FREE $30 to spend on Amazon, Walmart…
USA:

Oye! Times readers Get FREE $30 to spend on Amazon, Walmart…

Ten years down the line in a marriage, most couples find it hard to keep their relationships steady, but that's not the case with the soccer ace David Beckham and his wife Victoria.
The couple will celebrate 10 years of wedded bliss on July 4 and their love seems to be growing stronger every year.
Now, love psychologist Susan Quilliam has revealed the marriage commandments that keep them together, reports the News of the World.
Give each other space – Absence makes the heart grow fonder, especially when living on different continents. While David is playing football in Italy, Victoria keeps herself busy juggling family life and her fashion career in the States. "Separate interests keep their love fresh and alive. They make the most of, and live for, the time they spend together," says Quilliam.
Forgive and forget – David's downfall came in 2004 in the form of Rebecca Loos, 32. "The Beckhams were obviously able to talk through their problems, learnt to understand one another, and then put it behind them," says Quilliam.
Family comes first – The Beckhams have produced a hat-trick of gorgeous sons: Brooklyn, 10, Romeo, six, and break-dancing Cruz, four. "When you're in a loving marriage and know you can weather any storm, having a child can bring you even closer, provide a focus for your love and give you a shared job to do," says Quilliam.
Be each other's cheerleader – The couple idolises each other. "Victoria's made many sacrifices, but both have genuinely admired and supported the other. Be proud of what your partner does – and tell them so," says Quilliam.
Dress for marriage success – The Beckhams ensure their glamour dial is always cranked up to 11 on nights out. "It's a sign of disrespect to your partner to let yourself go. By taking care of themselves, David and Victoria help keep the lust alive," says Quilliam.
When two become one – Their penchant for copycat behaviour is a sure-fire sign of a successful relationship. "While individuality is important, their 'matching' styles, and the overlap between them, shows the world they have a rock-solid partnership – they think, feel and act the same," says Quilliam.
All you need is love – Victoria and David travel thousands of miles to spend one night together. "They're constantly declaring their love. Just saying: 'I love you' every day goes a long way in keeping romance alive," says Quilliam.
The in-laws are not the enemy – The secret of a happy relationship is a happy family. With their hectic schedules, David and Victoria would be lost without Sandra and Jackie, their respective mothers-in-law, who regularly travel with the family, acting as babysitters and allowing the couple to spend precious time alone. "The Beckhams know the importance of making their mums feel involved and valued. They give the family stability and are a vital source of support," says Quilliam.
Never air your dirty laundry in public – Behind the scenes, Posh and Becks have had their fair share of humdinger rows. But unlike other celebrity couples, they're careful never to argue or criticise each other in public. "David and Victoria have such a public profile that even the slightest hint of tension would quickly come back to haunt them. They never criticise or bad-mouth each other, and if anything negative happens, they close ranks," says Quilliam.
Spice up (Sex) life – Posh is regularly seen scouring LA's sex shops and stocking up on red-hot goodies. And David often buys sexy underwear for his missus. "Love thrives on physical passion. Shared pleasure and sex binds them together and helps them get through stressful times," says Quilliam.
You can publish this article on your website as long as you provide a link back to this page.