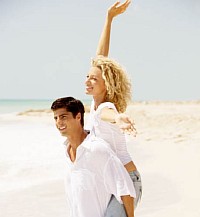 This article was last updated on June 18, 2022
Canada:

Oye! Times readers Get FREE $30 to spend on Amazon, Walmart…
USA:

Oye! Times readers Get FREE $30 to spend on Amazon, Walmart…

Men are from Mars and women from Venus, with this established phenomena in mind I was trying to plan an ideal vacation with my husband as usual we disagreed.
While I loved being in a mountainous hill station, his inclination was beaches. Also while he wanted to take his parents along, I preferred my friends. As a result, we couldn't decide on anything and it went nowhere. I feel since we disagree so much on our travel requirements, it is better to sit quietly at home rather than fighting throughout the trip," confesses Maya Malhotra, a manager with a PR firm.
Vacations are considered as one of the most effective weapons of re igniting the passion in your love life. However, the most ironical part is that holidays mean different things to men and women. If men expect thrilling adventure, women daydream about luxury, shopping and exotic locales.
So here are a few tips to help you put your travel plan in place so that you can make the most of it….
Where to go & what to do?
Addressing this question is often the most important part of planning a vacation. Most disagreements too crop from this area. Both of you might have a different idea of a perfect holiday, but it's not that difficult to strike a balance.
Mumbai-based, Amit Khanduri, an MNC employee says, "It was our first holiday together and I didn't want to be unfair by forcing my choice on her. She loves beaches, sailing, picturesque and peaceful destinations, like all other girls. But I wanted to add a pinch of adventure to it. So I choose Kerala as our destination."
Amit and his better half loved the scenic beauty of Kerala where they even pampered themselves at luxurious hotels and spas. He adds, "Apart from this romantic ingredient, adventure was included in the holiday that made it all the more enthralling. Both of us love scuba diving and kayaking. I think this vacation was a perfect blend of our wish lists."
Travel Tip : Saghan Agarwal, CEO and Director Marketing, Travelmasti talks about the trend of adventure and romantic holidays. "There are certain destinations that do offer varied attractions to couples. For instance, Rishikesh, is quite popular for trekking, white water rafting, camping and other adventure sports. And at the same time it's known for its world class spas. Similarily, resorts at Corbett offers one the ultimate luxury in the midst of a forest. It forms a wonderful destination for people looking forward to having a brush with wildlife. Goa and Kerala also fall into the same category. When you can have so much on your platter why settle for less?" says Agarwal.
If travelling is a pain!
Everyone loves to take a break from their monotonous lives, but many people get goose bumps with the thoughts of driving through hilly terrains or having to undertake long and exhausting train travel.
Savita Singh, a medical professional tells, "I love traveling by air as it's comfy and fast, but my hubby is not so fond of the idea. He feels quite suffocated during flights. I forced him to try it on our last vacation, but he was regretting his decision later. Therefore, no international holidays for us, we only aim at destinations approachable by road or train. I think I don't mind sacrificing this much for him, as more than the place, it's gaining his undivided attention that matters more. For me, vacations are more about enjoying each other's company and relishing even the simplest things in life."
Travel Tip : Dr Rachna Singh, a relationship expert says, "Rather than cribbing about you partner's phobia, try to convince him/her and if it fails, look for a plan B. Either change the destination or the mode of transport. Seek medical help, as your partner might be suffering from a health problem. You should learn to focus more on your beloved than the destination you are visiting."
 
Planning your time
If you spend most of the holiday in sightseeing and travelling, you will be dead tired by the end of the day. You will not be left with any energy to even talk to your partner, let alone engaging in sex.
"We were on our first holiday alone after the birth of our son and we chose an exotic place like Greece. We had hoped that it would rev up our sex life. But we took a conducted trip spanning 3 nights and four days and all we did was sight see endlessly. By the time we returned to the hotel, we were dead tired and in no mood for sex. We later realised we should have gone to a less exotic and more familiar locale where we would devote more energy and passion towards each other," says 34-year-old housewife Mansi Chauhan.
Travel Tip : Mr Saghan Agarwal suggests, "Don't plan too many activities in one day; as you will not be able to enjoy all of them. Holidays are meant for relaxation and rejuvenation. Learn to prioritise things. Keep a few days flexible, may be you would like to re-visit a particular place or try something different that you didn't plan earlier."
It's not all about shopping honey!
Vacations are generally synonymous with shopping for women. But, spending all his money and making your man carry your shopping bags around is not that exciting for him. So try making the trip memorable for both of you by shopping for things that interests both of you as this will enhance your bond.
Rachna Gupta, a media person discloses, "When my hubby was planning our first international trip, I was busy shopping secretly. He was stunned to see the newer, sexier version of me on the trip. The icing on the cake was my highly seductive collection of lingerie. His actions and expressions in bed were no less than compliments. Most of our time was spent in our room, but I really don't mind."
Travel Tip : Dr Singh tells, "With our busy lifestyles, there is lesser room for romance in a couple's life. Vacations are great means of reinventing your relationship as you have enough time to pay attention to even his/her smallest need. Plan everything in such a way that you get enough time in solace. Do something surprising and out of the box for your partner. Your extended conversations and the quality time spent with each other will definitely pay off."
These are some of the tips and tricks from our side; do keep them handy for your next trip.
 
You can publish this article on your website as long as you provide a link back to this page.