This article was last updated on May 25, 2022
Canada:

Oye! Times readers Get FREE $30 to spend on Amazon, Walmart…
USA:

Oye! Times readers Get FREE $30 to spend on Amazon, Walmart…
It takes CBC management to foster human rights abuse and sexual harassment on the scale of Jian Ghomeshi
At least 7 CBC Executives hid the human rights abuse of Jian Ghomeshi – Heather Conway, Chuck Thompson, Timothy Neesham, Arif Noorani, Hubert Lacroix, Linda Groen and Todd Spencer.
This article is a detailed account of how CBC management ignored reports of Jian Ghomeshi's human rights abuse and sexual assault of women. The facts are clear. What is unclear is the writer's attempt to pull a Flip Wilson, excusing the CBC. "The Debil made me do it." Meaning Old Prime Minister Harper made CBC and Jian Ghomeshi abuse women by cutting the budget.
Anne Kingston, Macleans Magazine – As former CBC Radio star Jian Ghomeshi was being arraigned in a Toronto courtroom on four counts of sexual assault and one of resistance by choking, Chris Boyce, executive director of CBC Radio, a man Ghomeshi once called his professional "mentor," was facing a different kind of scrutiny as he submitted to questions on-camera from Gillian Findlay, host of CBC's The Fifth Estate.
Photo caption: Spot the Liar: Heather Conway, head of English services, had "not heard ever, ever, that Jian Ghomeshi punched women" and the now-famous Jian Ghomeshi
In the interview, Findlay dropped a bombshell on Boyce: while CBC management claimed it investigated Ghomeshi with the show's staff before firing him, 16 of 17 Q staffers told The Fifth Estate they had never been approached. There appeared to be no investigation, Findlay concluded.
"At the CBC every day and at every other radio and TV station there are people spoken to in ways that in other work places would trigger discipline," radio producer Ira Basen.
An increasingly rattled Boyce demurred, saying there had been one—and that Todd Spencer, director of human resources, and Linda Groen, director of network talk radio, had participated.
That Friday, just hours before the program aired, Spencer convened a meeting with the Q unit.. Spencer reiterated there had been an investigation, but it had been done so covertly. So subtle was this investigation, in fact, that even the investigators were unaware of it: on Monday, a leaked email from Groen to Boyce surfaced, in which she denied she'd ever been asked to investigate complaints about Ghomeshi's behaviour.
In the past month, public airings of internal CBC dysfunction have become a national spectacle—allegations from current and former Q staffers of Ghomeshi's abusive behaviour that includes a charge of sexual harassment; leaked memos that banned (and then unbanned) former CBC-TV host Linden MacIntyre from the airwaves for daring to mention that Peter Mansbridge was "no shrinking violet" when discussing Ghomeshi and the "toxic" atmosphere at CBC.
The show continued this week, as the Canadian Media Guild (CMG), the CBC employee union, sent a memo cautioning members from participating in a third-party investigation into Ghomeshi's behaviour, conducted by lawyer Janice Rubin.
The union threw a spanner into the process, airing concern that Rubin's recordings of conversations with CBC staff may "be provided to CBC management" who could use them "to discipline the employee being interviewed."
Management countered with a memo that called some of the CMG's information "incorrect."
It said Rubin informed every person who has come forward "that these recordings are for her use only and they will not be provided to CBC/Radio-Canada."
Inside the CBC, the grim mood is exacerbated by a sense that public trust is eroding at a delicate and crucial time. "Why should anyone think anyone competent is working in the CBC right now?" one frustrated employee asks.
Beyond the CBC's walls, the scandal, and the Crown corporation's handling of it, has laid bare a complex ecosystem: a labyrinthine bureaucracy that seemed to permit all manner of wrongdoing.
President Hubert Lacroix has been largely absent as the biggest scandal in years has engulfed his organization.
On paper, the CBC appears a model of employer enlightenment and best practices. Posters in kitchens and bathrooms within the CBC provide help-line numbers to call if people feel stressed. All employees must complete an annual "Respect in the Workplace" 90-minute online course.
A former executive enthuses about the level of employee support—from both the union and HR: "It seemed more proactive than other companies. Sexual harassment policies were clear. HR was very professional and complaints that came to my attention were handled thoroughly."
Such entrenched protocols allowed Lacroix to boast at a parliamentary committee last year of the CBC's robust system of training and policy, aimed at creating a safe work environment, and responding appropriately if incidents occur. Lacroix told Radio-Canada that Ghomeshi shattered that: "This case raises concerns that our systems have not been enough, and that upsets us deeply."
[Editor: Anne Kingston absolves CEO Lacroix of any blame. We believe he mislead Parliament on purpose. He has a record supporting human rights abuse and operating outside policy until exposed.]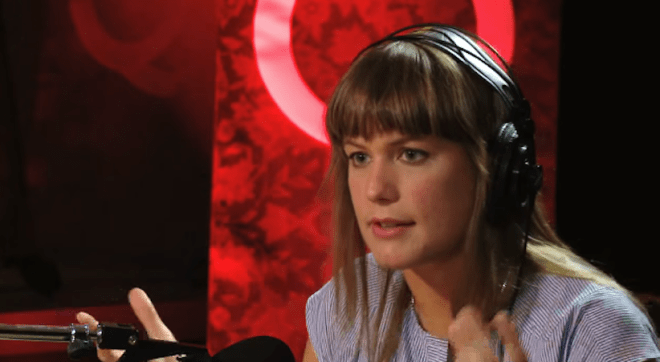 Former Q associate producer Kathryn Borel reported three years of sexual harassment by Ghomeshi at Q. Borel followed protocol, meeting in 2010 with union rep Timothy Neesam, who, she says, didn't take notes.
Her options were 1) start a union arbitration or 2) file a formal grievance. "Confronting Ghomeshi directly seemed like a nightmare," she wrote in .
Borel knew that if it came down to her or Ghomeshi, the CBC would choose Ghomeshi.
CMG president Carmel Symth reports the union hasn't received one sexual harassment complaint in 10 years.
What Borel did was discuss the harassment with Arif Noorani, Q's executive producer. He told her it was up to her to adjust her behaviour; she chose instead to leave CBC.
But Noorani has said he knew nothing about sexual harassment claims.
"If I had, I would have immediately reported them," he told Q staff in a memo this fall.
After Borel's allegations were made public in the media, the CMG sent out a memo saying no "union staff" had been contacted. It later clarified that Neesam was an "elected representative," not a union "staff member" so technically Borel hadn't spoken with "union staff"—a semantic loophole.
Whatever Noorani did or didn't know, there's ample of his disinclination to speak up about problems at Q. "You get along with Jian or Jian would get you fired."
The host was "unmanageable," says another staffer: "If Arif tried to hold Jian to account, Jian would make Arif's life miserable; he'd go up the ladder and cause trouble." Though Noorani was responsible for the unit, he had no power over Ghomeshi.
Placing checks and balances on a star radio host would be difficult anywhere. Hosts dominate a program, says radio producer Ira Basen, a former CBC employee who still does projects with the broadcaster. "They create the culture. They're alpha personalities in a high-pressure job, which means it can be volatile. Hosts explode at producers all the time when things don't work."
But management was made aware that Ghomeshi's workplace behaviour exceeded reasonable bounds, even for a host. In 2012, six Q staffers went to Linda Groen with a detailed formal complaint—code-named "CBC Red Sky"—that asked that measures be taken to correct an "unsustainable" workplace driven by a "culture of fear" in which they'd be punished if they didn't do what Ghomeshi said. They demanded Noorani hold Ghomeshi "to account, rather than operating out of fear of 'stirring the beast.' "
Groen seemed aghast to learn of the situation, one staffer says; some changes were implemented and Ghomeshi was spoken to. Within months, the workplace had returned to abnormal. Whether or not Boyce, Groen's boss, was told about "Red Sky" is unknown.
Boyce insisted in the Fifth Estate interview that Ghomeshi got no special treatment—but of course he did, as a star host. When travelling, says one Q staffer, "producers got a regular room, he got a suite." Word within Q that Ghomeshi received a substantial clothing allowance—rumoured at more than $15,000 a year—met with mockery.
How much leeway does a star deserve? "He'd give a public appearance, or give a speech, for which he'd be paid, and then give it a shout-out on the program. Nobody slapped him on the wrist."
And behind the scenes, Ghomeshi's power at the public broadcaster sometimes threatened programming integrity. When he became aware in April that allegations linking him to sexual violence had been posted on a Twitter feed called @bigearsteddy, believed to have been sparked by a discussion of "rape culture" on Q in March, he refused to cover stories involving sexual assault—a topic dominating news at the time.
Boyce had already known for over a month sexual harassment allegations were swirling: Ghomeshi came to him in May alleging an angry ex-girlfriend wanted to embarrass him publicly by airing false claims.
As Boyce revealed on The Fifth Estate, CBC management was there to help with messaging should any embarrassing information about Ghomeshi's personal life be made public.
Chuck Thompson, head of CBC public affairs, coordinated with Navigator, the damage-control firm hired by Ghomeshi. Boyce chose to believe Ghomeshi's version of events, he said on The Fifth Estate: "I trusted when I shouldn't have."
Things changed at a meeting Boyce attended at the office of Dentons, Ghomeshi's law firm, on Oct. 23 where CBC management was invited to view graphic evidence intended to exonerate the host.
Ghomeshi's own expectation that the CBC would side with him, even after seeing images showing physical harm inflicted on a woman, suggested how cossetted he felt.
Management even took the unusual step of doing a "word search" of their personnel files, says Chuck Thompson, to look for any complaint involving any form of harassment or abusive behaviour against Ghomeshi. No formal complaints existed, Thompson says, and so there was nothing to be done—even though some in management knew of serious problems at Q as early as 2012 with the "Red Sky" grievance.
Heather Conway, head of English services, told Peter Mansbridge on The National that she had "not heard ever, ever, that Jian Ghomeshi punched women," adding: "The people I know who work here absolutely would not ignore a suggestion that he was punching women and look away."
When asked by The Fifth Estate if he'd told Conway what he'd heard since May, Boyce said, "I can't recall"—an answer that defied credulity, unless rumours of criminal activity by hosts at the CBC are so commonplace that the head of radio can't be expected to keep straight which ones he acted on and which he didn't.
Either way, two options remain: either Boyce heard about serious, potentially criminal, allegations and told no one and did nothing, or he did tell Conway and both did nothing and by a miracle of bureaucratic alchemy still have their jobs.
For the full article see Macleans Magazine.
From Stephen Pate, NJN Network
You can publish this article on your website as long as you provide a link back to this page.