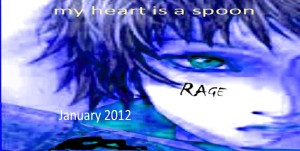 Maxine Heppner with Across Oceans presents
the world premiere of
my heart is a spoon
January 19-22, 2012 at The Theatre Centre
an international Canada-Japan production
created by Maxine Heppner
with dancers Takako Segawa and Gerry Trentham,
and light artist Fujimoto Takayuki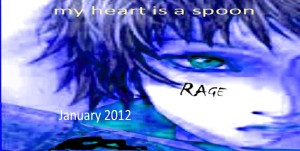 Maxine Heppner with Across Oceans presents the world premiere of my heart is a spoon, a new dance-media work exploring the emotional and physical range of rage while riffing on the visually arresting world of Japanese manga, choreographed and directed by Artistic Director Maxine Heppner, performed by visiting Japanese dancer Takako Segawa with Canadian performer Gerry Trentham. my heart is a spoon runs January 19-22, 2012 at The Theatre Centre, a Dance Works Co-Works Series event.
A girl obsessed with manga comics is drawn into a world that is actually rooted in her cultural past. Looking into the eyes of rage, through the lenses of manga and neon lights, into the sepia corners of old legends, Heppner's newest work promises uncompromising physicality with her characteristic blend of boldness and sensitivity.
my heart is a spoon is an international collaboration with a distinguished group of Japanese and Canadian artists. From Japan: Takako Segawa, award-winning international dancer seen in Toronto in Heppner's acclaimed Moments in Time and Krima. Fujimoto Takayuki, pioneer in high tech light design for such groups as DumbType and recently changing the face of even Kyoto's traditional Noh Theatre company. Music in the score includes the Yoshida Brothers, traditional shamisen musicians who have become international pop stars. Canadians are Gerry Trentham, one of Toronto's outstanding veteran performers; composer for dance and theatre Sarah Shugarman; DROO, leading photographer of Cos-Play; and Kate Alton of Crooked Figure Dances and Volcano, sharing her outside eye.

my heart is a spoon explores how individuals find outlets to express their bottled-up energies: destructively, constructively, in loneliness and joy.
"One person couldn't feel all that, they'd explode!" said Ron. "Just because you've got the emotional range of a teaspoon doesn't mean we all have," said Hermione."
J.K. Rowling, Harry Potter & the Order of the Phoenix

To gain a deeper understanding of how people live through and with the rages of life, Heppner consulted experts who study the condition (psychologists, political scientists, political activists) and people who have lived through rage (sufferers of Iranian prisons, Hiroshima, the Holocaust, Native Canadian schools, and crippling physical illness). This uncovered many forms to the release: destructive and creative, explosive, implosive, slow venting. She also searched for examples in expressive arts. leading her into the worlds of digitized cultures, and was subsequently inspired by the explosive imagery of manga cartooning. (Originally Japanese, manga is cartoon storytelling, often based in traditional legends and myths. It is now ubiquitous and popular with millions internationally. This piece is not manga but riffing from its energy and conventions.
Maxine Heppner trained in the American dance techniques of Martha Graham and Merce Cunningham yet her deepest influences are a collection of contrary viewpoints: the postmodern The House, the European dance of Mary Wigman and Kurt Joos, through mentor Elsie Salomons, Alwin Nikolai and Hanya Holm, and the contemporary dance pioneers of Indonesia. Early creations in the 1970s and 80s were collaborative co-ops: Ace Buddies, MusicDance Orchestra, 15 dance lab, Phyzikal Theatre and others. Since 1989, she has been guest artist in many East Asian contemporary arts projects in Indonesia, Singapore, Philippines, Malaysia, Hong Kong, Vietnam and Japan. Since 1998 her journey has included Europe. Her last piece in Toronto was Krima!, named one of NOW Magazine's top 10 best dance shows of 2009. Through her projects and residencies, she has experienced the inner workings of communities and cultures very different from her own. This project is a reflection of many of these influences.
Of Moments in Time: "exposes the very heart of the human condition" – Paula Citron, Classical 96.3FM
Of Krima!: "challenged our complacency and swept us up in a series of powerful vignettes" – Glenn Sumi, NOW Magazine
Maxine Heppner and Across Oceans presents the world premiere of my heart is a spoon
January 19-22, 2012 at The Theatre Centre, 1087 Queen Street West
A Dance Works Co-Works Series event
Choreographed and directed by Maxine Heppner
Performed by Takako Segawa and Gerry Trentham
Photography by DROO
Lighting and art direction by Fujimoto Takayuki
Music composed by Sarah Shugarman
Thursday-Saturday at7:30pm: $25 ($20 students/CADA); Sunday at2pm: $20
For tickets, call Theatre Centre Box Office at 416-538-0988 or visit www.acrossoceans.org
—-
ADDITIONAL RELATED EVENTS:
my heart is a spoon is part of the Rage Project : info at www.acrossoceans.org
January: TBC (place TBC)
Of Cranes and Tigers, with the Origami Society of Toronto.
Celebrating the new year with an origami marathon: Create the props for my heart is a spoon
Crane symbolizes health, happiness, and eternal peace; Tiger symbolizes the coming of new power
January 7:
Heppner in conversation with Dr. Mavis Himes: Psychoanalysis and the Arts series.
The Language of Dance and the Creative Act in Heppner's Rage: My Heart is a Spoon
9:30-noon Women's Art Association, 23 Prince Arthur Ave info mhimes@interlog.com
January 8: TBC
Manga from Edo to Now: A discussion of cartooning as an alternative Japanese culture since the 1600's!
Curators of the Stuart Jackson Gallery and the ROM TBC
January 14: TBC
Anime and jpop-vid mini festival. 7pm-11pm at the Theatre Centre, 1087 Queen St. West.
January 19:
Opening of photography exhibition of alternative youth fashion by DROO of Super Kawai Magazine,
( exhibit open January 19, 20, 21 4:00pm-7:30pm, 22 11am-2pm in Theatre Centre Mezzanine
January 24:
Workshop in Toronto with Fujimoto Takayuki: Light Artist and pioneer of LED theatrical lighting.
3pm-9pm, 79A St. George Street, Drama at University College of University of Toronto
non-UCDP fee: $70 ($10 off show ticket with workshop pre-registration) registration: workshops@acrossoceans.org
January 26, 27:
Fujimoto workshop in St. Catherines: Brock University Drama Department.
For workshops registration email: workshops@acrossoceans.org