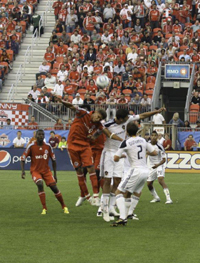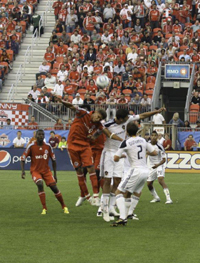 TFC defender Adrian Cann flys
up to head the ball
Toronto FC were unable to take advantage of a short-handed LA Galaxy team without two star players but still managed battle out a 0-0 draw against the league leaders in front of 18,809 fans at BMO Field.
The Galaxy (10-1-3) were missing assist and goal leaders Landon Donovan and Edson Buddle who are away with the U.S.A. World Cup Squad. However, both should re-join their team soon after they were eliminated from the round of 16 in a 2-1 loss to Ghana earlier in the day.
The last time these two teams met also ended in a 0-0 draw May 15th in Los Angeles. With the point Toronto (5-4-3) remains undefeated at home this season and still sit in third place in the Eastern Conference trailing both New York and Columbus by 6 points.
"Any time you keep a clean sheet you have to be happy about that," said defender Dan Gargan. "They are now sitting at the top of the league with the best record so to get a draw is not a bad result by any means. We're still undefeated at home and that's the way we definitely want to keep that…any time you play at home you obviously want to get a win."
Defender Adrian Cann thinks the team's approach to games has changed over the course of the season and as a result the players are more confident that they can win against any opponent.
"I think we expect more," said Cann who was named Man of the Match. "It's not only the clean sheets but we always expect the 3 points, whether it's the top team, bottom team, middle team, I think our mentality has really changed – anything less than 3 points we're disappointed. Considering we got the 0-0 we're content but at the same time we're not content to the point where we're overexcited."

Stuck in the Middle

TFC fans show their support
Neither team asserted themselves as the dominant team in the first half as most of the action took place in the midfield. Both teams registered one shot on goal but both were easy saves and were directly at the goalkeepers. The best chance in the first half went to TFC's Nick LaBrocca who fired a shot that spiralled about a foot over the Galaxy goal.
The pace in the second half quickened slightly and resulted in more scoring chances but both teams were lacking the finish. The Galaxy fired three shots on goal but only Tristan Bowen's shot in the 48th minute gave Stefan Frei any sort of trouble – but he dove to make the save to earn another clean sheet.
At the other end TFC didn't register a shot on goal in the second half but came close on a couple of occasions. In the 75th minute, Dwayne De Rosario moved around a couple of Galaxy defenders and unleashed a shot that landed wide of the goal. But Toronto's best chance occurred in the 84th minute when Dwayne De Rosario made a great run into the Galaxy box and then crossed the ball to a trailing Gabe Gala who smashed the ball over the net.
Perhaps both teams were feeling the rust after coming off the three-week long World Cup break but the game was uninspiring and provided very few highlights.

TFC goalkeeper Stefan Frei
gets ready to stop a shot
"I thought after 3 weeks of not playing, I didn't think either of the teams were really sharp," said coach Preki. "It was a tough fight and I thought if somebody makes a mistake that's how the game is going to be decided. But neither team really made any big mistakes and it ended up 0-0."
Despite the strong effort, Preki would like to see more from his players.
"I thought we fought and worked hard but we have to find a way to have a little more soccer in us, a little more creativity. We didn't create enough."
TFC will now prepare for their next match when they host Houston Dynamo on Canada Day at 7pm at BMO Field.
Contact Aman Dhanoa at aman@oyetimes.com
Photos courtesy of JP Dhanoa