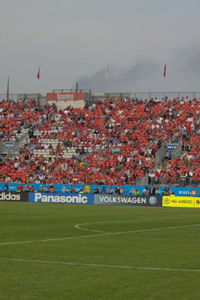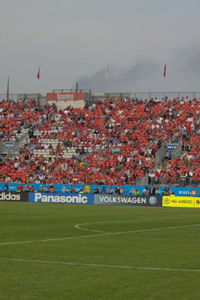 Plumes of smoke can be seen
from BMO Field rising over downtown Toronto
On a day where the G20 Summit took over the city and protestors stole the headlines, the Toronto FC battled to a 0-0 draw against league leading LA Galaxy in front of 18,809 loyal fans at BMO Field.
Plumes of smoke could be seen rising from the downtown core and over the city during the first half but despite all the chaos more fans than expected came out to support their team to the delight and surprise of the TFC players.
"Me, and a few other guys were talking about how many people we thought would show up today and I think like 18,000, that's shocking," said midfielder Gabe Gala. "We thought 11, 12 but it just shows the support we have here in Toronto."
Defender Dan Gargan was equally impressed by the support of the hometown fans.
"It's still a great turnout and it impresses me every time," said Gargan. "To have something like the G20 going on and still get 19,000 is a testament to the city and to our fan base."
Gargan who lives in the downtown core had some difficulty getting to the game as well.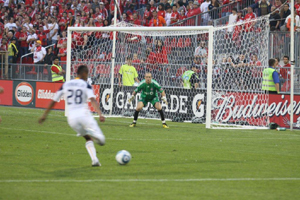 TFC goalkeeper Stefan Frei
gets ready to stop a shot
"I live kind of right in that area so I'm passing tons of cops and roadblocks so it was an adventure."
Defender Adrian Cann, who was named Man of the Match, said the events were unnerving but had no impact on the team once the game was underway.
"It's disturbing but we have a job to do," said Cann. "Guys got here and we watched the television and saw the police cars on fire and stuff, but what are you going to do…we just got to concentrate and get on with it."

MLSE and TFC Reach out to Fans
A few thousand fans were either forced to stay home or simply chose to avoid downtown Toronto after the core was placed on lockdown when protesters clashed with police and resulted in two police cars being set on fire. The restrictions coupled with the closure of transit stations certainly acted as a deterrent for many hoping to attend last night's game.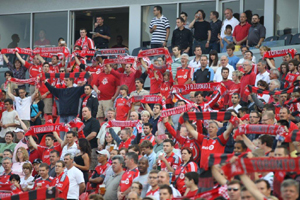 TFC fans show their support
Due to the disruptions caused by the G20, Toronto Maple Leaf Sports & Entertainment (MLSE) and Toronto FC will be offering ticket holders who were unable to attend an opportunity to attend another TFC match this season, subject to availability.
"We made a decision to hold this game based on the security information we were receiving and given the location of BMO Field," said Bob Hunter, MLSE executive vice president of venues & entertainment.
"With the Galaxy and officials all in the city, there was never any thought given to cancelling the game, but due to unforeseen circumstances that had a major impact on the City of Toronto and forced many to stay home, we felt it was important to make this gesture to our fans who were adversely affected by events today."
Contact Aman Dhanoa at [email protected]
Photos courtesy of JP Dhanoa