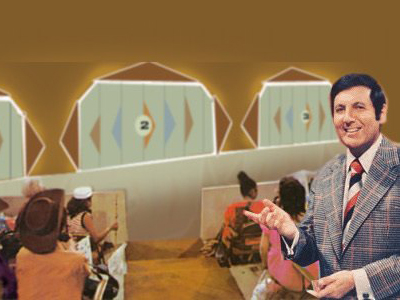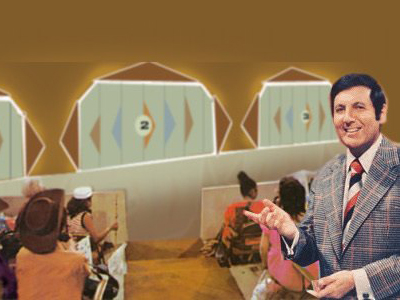 An excellent week for precious metals, with (at press time) gold up $133.90 (+8.3%) to $1,746.80 and silver up $4.67 (+15.3%) to $35.23. These increases were ascribed variously to "
grim US economic data
and deepening concerns over the European sovereign-debt crisis" (AKA "
Eurozone angst
"), the
onset of Diwali
, the Indian festival of lights ("an auspicious time for precious metals purchase") and the possible advent of
the dreaded QE3
.
The folks at the Gold Anti-Trust Action Committee can be forgiven for gloating a little. Wasn't it just this month we were assured that gold's days as a "safe haven" were over? For years GATA has said the gold market is like a crooked version of Let's Make A Deal, wherein unknown amounts of the metal are shifted around and hidden behind Door No. 1, Door No. 2 or Door No. 3 to bamboozle investors and prop up the world's "reserve currency."
In the Financial Times, Gillian Tett describes it this way: "A cabal of Western central bankers is secretly determined to manipulate the world's markets. They are doing this not via interest rates but by rigging gold prices. More specifically, they have kept bullion prices artificially low in recent decades to ensure that our so-called fiat currency system—that is, money created by central banks—continues to work. For if the public ever knew the 'real' price of gold, we would finally understand that our currencies, such as the dollar, are a sham."
Tett admits this "sounds like the ranting of a Tea Party activist" and adds that "central bankers vehemently reject this plot idea." She gives "two reasons why it would be foolish simply to deride or ignore GATA." First, "Global commodity markets are pretty murky; central banks are often opaque; and Western rhetoric about 'free' markets is often hypocritical." Second, whether true or not, GATA's claims "tap into a deep cultural vein" of economic anxiety (eg, "Eurozone angst") and "are unlikely to disappear soon."
At MarketWatch, Peter Brimelow responds, "I say 'ah ha!' to this. I've been writing about the gold conspiracy theory on MarketWatch since I started here 2002." He adds, "Almost equally astonishing for those who know the gold world: the suggestion by veteran gold-fund manager John Hathaway in an interview on King News that 'You kind of have to wonder if the government in Europe or the European Central Bank didn't want gold to be on the defensive because of all of these announcements about a lending facility… The last thing they want is for gold to be rocketing in the face of that.' Hathaway has historically steered clear of this controversy."
At the Gartman Letter, Dennis Gartman professed himself "stunned…by the embrace that Ms Gillian Tett has given to GATA" and concluded that her partial endorsement has fuelled gold's rise.
Peter Grandich joined in with this observation of GATA's foes—Jeff Christian and Jon Nadler, in particular: "Their arrogance and smugness to anyone who doesn't agree with them is only surpassed by their horrific performance in forecasting precious metals prices."
At Mineweb, Lawrence Williams noted that Christian "accused GATA in an interview [of being] 'a group that makes money by basically bilking gold investors out of fees to support GATA so they don't have to get legitimate jobs.'" Leaving aside the faulty grammar, are we to believe that the bankers and their supporters subsist on manna from Heaven?
This space has never dealt in forecasts but is confident enough to venture the following. If GATA's worldview bids fair to becoming received wisdom, this week's gains in precious metals are only baby steps.
Even as gold and silver recover, miners face the increasingly unpleasant reality of resurgent "resource nationalism." At DayonBay, Aoyu Bai documents the recent travails of Bear Creek TSX:BCM, Duran Ventures TSX:DRV and Fortuna Silver TSX:FVI in Peru and others in Kyrgyzstan, Mongolia, Romania and Venezuela. He cautions, "For conservative investors, venturing into politically risky areas should be left to senior producers with portfolios diversified enough so that the failure of one project will leave only a small temporary dent on the company's reserves. If a junior must venture out, it should partner with a senior through joint ventures or joint stakes in order to leverage the bargaining power of multinational firms. After all, one new tax, protest, or accident can end it all."
As if to underline his point, Argentina President Cristina Fernandez has this week seized upon the opportunity presented by her re-election to make foreign resource companies suffer for her country's inflation.
At Seeking Alpha, Roger Conrad cites his "favourite junior miners," two companies which "own and operate producing mines, but [are] only in the early stages of developing their properties": European Goldfields TSX:EGU and Minefinders TSX:MFL.
From the same source, David Urban argues that a surge in silver equities is likely and cites three stocks which, based on their 3Q production, will likely "lead the way": Endeavour TSX:EDR, First Majestic TSX:FR and Scorpio Mining TSX:SPM.
At the Globe and Mail, Monica Rizk and Ron Meisels examine AuRico Gold TSX:AUQ, which was recently called Gammon Gold and has just completed its takeover of Northgate Minerals. They argue that its "current price correction should provide an excellent entry point" and suggest "an initial target of $15″. (Currently trading at $10.10.)
And at the Financial Post, Eric Lam presents Silvercorp as an object lesson in "How to beat a short-seller rap in just seven weeks." Now that a KPMG Forensics has proved definitively that the company was not in fact peddling porkie pies, its stock has soared from a September low of $5.81 to $9.72 (+ 67.3%).
Finally, from Winnipeg comes news that the University of Manitoba has apologized for its involvement with Indian residential schools, despite having had no involvement whatsoever with Indian residential schools. This follows its decision to break its own rule and award a PhD in mathematics to a student who failed to complete his course requirements, twice failed his final comprehensive examination and only then claimed to suffer from something called "extreme exam anxiety." When a member of the university's mathematics department graduate studies committee sought to quash the decision, it awarded him a suspension of three months without pay.
Obviously, the university's next exciting advance in pedagogy will be to abandon awarding advanced degrees in the hard sciences and begin awarding them in moral preening. In related news, this column has decided to make an irrelevant, self-aggrandizing and completely sodding useless gesture and apologize for the University of Manitoba.