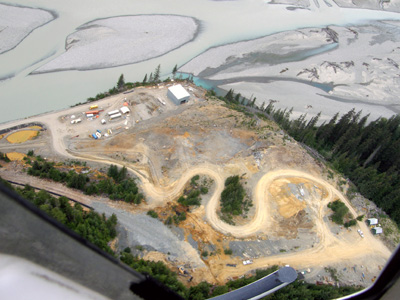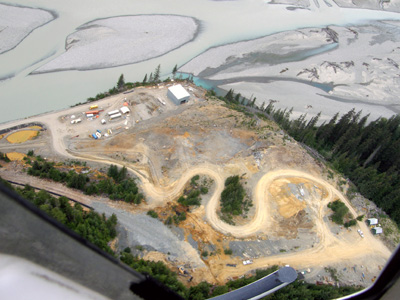 Chieftain plans 2014 BC polymetallic production
Progress is now rapid at Chieftain Metals' TSX:CFB Tulsequah polymetallic project, located 100 kilometres south of Atlin, BC, and 65 kilometres northeast of Juneau, Alaska. "We have pretty much all the major permits, licences and authorizations to move forward," says Jamie Frawley, Chieftain'sDirector of Corporate Communications. "We can start construction any day now."
Gold-silver-zinc-copper-lead production is slated to begin in 2014. This will be the culmination of a long struggle. Plunging metal prices in 1957 shut down Cominco's northern BC polymetallic operation after six years of operation. Resuscitation attempts by Redcorp Ventures a half-century later were dogged by local and environmental opposition. As a result, the company gave up on a plan to build a 160-kilometre road to Atlin. An alternate plan, to ship concentrate by barge to Juneau, also faced resistance. Environment Canada ordered the company to build a water treatment plant to clean up toxins left flowing since 1957.
Finances faltered during 2007. Mine construction did begin, but the 2008 Christmas shutdown became a permanent layoff. Redcorp went into receivership in 2009.
Christmas 2010, however, was kinder. Just three days earlier, Chieftain, a new company announced a $17.5-million IPO, quickly raising the amount to over $20 million. Tulsequah, a propertyChieftain bought out of bankruptcy the previous September, was its raison d'être.
Chieftain brought together President/CEO/Director Victor Wyprysky, an investment banker focused on exploration and mining, and Executive VP Terrance Chandler, Redcorp's former President/CEO. They put together a seasoned team of financiers, geologists and engineers and added Phil Fontaine, formerly Chief of Canada's Assembly of First Nations, to their board.
Tulsequah will bring big changes to a remote area of northwest BC that lacks power and is accessible only by boat, barge or light plane.
An interim water treatment plant should see completion next month, a key step before construction begins in spring 2012. One permit remains—the road to Atlin, which would allow truckers to haul concentrate to the ice-free port at Skagway, Alaska, approximately eight hours from Tulsequah. Frawley sounds confident the road will be approved, although the exact route is still under negotiation. The mine is on the property of the Taku River Tlingit First Nation group. "We're working very closely with them to ensure both sides are happy and making mutual decisions," Frawley says.
The ultimate goal is an underground mine below the Cominco workings. Last June's PEA forecast an initial $310.1-million CAPEX with a $277-million pre-tax NPV and a 25% IRR. Polymetallic projections came to 2,000 tonnes per day over a 9-year lifespan for 69,400 gold-equivalent ounces annually. The CAPEX includes $65 million for the all-weather road.
There's about 20 kilometres of strike between those two past-producing mines, and there's a very good indication that deposits exist between there. It's early days right now, but we feel very confident that there's good exploration potential—Jamie Frawley
The PEA was based on a November 2010 resource with an indicated estimate of 188.9 million pounds copper, 163.6 million pounds lead, 856.7 million pounds zinc, 510,000 ounces gold and 18.63 million ounces silver. The inferred category shows 22.7 million pounds copper, 22.4 million pounds lead, 121 million pounds zinc, 57,000 ounces gold and 2.53 million ounces silver.
That estimate doesn't include the Big Bull Deposit, another 1950s Cominco operation. "There's about 20 kilometres of strike between those two past-producing mines, and there's a very good indication that deposits exist between there," Frawley says. "It's early days right now, but we feel very confident that there's good exploration potential."
The company awaits results on field magnetics and helicopter-borne Vertical Time-domain Electromagnetic surveys conducted last spring on the 14,220-hectare property encompassing both deposits. This year Chieftain drilled approximately 15,000 metres at Big Bull and another 15,000 at Tulsequah.
June 28 results from Big Bull include
2 grams per tonne gold, 167.1 g/t silver, 0.41% copper, 2.15% lead and 4.19% zinc over 9.5 metres
4.07 g/t gold, 81.37 g/t silver, 0.94% copper, 1.15% lead and 6.38% zinc over 2.3 metres
3.4 g/t gold, 274 g/t silver, 0.19% copper, 8.25% lead and 19.8% zinc over 0.7 metres
0.73 g/t gold, 23.69 g/t silver, 0.12% copper, 1.06% lead and 3.33% zinc over 10.7 metres
(including 1.1 g/t gold, 46.87 g/t silver, 0.41% copper, 1.68% lead and 5.91% zinc over 1.6 metres)
October 5 results from the Tulsequah Deposit include
4.51 g/t gold, 133.13 g/t silver and 1.16% copper over 24.4 metres
3.07 g/t gold, 100.52 g/t silver and 1.47% copper over 18.7 metres
2.43 g/t gold, 54.43 g/t silver and 0.71% copper over 10.1 metres
2.13 g/t gold, 72.85 g/t silver and 1.33% copper over 9.2 metres
3.45 g/t gold, 120.48 g/t silver and 1.3% copper over 3.9 metres
Additional 2011 results are forthcoming.
A feasibility study began in September and will be published around March 2012, Frawley reports. That's one of the ways Chieftain hopes to raise the PEA's $277-million NAV to $413 million. That 67% enhancement would come from upgraded resources, improved metallurgy and run-of-river hydro (the PEA considered diesel-generated electricity).
At press time, Chieftain had 12 million shares trading at $3.70 for a $44.5 million market cap.
"Right now Chieftain is trading at roughly 20% NAV," Frawley adds. "Once we start hitting some of our key milestones, once we finish out the year and start next year, we expect a lot of movement. I think we're undervalued right now, and we're a great investment opportunity."