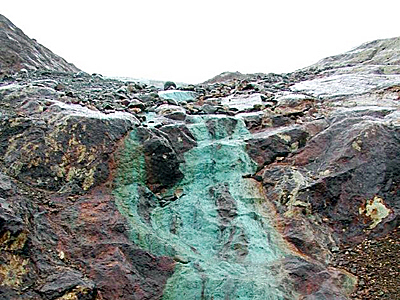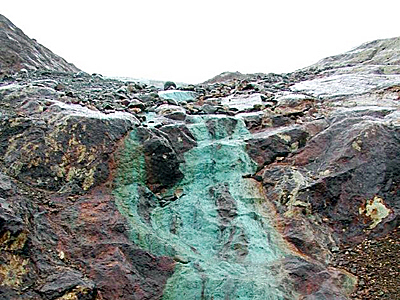 Seabridge Shares are Cheap at the Price
Rudi Fronk believes Seabridge Gold Inc TSX:SEA is one of the cheapest gold stocks in the world. A glance at the numbers would seem to support this. At a market cap of roughly $1 billion, with proven and probable reserves at its KSM project in BC of 38.5 million ounces gold, Seabridge stock is now trading at approximately $26 per ounce. And that's ignoring considerable additional reserves at the project, including 10 billion pounds copper.
The President and CEO notes that the nearest comparable company, NovaGold Resources Inc TSX:NG—with advanced-stage projects in Alaska and BC—is "trading at five to six times our valuation on a reserve basis." He explains the inconsistency, "The big difference between NovaGold andSeabridge is they already have sponsorship in their projects with big joint venture partners [i.e. Barrick Gold Corporation ABX:CA and Teck Resources Limited TSX:TCK.B]; we don't yet. When we get that sponsorship through joint ventures, we would expect to see a pretty significant re-rating in our share price. I'd say we're getting close to that point now."
KSM is located 65 kilometres northwest of Stewart, BC and about 20 kilometres southeast of the past-producing Eskay Creek Mine. The project consists of four deposits—Kerr, Sulphurets, Mitchell and Iron Cap—and, in addition to the 38.5 million ounces gold and 10 billion pounds copper already mentioned, it has silver reserves of 214 million ounces and molybdenum reserves of 257 million pounds. Fronk declares, "KSM is the largest undeveloped gold-copper project in the world today in terms of reserves."
The company is in the midst of a 12,000-metre infill drill program at the Sulphurets deposit to upgrade roughly three million ounces of inferred resources to reserves. October 20 assays include
1.03 g/t gold and 0.1% copper over 182 metres
0.96 g/t gold and 0.1% copper over 150 metres
0.93 g/t gold and 0.51% copper over 143 metres
0.74 g/t gold and 0.3% copper over 105 metres
0.8 g/t gold and 0.47% copper over 86.5 metres
0.38 g/t gold and 0.27% copper over 152 metres
1.57 g/t gold and 0.04% copper over 36.6 metres
Fronk comments that the results "are better than what was expected. In addition to the inferred level, we're also finding unclassified blocks that we'll move up to higher categories as well. So I think our objective of three million ounces in addition to reserves is easily going to be achieved there."
Calculated using a gold price of $1,069 per ounce, Seabridge's May 2011 updated prefeasibility study gives a base case net present value (at a 5% discount rate) for the KSM project of $2.6 billion, an internal rate of return of 9.2% and a payback period of 6.6 years. The mine life is estimated to be 52 years with average life-of-mine cash operating costs of $231 per ounce of gold after base metal credits.
In addition to updating inferred resources at Sulphurets, Seabridge is also currently testing the Mitchell deposit for underground potential. "Mitchell is the largest of the four deposits—in fact it's the largest gold deposit ever found in Canada," Fronk says. "It now has more than a 40-year mine life on an open-pit basis, but there's a lot of material down dip that is still there as resources. Our thought is, at some point in the Mitchell open-pit life, to move to a block-cave operation to reduce the amount of strip you have to do and continue going well beyond 40 years at Mitchell. We've engaged a consulting firm that's very top-level in terms of block caving, and we did six deep holes for geotechnical purposes at Mitchell this year. One of the holes intersected 810 metres of continuous mineralization from the surface." In other words, "This ore body is unbelievable."
When we get that sponsorship through joint ventures, we would expect to see a pretty significant re-rating in our share price—Rudi Fronk
The next major step for Seabridge is permit applications. Fronk reports, "Best-case scenario is you're looking at 2012 and 2013 for completing the permitting process, then probably a four to five year construction period for this project."
In spite of its relative remoteness, the KSM project has certain logistical advantages over other major projects in northern BC; namely, it is the closest project of its size to existing roads, to BC Hydro's Northwest Transmission Line (expected to be completed by late 2013) and to Stewart's year-round, ice-free port. In addition, Seabridge finds itself in the advantageous position of being fully funded after the June 30 closing of a $30 million private placement with Royal Gold Inc TSX:RGL. (Royal Gold was also granted the option to acquire a 1.25% net smelter royalty on all gold and silver production sales from KSM for $100 million.)
Seabridge's other major project—Courageous Lake, comprising 85% of the Courageous Lake Greenstone Belt in the Northwest Territories—is, according to Fronk, approximately a year and a half behind the KSM project. It has a mineral resource estimate of 6.8 million ounces gold measured and indicated, and 4.5 million ounces inferred. Seabridge is spending $16 million on the project this year and expects to have a prefeasibility study completed by 2Q 2012. "We'll have more time and more resources to spend on it after we get the deal done on KSM," Fronk says.
Fronk sums up, "[KSM] is a project—of scale now—that really few companies in the world have the technical and financial capabilities to build. We're not one of them. We've had a very open-door policy with the big gold mining and base metal companies over the last several years with a view to, at some point, partnering up. We've done all the work that we should be doing, and it's almost time to hand it over to a major in some sort of transaction. Our preferred structure is a joint venture, where we stay in the deal, but they do all the heavy lifting going forward."
Seabridge has 42.4 million shares trading at $24.61 for a market cap of $1.04 billion. Its other projects include the Grassy Mountain and Quartz Mountain properties in Oregon, the Red Mountain project in BC and the Castle-Black Rock project in Nevada.