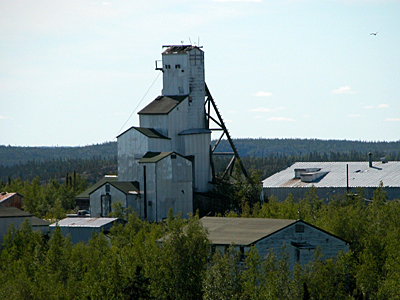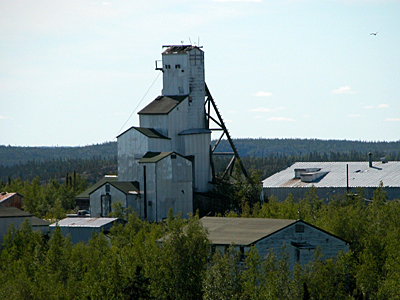 Tyhee Nears NWT Gold Production
It's at a daunting latitude, yes, but those who fear Tyhee Gold Corp's TSXV:TDC Yellowknife gold project is too remote might be surprised to find that the property has already produced over a million ounces of gold. Staked by prospector AV Giauque in 1944, the Discovery Mine ran from 1950 to 1969 and turned out roughly one ounce of gold for every ton of ore mined. Employing what has proved for so many junior miners to be the impeccable logic that what was uneconomical then is likely to be economical now, Tyhee bought the property in 2001 (by that point expanded to include six additional claims), and it hasn't looked back.
President and CEO Dave Webb gives a brief timeline: "We acquired the property in 2001. In 2005, we commenced baseline studies for permitting. In 2008, we completed a preliminary assessment that showed the project was economic, and we filed our first request to the regulators for licenses to operate. In 2010, we completed a prefeasibility study. It was quite positive, and we submitted a revised operating license request. In May 2011, we went into the final part of the environmental assessment report and started our feasibility study. We expect to be through everything in another six to eight months."
At its southernmost point, the 12,635-hectare Yellowknife gold project is 50 kilometres north of the city of Yellowknife in the Northwest Territories and 90 kilometres at its northernmost point. The property is located in the South Mackenzie Mining District and consists of the Ormsby, Nicholas Lake, Bruce, Clan Lake and Goodwin Vad zones. The property has an NI 43-101 resource estimate of 1.95 million ounces gold in the measured and indicated categories and 269,000 ounces inferred. (The resource includes proven and probable reserves of 811,200 ounces.)
Tyhee's July 2010 prefeasibility study shows a base-case net present value for the project of $71.3 million (before tax) and an internal rate of return of 16.1% (at a 5% discount rate). Average operating costs are estimated to be $541 per ounce, with initial capital costs of $174 million, to be repaid in five years. But note that this calculation was based on $950-per-ounce gold and that it only takes into account the Yellowknife project's measured and indicated resources. Inferred resources—plus additional resources from the two drill programs conducted since the prefeasibility study—and a considerably higher moving gold price should, Webb believes, improve significantly the feasibility study the company expects to release in the first half of 2012.
Tyhee is currently undertaking a 3,000-metre drill campaign at Clan Lake. "It's all development drilling," Webb reports. "We're stepping out in 50-metre increments on our existing resource, and in some places we have gaps, and we're drilling in between established resources. We have 350,000 ounces of measured and indicated gold on the Clan Lake Main Zone. It's open in all directions, so we've been stepping out to the southeast, and we've expanded it or showed the mineralization continues for another 500 metres. Now we're tightening the drilling up in that 500-metre stretch to bring it into a resource category."
October 20 results of the Clan Lake Main Zone include
0.43 grams per tonne gold over 39.5 metres
0.48 g/t over 35 metres
1.49 g/t over 13 metres
1.01 g/t over 1.3 metres
14.06 g/t over 1 metre
1.03 g/t over 0.5 metres
3.05 g/t over 2 metres
Webb comments, "I think that it's quite good that in shallow holes we're getting long intercepts of low to marginal grade but still economically-recoverable gold values. In the long step-outs—the farthest east that we've ever drilled—we're still getting one-and-a-half grams of gold per tonne over 13 metres. Some economically significant intercepts." He notes that results from another 15 holes are pending and should be released over the next four to eight weeks.
"The Yellowknife project has exactly met my expectations. All of our gold zones are open for expansion."—Dave Webb
Returning to the subject of the property's location, Webb emphasizes that it is situated in the southern part of the Northwest Territories and that Yellowknife is accessible year-round by road. Furthermore, while the project itself is accessible by road only three months of the year, it is but a 20-minute flight toTyhee's own airstrip there. As for costs, Webb gives a recent example, "In March of 2011 we purchased 141,000 litres of fuel. We put that in B-train trucks, brought it up to our property, paid all the taxes and put that fuel into tanks on our property. It cost us $1.11 per litre. Gas prices here in Vancouver are running at about $1.40 a litre. You talk about remote accessibility—we can operate pretty cheaply there."
Does the company intend to take the Yellowknife project to production itself? "Oh, absolutely," Webb exclaims. "That's been our stated goal from day one. If you take a look at the people involved in the project to date—in the executive as well as in the operations side—we're all operators. All of us have been involved at a high level: president, vice president or director of companies that have started from scratch and built mines.
"The Yellowknife project has exactly met my expectations," Webb concludes. "All of our gold zones are open for expansion, so we may be reporting a seven-, eight-, 10- or 15-year mine life. All of our zones are open for expansion. The deepest we've ever drilled on any of our zones is, for reserves, 410-meters deep. Yet the Discovery Mine went down 1,200-metres, and the Con Mine [located just south of Yellowknife, in operation from 1938 to 2003] went down 1,800 meters. So there's lots of potential for this thing to go on for a long, long time."
At press time, Tyhee Gold had 293.7 million shares trading at $0.095 for a market cap of $27.9 million.