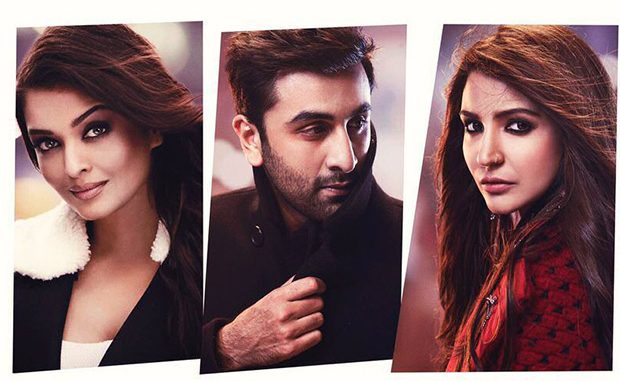 Now this could well be a dream offering from Karan Johar, if the coming together of a good mix of youth, experience and emerging talent is any indication. With just three days to go for the release of Ae Dil Hai Mushkil, let's take a look at the team that the filmmaker has managed to assemble for his BIG Diwali release.
Ranbir Kapoor
Talent never lies low, and going by the enthusiasm demonstrated by Ranbir Kapoor on screen, the actor is pretty much in for a big one here. From Yeh Jawani Hai Deewani to Ae Dil Hai Mushkil, it has been one journey for Ranbir Kapoor and the actor is all set to hit it out of the park with this romantic musical entertainer.
Pritam Chakraborty
Five songs released – each one of these turning out to be hugely popular. Well, Pritam Chakraborty could well be hailed as the second hero of Ae Dil Hai Mushkil. Right from the title song to 'Bulleya', 'Channa', 'The Breakup Song' and most recently 'Cutie Pie', the composer has been delivering one popular song after another. His contribution to the film is priceless!
Anushka Sharma
She has two of the biggest All Time Blockbusters to her credit already. First it was P.K. and then came Sultan. The young woman has been moving up the ladder at a steady pace and now that she is gearing up to hit the screens with Ae Dil Hai Mushkil, it is pretty evident that she is high on confidence. The kind of spunk that she has shown in promos so far should be infectious for the audience.
Aishwarya Rai Bachchan
'Sheer experience' is what one waits to catch on the big screen once Aishwarya Rai Bachchan is seen on the big screen again. In Jazbaa, she was in the middle of some thrills and action, while Sarbjit had her as an aged woman in an entirely non-glam part. Now with Ae Dil Hai Mushkil, audiences would get to see the Aishwarya Rai who first regaled the screen a couple of decades back.
Shah Rukh Khan
Over the years, Shah Rukh Khan has been seen in quite a few cameos, most of which he has done for friends. Now that he is back with Karan Johar for a big screen appearance (five years since 2010 release My Name Is Khan), rest assured it has to be nothing less than spectacular. One expects a really special part written for Shah Rukh Khan here and Ae Dil Hai Mushkil is one zone where he should truly rock the show.
Alia Bhatt
A star already and a superstar in the making, Alia Bhatt has been a regular with Karan Johar right from Student of the Year to Kapoor & Sons. With the kind of faith that she has for the filmmaker, it is not surprising that she is happy to be seen in a cameo for Ae Dil Hai Mushkil as well. What exactly would she be enacting on screen? Well, not much has been revealed about it so far. However, it is set to be special.
Arijit Singh
Another hero of the film, Arijit Singh has been consistency personified when it comes to his stint behind the mike. It was Pritam who brought Arijit to the fore a few years back and the partnership has continued right till Ae Dil Hai Mushkil. The songs have been getting popular with every passing week and clearly, the singer is on a roll. With audiences across all age groups picking his songs on loop, Arijit is an asset here.
Source: Bollywood Masala original article at Karan Johar gets his dream cast together with Ranbir, Anushka, Ash, SRK and Alia