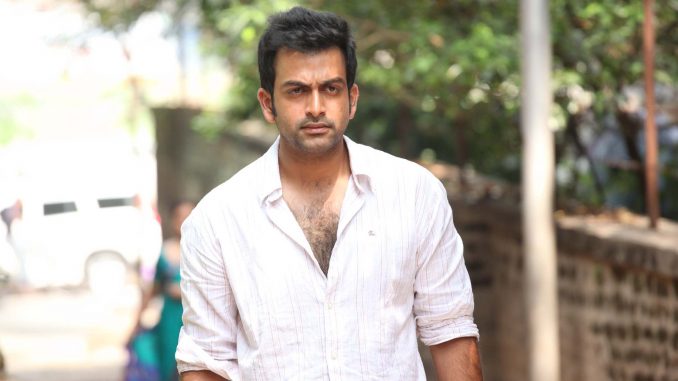 Another South-Indian heart throb who started his South Indian film career with Malayalam Films in 2002, Entered Tamil Films is 2005, Entered Telugu Films in 2010. Prithviraj Sukumaran who also goes by the name of Prithviraj started his Bollywood Career with Aiyya (Which had Rani Mukherji opposite him) in 2012, He is all geared up for Bollywood innings with his recent release Aurangzeb for Yash Raj films and have been signed on to play one of the leads in Farah Khan's Happy New Year. Prithviraj goes sweet and raw in candid with Faisal Saif..
How do you feel about your Bollywood Journey?
I think it's too early to feel anything. But more than anything else i think like i started out in South, It has been a very reluctant beginning. Anurag Kashyap called me and offered me Aiyya and i did it. Because i loved that crazy wacky idea. The film didn't do well, But i was satisfied as the film came out exactly the way it was narrated to me.
How did you took Aiyya's failure?
As i said, The film didn't do well is fine by me. The people here seemed to have liked me in the film. I immidiately got a call for an Audition from a big production house Yash Raj films. I went and auditioned for the part and i was selected for Aurangzeb.
Audition for Prithviraj?
Yes (Smiles). This was the first ever audition i ever did, And this audition was good enough to get me Aurangzeb. Now i have finished me second Hindi film so i really can't be complaining. It seems pretty easy when you rate that way. I know there are millions of people who are waiting for that kind of opportunity that came my way.
What difference did you find in Malayalam and Bollywood film industry?
The only difference that i found was the Language. Apart from that i very well know about the theory going around about South-Indian film people are 'So-Professional' and blah blah. But the fact is Bollywood is going more Professional nowadays. In short, The process of Film-Making is all the same. But when the film releases, You realize that you are playing on a much bigger scale in Bollywood. As a performer, You always crave for a bigger audience. And Bollywood is India's biggest stage.
So you are now shifting to Mumbai..
Yes of course. In fact i am looking for a place in Mumbai for the last couple of months.
Aurangzeb looks more like The Devil's Double, The Departed, Donnie Brasco mixture?
Aurangzeb is a very intense drama. But it has also got a very strong family background in it. I play a Police Officer named Arya. And the film is in it's own way a journey about this man Arya who believes in something, And he realizes it was something else in the Climax. The Hollywood Film's name you have mentioned are just incidents in the film. Aurangzeb is about what happens to the relationships because of these incidents. The crux of the film is what happens to the relation of people when they are taken out of their comfort zone and put into different places, What happens with them is the film. How every character changes, How each character is exposed to a new world where they suddenly realize things were never the way they thought would be.
But Aurangzeb is an Action Film..
I would like to clear this thing that Aurangzeb is not just an Action Film. It is more a film about Performances, Relationships and Emotions.
Do you believe in a 100 Crore Club?
(Smiles) If a film is made on the budget of 130 Crore and earns 100 Crore, Do you consider it as a Successful film? What is the definition of a successful film? A film that has been made on the budget of 75 Crores and made 100 Crores, Or a film that got made on the budget of hardly 5 Crores and goes on to earn 60 Crores? So it is all a question of perspective. 100 Crore Club sold on a parameter of success is actually sad. If a film makes 100 Crore, It's great. That's why we make films. 100 Crore club indicates many people came to cinema halls and saw the film. Why do we talk about the film which made in 90 Crore and earned 100 Crore? Why don't we talk about films which are made on the budget of 3.5 Crore and earns 100 Crore? These films don't fit in the 100 Crore Club category? I believe in maximum number of people coming and watching the film.
You say this because you are also a Producer and a Distributor back home?
As a producer, I made my first Malayalam film called 'Urumi' on the budget of 18 Crores with huge star cast such as Vidya Balan, Tabu, Prabhudeva, Genelia D'Souza. But my company earned huge money in a film called 'Indian Rupee' which i made on a very small budget of 2.5 Crores.
Any favorite Bollywood Director you want to work with?
(Laughs) I want all the directors to work with me. I am a very selfish guy. I want all the Directors to make movies only with me as a Lead. But as an actor, I would love to do a film with Kajol. I am a big fan of Kajol. I am also a big fan of Rani Mukherji, And my wish was kicked off and i got a chance to work with her in Aiyyaa. And yes i would love to do a film with Amitabh Bachchan.
Your Fashion Statement 'Sir'?
Whatever you wear should be comfortable on you. Else you end up looking like an Idiot. There is no point in getting all the branded stuffs. The biggest parameter in daily fashion is comfort.