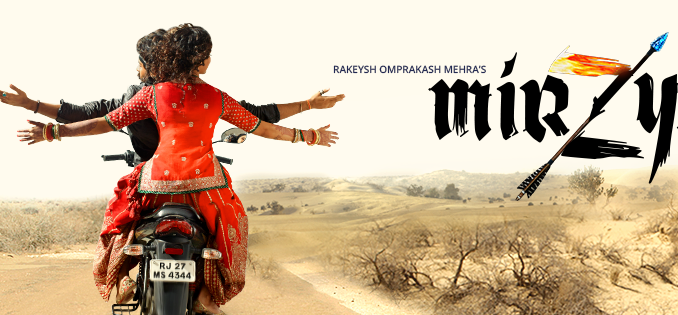 The first song of Mirzya will be coming out soon and it is going to be the title track of the film. It is the same song that hits you hard as the trailer starts playing. With the powerful music by Shankar, Ehsaan and Loy, coupled with singer Daler Mehendi's piercing voice the song is a treat for ears.
But the fact is that, originally the filmmakers were to release the title track of the film later and instead release another song but the music company insisted that they release the title track first as it has garnered excellent response from the audience. And dint want the viewers to wait any longer.
Therefore, the title track will be the first song from the film to be out on 1st Sept, Thursday.
The very first content from the film released was the teaser, which gave a brief glimpse of the trailer and that itself gave us goosebumps and the smashing part was definitely the music played in the background.
Later came the trailer which left us totally flabbergasted. Daler Mehendi's substantial voice was like a trans playing on repeat in our heads.
The much awaited and anticipated film 'Mirzya' marks the debut of Harshvardhan Kapoor and Saiyami Kher.
The film is directed by none other than the 'Rang De Basanti' and 'Bhaag Milkha Bhaag' director Rakeysh Omprakash Mehra.
Apart from the music what grabs one's attention is the graphics of the video. The film will have drama and action packed sequences and it seems to be visually rich.
Mirzya trailer received towering response from the audience as the trailer has done its job of hooking viewers enough to want to immediately book tickets when the movie is released.
"Mirzya" is a timeless folktale about star-crossed lovers and plays out in two parallel worlds — one real and one fantastical. As the lovers struggle with forces that seek to keep them apart in both worlds, they discover that even a moment of true love is worth an entire lifetime.
Saiyami looked beautiful in both her looks, while Harshvardhan looks captive and mystical, he seems charming as a warrior from the fantasy world. From sensuous dance moves to an intense kiss, "Mirzya" is set to bring a passionate love story on-screen.
Daler Mehendi's voice in the title track will touch your heart. And of course, Shankar Ehsaan Loy's music, Gulzar, who is the writer, and Paweł Dyllus's cinematography make "Mirzya" a must watch.
The trailer was launched at the IIFA 2016 on June 23 and thus, several Bollywood celebs, including Varun Dhawan, Jacqueline Fernandez, Aamir Khan, Shahid Kapoor and Arjun Kapoor, have praised it on social media.
With glimpses of a battle and tribal dance, the mysterious film trailer has made the moviegoers all the more anxious about the film. The film set in rural Rajasthan, 'Mirzya' is set to be released worldwide on October 7, 2016.