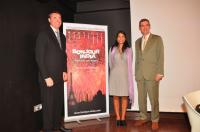 This article was last updated on April 16, 2022

One indicator of India's growing importance in the world is the way cultural missions stationed in Delhi have stepped up their activity. Concerts, dances, exhibitions, food festivals — we bring up some highlights of events starting this weekend.
Bonjour India
The French embassy is organising a three-month-long festival of France in India that is spread over 18 Indian cities. On Sunday, French Kathak dancer Isabelle Anna will be performing at Kamani Auditorium, showcasing her synthesis of the traditional dance form with the music of European composers, Maurice Ravel (Bolero) and Luigi Nono.
Jean-Michel Othoniel's The Precious Stone Wall, a public art installation created with the Firozabad glass-blowers will be put up early next month. Then there'll be the 'Albert Kahn Collection' at the NGMA — black & white and autochrome pictures of life in India taken in the first two decades of the last century.
Late January next, Delhi will host a performance of The Giraffe by the theatre group Compagnie OFF, an extravagant street show that has giraffes, among other circus animals. Also on the cards is a visit by four Cordon Bleu chefs to Indian cities.
Max Mueller Bhavan turns 50
Celebrations have begun at the cultural wing of the German embassy with a film festival and a band performance. This week, there'll be a dance 'conference; featuring choreographer-dancers Navtej Johar & Anusha Lall (Bharatanatyam, India); Nahid Siddiqi (Kathak, Pakistan/UK), Cynthia Lee (Ballet, Taiwan); Chey Chankethya (Cambodia) and Ben J. Riepe (contemporary, Germany). In the evenings, there'll be performances at the India Habitat Centre and MMB's Kasturba Gandhi Marg address.
Portugal calling
Elsewhere, in Saket, just off the newly fashionable mall district, opens O Palacio, a cultural-cum-lifestyle-cum-gastronomic destination. Set in a Portuguese-style villa it's being
'supported' by the Portuguese embassy and Indian design house Nakul Sen. O Palacio has fashion boutiques, an art gallery and a restaurant, a branch of the famous Casa Portuguesa in Baga, Goa. "We would like to see it develop as a forum for cultural exchange between India and Portugal. So we've introduced them to Portuguese wine-makers, for example," says an embassy official. There's also an exhibition by Yusuf Arakkal, 'Aato-mobile', showcasing his whimsical mutations of the Ambassador car.
You can publish this article on your website as long as you provide a link back to this page.