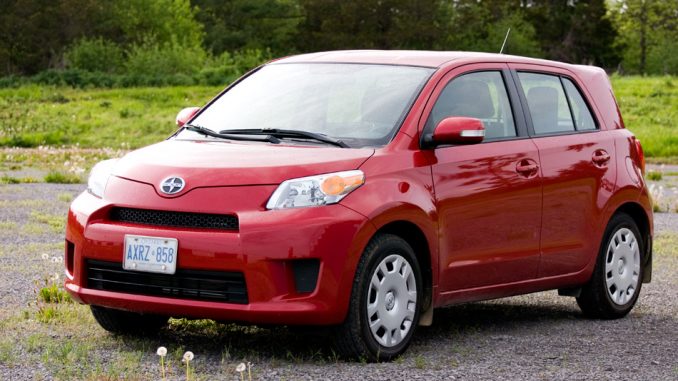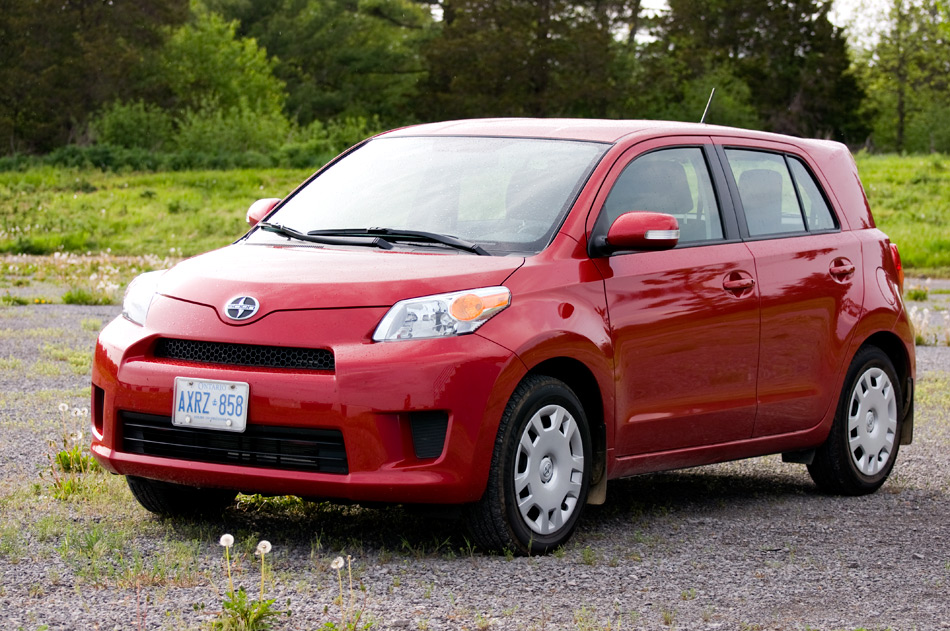 Known as the Toyota Urban Cruiser in Europe, and introduced in the USA as a Scion in 2008, the xD is one of the premiering models for the new Toyota sub-brand in Canada for 2011. This 5-door hatchback features a 1.8L 4-cylinder engine that produces 128 hp at 6000 rpm and 125 ft. lbs. of torque at 4400 rpm. Although available with a 4-speed automatic, the standard 5-speed manual is really the transmission of choice with this vehicle.
Our test vehicle came equipped with the TRD sport muffler and a TRD shift knob. Although the latter made little difference, the upgraded muffler was good for a few more horses and a great throaty sound. The manual transmission enabled smooth and quick shifts with a balanced clutch that encouraged shifting often.
The suspension on the xD encourages a sporty drive, but is not uncomfortable. It handles well, and manages to hold on to some poise when thrown in to a corner – or two.
Being a slightly taller the vehicle the xD isn't exactly a sports car, but manages well for what it is. The experience inside the xD however, is a loud one. Not only did our tester's upgraded muffler constantly intrude on cabin conversations, but so did every manner of road and wind noise.
For creating noise of your choosing the xD comes standard with a Bluetooth enabled audio system equipped with 6 speakers. The system has notably weak bass response for what is a 'youth market car' but otherwise handles all manner of audio with little noise distortion even at high volume levels.
The exterior of the xD is designed in a similar fashion to that of its larger sibling: the very box-like xB. The look of the xD is more conservative than that of the xB, but is still a design focused for the young and young at heart. Although exterior styling may be notable, the interior is notably bland. Use of some textured material on parts of the dash aside, everything else inside the xD is fairly unimpressive and fails to inspire. Hats off however, to intelligently laid out controls, and storage spaces within the cabin.
At $17,200 the Scion xD is not particularly expensive, it does seem to lack a few tech options that have become popular on vehicles in the sub $20k price range recently. Although the xD is not technology heavy, it does include a myriad of safety systems including traction and stability control – see
Toyota STAR Safety Systems article
for details. Where the xD really shines however, is its customization enabling simplicity.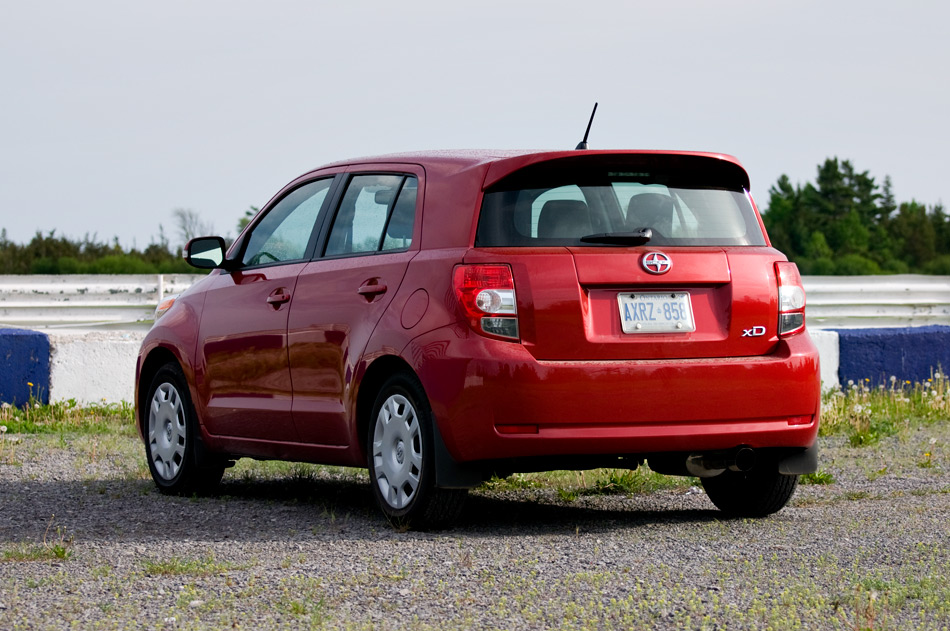 Most cars are purchased with the idea that it will be used as-is for years to come. The xD – as with all Scion vehicles – is purchased as a clean slate ready to be worked on, added to and played with. There are a number of factory ready accessories that are available from Scion/Toyota dealers, but the real options arise from the large variety of aftermarket options available for these vehicles from third party manufacturers. Scion has been around in the US since 2003, and as a result has a strong following with lots of aftermarket parts availability. Canadian buyers can still benefit from this as many of the US based aftermarket product suppliers do ship to Canada for reasonable shipping fees.
Although still new to Canada, Scion is slowly finding its way into the hearts of their target Gen Y buyer, with continued focus on solid, reliable transportation that can be modified to reflect individual personalities, vehicles like the xD may indeed find a home in the Great White North.
Find me on Twitter by clicking
here