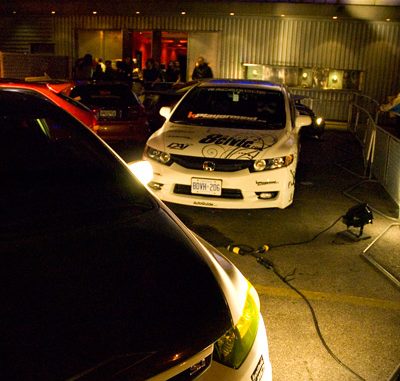 5 Civics, 5 Cities, 5 Parties. This is how Honda Canada is tagging this massively social media connected, Gen Y targeted event.
This past Friday – September 30th – the doors at Kool Haus in Toronto swung open at nine o'clock to an enthusiastic but small group of party-goers. Outside the doors of the popular downtown club were a number of modified 'tuner' Civics polished and lit up as entry way eye candy. Barriers had been erected to control the flow of anticipated crowds. Security was in place, VIP lines set up, there was even the odd press photographer looking to snap a few shots. It wasn't however till after 10pm that things started to really pick up; by 11 the club was starting to feel comfortably packed.
Inside, the show started with Toronto's own self proclaimed "re-inventors of remix". Keys N Krates combines live instruments, turntables, and live samples to bring a live sound experience like none other to life in front of their audience. Following up was Super Mash Bros, the Los Angles based mix masters combine the tracks from today and recent past along with unique visuals that make for not only an entertaining auditory experience, but a mesmerizing visual experience as well. As Super Mash Bros

departed the stage with a final encore, party goers had given their dancing feet a thorough workout. Next to take the stage was one man drum and bass/ sampler scratch artist Z-Trip. As Z-Trip began to spin his records it soon became obvious that he not only knew how to read the crowd at Kool Haus that night, but he was indeed a true embracer of the
mashup
music movement he helped pioneer.
In between all the performers, organizers had arranged for free giveaways that included Civic branded t-shirts. Dolling the freebies out was none other than Kiss 92.5FM show host Cash Conners. He was also encouraging the massively social media connected audience to tweet at various points throughout the night using Twitter handle
#CivicGarageParty
.
Headlining the night, and coming on stage at 1am was Canuck electro-pop group Dragonette. The crowd was eager, the sound was just right, and everybody kept dancing till the last track played out. Earlier in the day, I caught up with Martina Sorbara, Dan Kurtz, and Joel Stouffer of Dragonette and asked them about their thoughts on playing the event. "The Civic Garage Party seemed like a natural fit between band & event. We're excited that [Honda] found us to be cool enough to work with them" said Martina. Dan

had some interesting Honda history to share with me "My first car was my mom's '84 Civic. It had no stereo!" In an ode to Honda Civic culture he told me about how he bought a used aftermarket unit from "some guy" and installed it himself – I can recall at least half a dozen Civic owners who've done something very similar themselves. Honda Canada may not have been aware of Dan's Civic past, but the group did truly come across as a great choice to headline the Toronto Civic Garage Party.
Toronto is just the beginning however, the Civic Garage Party is scheduled for four more branded events; each with its own performers and unique venues. Tonight, October 6th, will be a party for those in – or willing to travel to – Montreal. The Civic Garage Party will be in Vancouver on October 13th, Halifax on the 18th, and Calgary on the 21st.

"This is just the start, depending on how these go, we may extend the Civic Garage Party to other cities" was what Jean-Marc Leclerc , VP of Marketing for Honda Canada had this to say when asked about the possibility of doing a Civic Garage Party in other cities. "We are very proud of what we're doing here; we turned to the [younger folks] in our marketing team and asked them to come up with ideas for launching the new Civic. They've definitely delivered."
This isn't the first time – and won't be the last – Honda has reached out to the younger demographics in an effort to market the Civic, remember Civic Nation? Somewhere between the music, the venues, and the performers Honda seems to have found a great way once again to connect with their audience through the Civic Garage Parties.
For those who attended the Toronto event, hope you enjoyed it. If you happen to be in the right city for an upcoming event check it out. Details about the event can be found on Honda Canada's Facebook page
here
.
Oh, and for those still wondering, the event's free. So get your dance on.

Photography courtesy of Honda Canada and Kanishka Sonnadara

Follow Kanishka Sonnada on Twitter by clicking
here