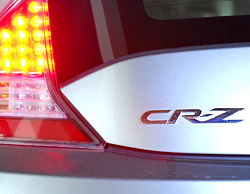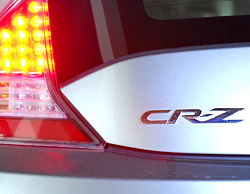 The first thought that raced through my mind when I set my eyes on the Honda CR-Z was the phrase "Boy Racer". It was a small two door sport hatchback that looked fast even though it was standing perfectly still. It also reminded me of the Honda CR-X from years ago when I was younger as my neighbour across the street owned one. The styling similarities were obvious but that's only if you're old enough to remember what the CR-X looked like since it was last produced in the early 1990s. The similarities do stop there as the CR-Z is definitely a car for the 21
st
century.
Honda explains that the letters CR-Z stands for "Compact Renaissance-Zero – an expression intended to capture the idea of a renaissance in the design of compact cars that begins anew from fundamentals." The idea behind the CR-Z is to offer consumers a sporty hatchback that is fun to drive but at the same time minimizing its environmental footprint. Honda's accomplished this goal by mating a 1.5 litre SOHC i-VTEC gasoline engine with their lightweight and compact Integrated Motor Assist (IMA) hybrid electric system. In a nutshell the system has a 10 kilowatt electric motor that assists in acceleration and recharges the 100 volt nickel-metal hydride battery during coasting and braking. Total output is 122 hp @ 6,000 rpm and 123 lb.-ft of torque at 1,000 – 1,500 rpm.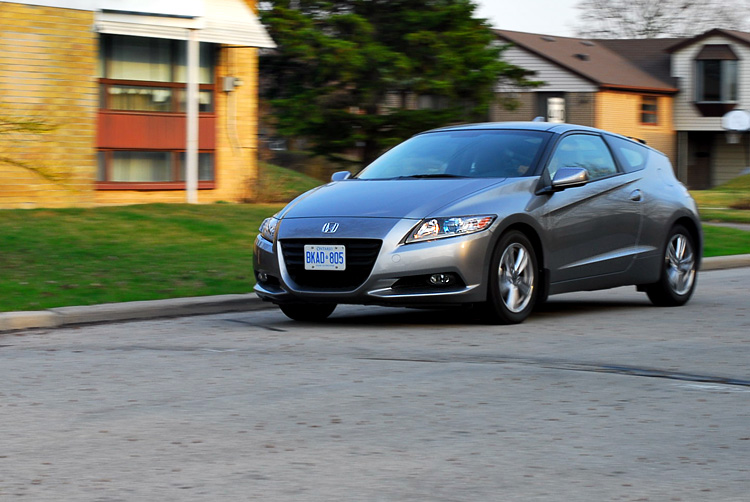 Personally, I had never driven a hybrid car before so I was quite excited to feel how it drove and how it lowered my gas bills. The very first thing I noticed was how the engine turned off automatically when I came to a stop. Having driven manual-transmission cars all my life I was used to the revs dropping when I coast in neutral to a red light but having the engine go completely silent is quite an unnerving feeling. I drove the car for over a thousand kilometers in the course of a week and I didn't get used to the engine turning off but I assume eventually that strange feeling would go away. The other thing that was a nice surprise was that the CR-Z did in fact feel sporty. My test car has the Continuoussly Variable Transmission (CVT) and of course along with most CVT nowadays it also had paddle shifters on the steering wheel. Like I said I have driven manual-transmission cars all my life, I like the feel of a clutch pedal and shifting through the gears so I am not a fan of paddle shifters. For those of you inclined to have the day to day comfort of an automatic but the option for a little fun when the mood suits you then paddle shifters are a great compromise. Shifts were quick and responsive and it allowed me to push the engine to its limits.
What I really liked about the CR-Z was that Honda added some very helpful instruments that aided me in driving efficiently and environmentally consciously. This included three drive modes that I could change at the push of a button, Sport, Normal and Econ(omy). Sport, as you would guess increased engine performance and sharpened up handling, Normal provided a balance between performance and fuel economy and Econ maximized fuel economy. Even better was the Ambient Meter that provided real time feedback as to how my driving was affecting fuel economy. A halo LED light ringed the inside of the RPM gauge and it changed colour instantly the more aggressively I drove. It would be green under Econ diving mode but as fuel consumption increased it would change to a blueish green then blue and finally a constant red for spirited driving.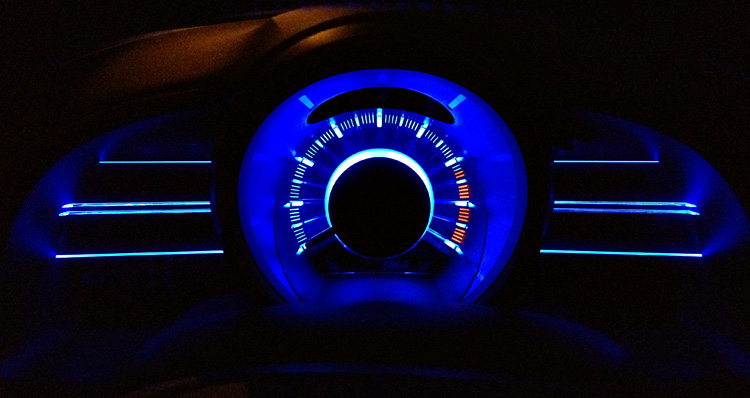 In addition, to the Ambient Meter there are also a couple of other tools that were designed to help me save at the pumps. There is the Eco Assist real time scoring system that monitored my driving style, its impact on fuel economy and displays icons of leaves in my heads-up-display the better I did. There was also a display that provided a summary of my last three trips for my average fuel economy. All of these tools provided relevant and timely feedback that affected how I drove the car. I think the more conscious people are about how their driving habits can affect the environment – and their wallets — the more likely they are to change them. I also feel that Honda has done a great job in providing the feedback in a non intrusive but visually appealing way. I suspect we will see more and more of these types of tools in cars of the future.
What the CR-Z had in common with the CR-X was the fact that it was a two seater. Often manufacturers make two door sport compacts with rear seats, a 2 + 2 configuration but the rear seats are usually theoretical as very few people could use them. The CR-Z avoids this problem by equipping the rear with additional storage space as well as the ability to fold down the rear divider to fully maximize the space in the hatch. The CR-Z comes with a good array of safety features including ABS, front and side curtain airbags, traction control and – what Honda calls – an Advanced Compatibility Engineering (ACE) body structure to protect the occupants in the event of a frontal collision. It also has a good range of comfort features such as 360 watt premium stereo with CD and USB input, seven speakers plus a sub-woofer, speed sensitive volume control as well as hands free Bluetooth. The test vehicle I drove had a MSRP of $23,390 plus fright, PDI and HST.
My general impression of the Honda CR-Z is that it lives up to what I expected. It isn't the sportiest car in its class but nor should it be since I don't think that was Honda's intention. It is a hybrid that allows me to have a little fun with my right foot but at the same time spare a little pain to my back pocket. The car can perform when pushed and it can handle the road better than most drivers will be able to push it. While I don't see many on the road today I hope that in the coming years I will see more turn up as the next generation of boy racers look for a fun but practical driving experience.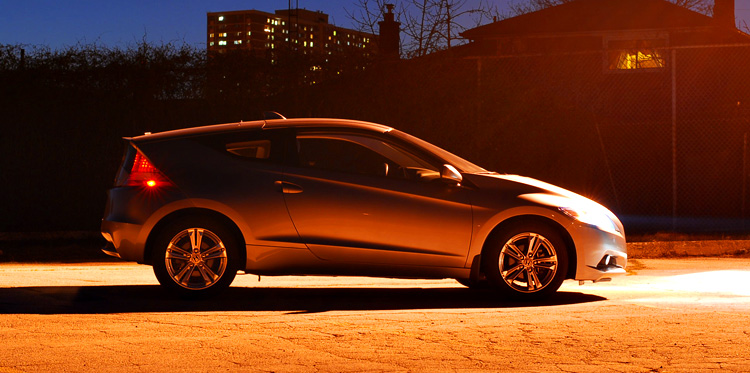 Photography by Nigel Lall and Kanishka Sonnadara
Follow Kanishka Sonnadara on Twitter @autoKsS