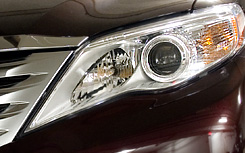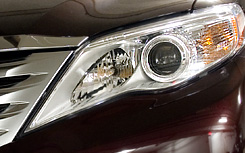 Rarely do we find things in this world that don't have their ups and downs; after a week with Toyota's full-size sedan, the Avalon, I was feeling hard-pressed to come up with much of the latter.
Just so we're clear, I don't own TAG Heuer watches, wear Canali shirts, or fly with Marquis Jets. I appreciate quality, style, and luxury, but more often than not this trifecta also means a hefty price tag and quite a bit of ego. This is where the Avalon story starts and will also end.
The Package
Walk around the Avalon, and there's little if anything to really croon over. You won't find excessive chrome, big wheels, not even swooping lines or aggressive styling; you'd be forgiven for saying it's quite ordinary in every way. What you also won't find on the Avalon are faltering panel gaps, improperly attached or poor quality trim work and anything valid to really complain about. Inside the car, the same theme of quality continues; amidst an air of Toyota-esque sensibilities, the Avalon boasts an exceptionally well put together interior.
Since its inception in North America back in 1994, the Avalon has been in a word, conservative. In that conservative shell however, there has always been a car that was really well built and terrifically well appointed for its price point. Browse used car listing for a sense of how well these cars hold their value.

Take the newest iteration of the Avalon, the 2012 model for example; there's one available trim level –Toyota calls it the Avalon XLS – and it is priced at $41,195. Besides an engine block heater and choice of exterior paint colour, the car doesn't have other available options. And it doesn't have to, because the XLS model comes equipped with a long list of standard equipment which is everything Toyota believes an Avalon buyer could want – kudos to the folks who take a position and say "don't ask to change it, because this is how it's best."
A personal highlight for me was our test vehicle's voice-activated touch screen navigation system. A fast, responsive system, I found the high resolution screen shows off the beautifully rendered maps in terrific detail. To entertain, the Avalon comes with a JBL sound system paired with great in-car acoustics; USB audio input and Bluetooth are standard kit as well. Driver and front passenger are treated to 8-way power adjustable seats with a memory option for the driver's seat. The understated but quality leather interior coupled with excellent wood grain trim highlights not only makes for a comfortable cabin but also elevate the interior ambience, making it a place that you can truly enjoy spending time in.
Call it something Toyota excels at; but no matter which model Toyota I've found myself in, I'm comfortable operating controls while behind the wheel in minutes. No surprise perhaps, seeing as the company places a tremendous amount of emphasis on interior ergonomics while maintaining a sense of familiarity across their models throughout the years – no small feat, but having brand loyal buyers are a testament to the success of this focus.

The Drive
My time with the Avalon included an almost 1,000km journey to Detroit, Michigan and back (to Toronto). At first it seemed odd deciding to take a Japanese marque to the heart of American car culture, but then again, Toyota builds the Avalon at their Georgetown, Kentucky assembly plant – also the home of the Camry, Camry Hybrid, and Venza – so perhaps it's as American by birth as any vehicle from the Big Three.
More than 800km of my 4 day journey was spent driving highways – interstates while in the U.S. Through it all the Avalon demonstrated an uncanny ability to swallow up hour upon hour of road while barely fatiguing its occupants. I love some of the roads found in Motor City, but there are quite a number of them that can be harsh on car and driver alike. Our test car handled ruts and bumps in stride while still inspiring enough confidence to push the limits of speed and sometimes even physics.
Equipped with a 3.5L V6, the 2012 Toyota Avalon features 268 hp @ 6,200rpm and 248 lb.ft. of torque @ 4,700rpm. Weighing in at 1,620 kg (3,620 lbs), the Avalon's power-to-weight ratio is nothing to brag about, but there was more than enough power available for me to induce front-wheel-drive tire spin – only to have the traction control system reign me in – making the car quite a pleasure to drive spiritedly when the mood called for it. It seems almost inappropriate to talk about power and spirited driving when talking about a mellow, mature car like the Avalon but it sure doesn't hurt to know that the car can perform when needed.

Maturity, is very likely the biggest draw for an Avalon buyer. Get in, go for a drive, and spend some time with it; the Avalon is a grown up's car, and manages to deliver on all fronts without being brash about it. At the risk of sounding a great deal wiser than I am, I'll admit that the Avalon's mature nature is also what greatly appeals to me.
The Future
During the New York International Auto Show earlier this month, Toyota announced a radical departure from its mature roots for the Avalon of the future. The 2013 model represents the most dramatic change the car has seen in its 18 year history.
The realization that Toyota has put a great deal of emphasis on design is apparent at first glance. Toyota credits their Calty Design facilities in Southern California and Michigan with the new car's exterior and interior design. Toyota's use of words like "sleek", "expressive", "strong stance" seem to be key in describing the new Avalon; unfortunately all I'm seeing is the front end from a Hyundai Sonata Hybrid and a rear similar to that of the Kia Optima… look at the pictures of the car below and formulate your own opinions, I'll reserve further comments till I see and experience the 2013 Avalon in person.


2013 will also see the Avalon drop from a full-size car to what's being referred to as the 'premium mid-size' class. Although the new car retains dimensions close to that of the outgoing model – a 6 cm reduction in length and 2.5 cm drop in height – the class designation change is more the result of an overall industry trend for ever larger vehicles with smaller class designations.
Toyota announced that the new car will also feature greatly enhanced driving dynamics. Everything from a stiffer chassis to a performance oriented suspension and more dynamic steering are slated for this new car. Driver's will even be able to select a 'Sport' mode where throttle response becomes sharpened, the steering effort is weighted, and paddle shifters will allow for more responsive gear shifts.
It seems like going in to the future the Avalon will have swapped its air of maturity for one of flagrance.
The Conclusion
The 2012 Avalon represents the last of iteration of Toyota's full-size sedan. Despite continually dropping sales figures in the face of an ever more competitive industry, this latest Avalon is a greatly understated vehicle which has impressed at nearly every turn.
It's not often that luxury is accompanied by modesty, but that's exactly what Toyota has achieved with the Avalon thus far. There aren't a lot of car's I could picture myself living with; the 2012 Avalon has most definitely made that list for me.

Photographs by Kanishka Sonnadara
Follow Kanishka Sonnadara on Twitter @autoKsS