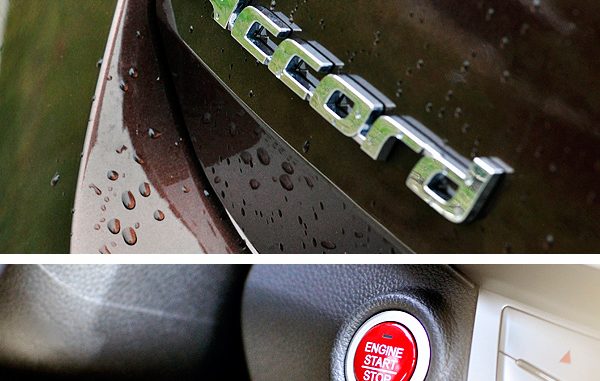 You can publish this article on your website as long as you provide a link back to this page.
This article was last updated on April 16, 2022

An ambivalent coupe – Can a car sustain two completely different personalities?
The 2013 Honda Accord Coupe V6 has neck-snapping acceleration and sharp handling, but it is outfitted with comfortable seats that beg for a back massager. It has a V6 heart under the hood and yet there is a little green eco-button that can tame all six cylinders and make them feel like four at the pumps. The all new 2013 Honda Accord Coupe has contradictory personalities that can deliver a luxurious, extremely efficient or simply a breathtaking ride, but what is it better at?
Surrounded by highly polished, glossy black panels and light beige seat trim, the only thing that felt missing was a bottle of champagne and a pair of glasses. The beautiful, porous texture of the leather seats added an interesting dynamic to the overall appearance and feel of the interior, which further suggested its sensuous nature.
Since this is a two door vehicle the passenger and driver doors are much larger than in a four door sedan. Such body style yields to excellent visibility and creates an invigorating sense of spaciousness in the front of the cabin.

Buttons and knobs on the control panel were well laid out and felt pleasant to the touch thanks to quality materials. An abundance of colour screens –one touch screen for audio control and an 8-inch one for navigation and other vehicle settings– provided quick access to some of the Accord's key settings and functionalities. The 2013 Honda Accord features Honda Link which keeps you connected to the people and things you love while on the go. Having access to Facebook won't help you focus on the road but it will certainly keep you entertained during those long road trips.
The tuner-inspired gear shifter in our 6-speed manual transmission equipped Accord felt a little out of place in this classy interior but was fairly comfortable to use throughout the drive. The appeal of the shift knob further suffered from a lack of any exclusive colours or materials, which is usually the case with higher trim Honda models. And where there is a 6-Speed shifter there is a clutch pedal which some may find a little stiff and springy. An automatic transmission may feel more at home with this trim of the Accord.

Unlike other manufacturers who tend to cover everything within the engine bay with plastic, the 2013 Accord is not afraid of revealing some of its sophisticated drivetrain and engine components. The transparent layout of the elements within the engine bay uncover an honest side to the Accord.
The coupe had just enough power to deliver an exhilarating ride on local streets and highways without putting others, yourself and the car in danger. Sharp steering helped maneuver the Accord with ease and firm suspension provided a sporty feel while somewhat sacrificing a supple ride. It felt wonderful listening to the Accord's V6, especially near the redline of 6,500rpm.
The re-engineered 3.5L, 24-valve, SOHC, i-VTEC, V6 engine punches out 278 horses and that is plenty. Yet, when the eco-mode is engaged the car embraces a different personality that is completely opposite of its fiery V6 coupe character.
The 2013 Honda Accord Coupe is loaded with airbags, cameras and sensors which will keep you safe no matter what the trip holds for you. By far the best feature is the blind-spot camera which helps you see what you can't usually see when making right turns.

Two doors mean less seams and fewer panels to join, creating a very clean exterior appearance. The design of the Accord's side profile doesn't scream out for attention and can be rendered subdued in comparison to some of today's over-designed vehicles.
Rear valence does appear a little busy with its red light reflectors on either side, but hey, safety does come at a cost. An interesting detail of the redesigned headlights are the dual, square halogen lenses which create a sui generis appearance.
Like many other characteristics of the car the choice of factory rims, in relation to the body, speak of contrast. A simple body design calls for simpler rims and the multi-spoke wheels that the Honda Accord coupe comes with are overly embellished with detail. Rims must compliment your vehicle and speak a similar design language, the new Accord seems to have missed the mark on this.

The 2013 Honda Accord Coupe is an ambivalent coupe that is neither a performance machine nor an uber-luxury coupe, but it does have quite a bit of characteristics from both worlds. With that being said, the all new 2013 Accord does a better job of being a machine that can provide a relaxed and comfortable ride instead of an adrenaline injected adventure. With prices starting at $35k, the 2013 Honda Accord Coupe offers a terrific value proposition. Opt for an automatic transmission to help the new Accord form a more definitive personality.
Kanishka Sonnadara says: For those who love driving and a have a little hooligan in them, opt for the 6-speed manual Accord Coupe for a truly exhilarating driving experience.
Photographs by Slava Motovilov.
Slava is a member of AUTOMOTIVE.alliedfusion.com
.