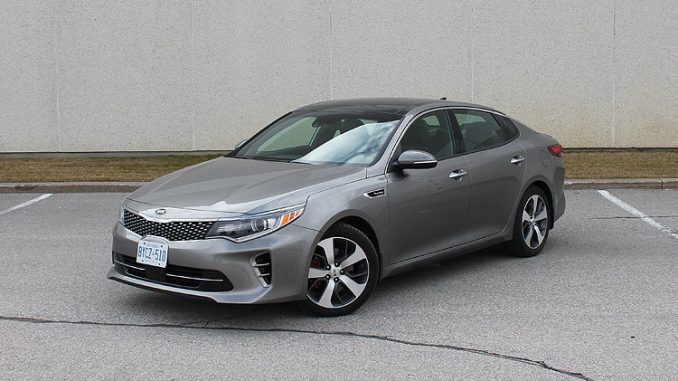 If the 2016 Kia Optima SXL was the vehicle owned by my parents when I first earned my driver's licence, my father would have hated me and my endless attempts to borrow the car.
To be fair, the old man's Mazda Millenia that I used during my (very few) date nights wasn't too shabby, and was light years ahead of the thoroughly uncool Dodge Caravan family hauler that was the other option.
Neither of those vehicles, though, had a turbocharged engine, dual-clutch transmission, gorgeous styling, sumptuous Nappa leather, and more active and passive safety features than you can shake a stick at. In case you hadn't caught on yet, the Optima SXL test vehicle I drove recently did indeed include all those things, and much, much more.

Improves on its predecessor
The previous generation Optima was already a superb car, but the newly redesigned model that's been introduced for the 2016 model year only improves on its predecessor. I wouldn't go so far as to say it can compete with luxury sedans, but there's no doubt the Optima offers its occupants a luxurious experience.
The newest Optima gets a longer wheelbase, and is wider than the outgoing model. What this equates to for passengers is more room to stretch out and get comfy.
It takes all of about three seconds to realize just how comfortable this sedan is. While I'm more than happy in my perch behind the wheel (and not just in terms of comfort, but more on that in a moment), I'm blown away by how roomy the rear bench is. While three people could sit back there in relative comfort, having just a couple of occupants in the outboard positions makes for a sublime experience.

Quality isn't ignored
Keep in mind that the Nappa leather I mentioned earlier is only available on the two highest trims – the SX (optional) and SXL (standard). Regardless of the material on your Optima's seats, you'll be treated to a vehicle that has excellent craftsmanship, fit and finish. If you still need to be reminded, this isn't the Kia of decades ago, and the company's cars are no longer miles behind its Japanese or North American rivals in terms of quality.
While there is a third engine added to the Optima family for 2016, an entry-level 1.6-litre turbocharged four-cylinder, the SXL comes standard with a carryover engine from last year. It's a four-cylinder (like all Optima powerplants), and displaces 2.0-litres. This setup produces a potent 247 horsepower and 260 lb-ft of torque, the latter of which is available very early in the power band.

Sporty, but not a sports car
There are three drive modes available – ECO, Normal, and Sport – and while the difference between ECO and Sport is somewhat noticeable (in terms of things like gear changes and steering feel), this is still recognizable as a family sedan. In other words, it's quick, but I hesitate to call it a sports car.
For the record, I finish my week with an average of 8.7 L/100 km, and that's driving with a mix of the three drive modes (though Sport mode was the one I used the least).

As user-friendly as it is stylish
One other thing I feel compelled to mention is the user-friendliness of virtually every Kia vehicle, the Optima very much included. It doesn't use any really fancy technology like an all-touch-sensitive infotainment system, but what it does present to the driver is laid out as logically as possible. Pairing your phone to Bluetooth, setting your favourite radio station presets, and checking your trip statistics is all dead-simple. That said, things like voice control and the large, easy-to-read touchscreen only add to the ease of use. For me, that equates to more time spent actually driving, and less time fiddling with controls.
The Optima is equipped to take on the best-of-the-best in a segment that's plenty competitive. When you're up against the Honda Accord, Toyota Camry, and Hyundai Sonata, you know you can't go halfway.
My SXL trim is priced at $39,995 before freight and taxes, which is a little more than some competitors' highest-spec'ed models, but the extra cost is worth it as far as I'm concerned. The Optima ranges in price from $23,496 – $37,595.
Photographs by Daniel Barron.