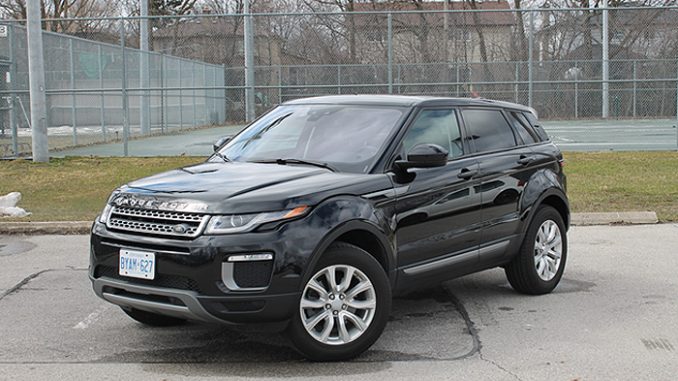 This article was last updated on April 16, 2022
Canada:

Oye! Times readers Get FREE $30 to spend on Amazon, Walmart…
USA:

Oye! Times readers Get FREE $30 to spend on Amazon, Walmart…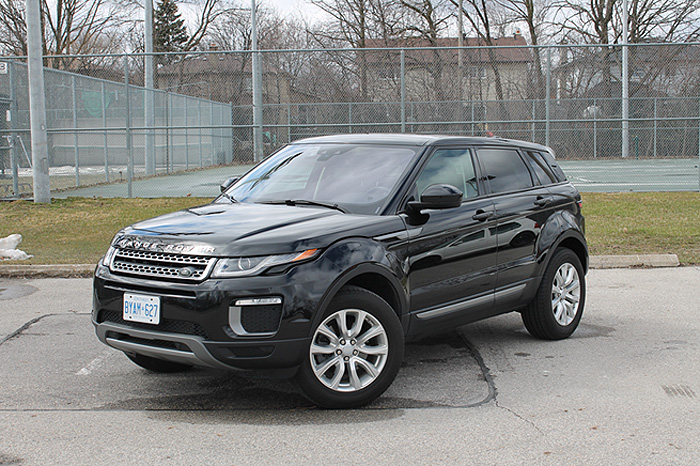 Take a gander at Land Rover's Range Rover lineup for the 2016 model year, and the lyrics to that classic Sesame Street song "One of These Things" very much applies to the Evoque. This sleek and fuel-efficient SUV may not be like the larger and boxier Range Rovers, but the company's DNA is unmistakably injected into it.
This is how it's been, really, since the Evoque launched in 2011. While it has a whole slew of electronics aimed at making it a formidable off-roader, its focus has clearly always been on turning heads. Does anyone remember Victoria Beckham – Posh Spice herself – designing an Evoque and being named a creative design executive for Land Rover?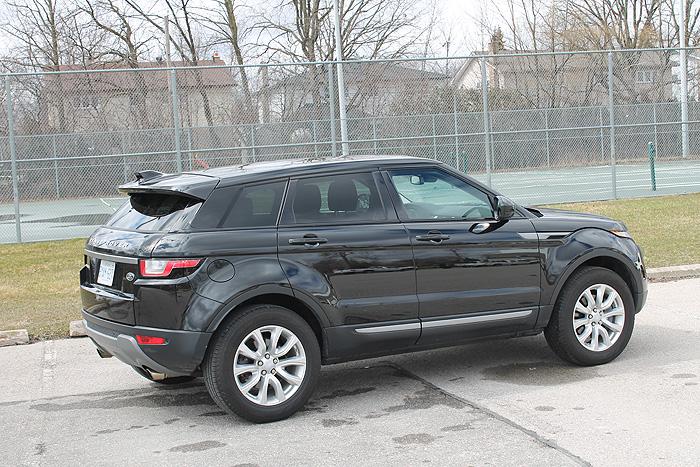 Interior, exterior upgrades
For the 2016 model year, the Evoque gets an updated exterior, as well as interior tweaks including the adoption of a new infotainment system that's designed to be more intuitive.
The final product is one that's competitive with the numerous other compact luxury SUVs flooding the market these days. Those who are looking to stand out a bit could do a lot worse than the Evoque.
The exterior changes include new foglamps, larger front air intakes, and a new grille pattern. These give the Evoque a more aggressive-looking front end, although from the side, this SUV is the same as it has ever been (that's a good thing).
This is also the first Land Rover vehicle to feature fully-adaptive LED headlamps. Not only do they look great, they brilliantly help light the way when the sun sets.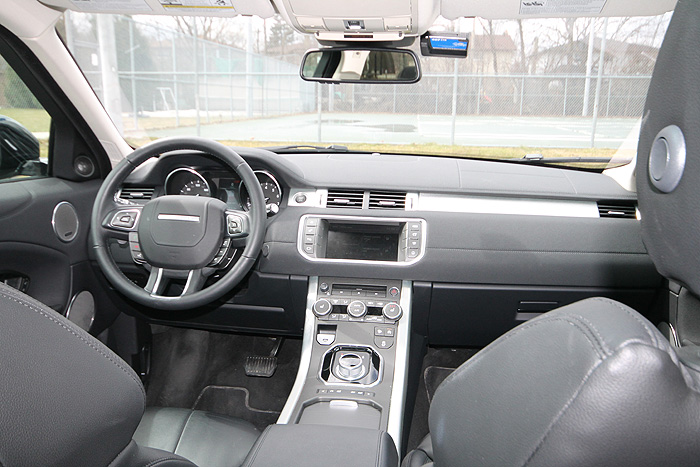 Infotainment improved, offroading still in the cards
The new InControl system is no doubt an improvement over the outgoing infotainment software, although I still think it lags behind even some non-luxury competitors who have faster systems that are more clearly laid out. My test vehicle included an optional InControl Connect Package that adds WiFi, apps, and Remote Premium, the latter of which allows you to control certain vehicle systems (such as locks and climate) from your phone.
The Evoque I drove came in SE trim, which starts at just a hair under $50,000, although as-tested, my tester cost $55,090 before freight and taxes.
Just like any good Range Rover, every Evoque comes standard with Land Rover's Terrain Response system, which lets the driver set the vehicle to different driving modes depending on surface and weather conditions. The vehicle has a generous 213 millimetres (8.4 inches) of ground clearance, along with a wading depth of 498 mm (19.6 inches). Built-in sensors, meanwhile, alert the driver of water depth.
Do I think the average Evoque driver will be traversing deserts or crawling through deep water, thick mud, and over treacherous rocks? I don't, but hey, the system is there for anyone who needs it, and it'll no doubt help during snowstorms.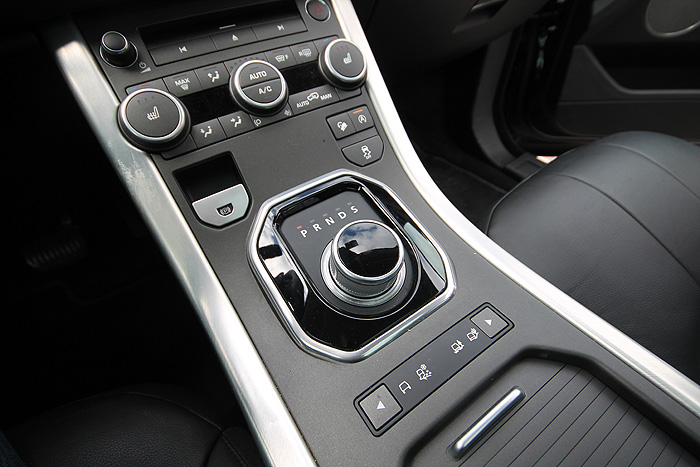 Works well on paved surface
Unlike some bulked-up off-roaders, the Evoque still behaves wonderfully on any surface more travelled. The interior is extremely quiet, the suspension is forgiving, and steering doesn't provide any unwanted surprises. This vehicle is nothing if not predictable while you're doing your daily commute to and from work.
All Evoques come with the carryover 2.0-litre turbocharged four-cylinder engine, mated to a nine-speed automatic transmission. It's not completely out of place in the Evoque like it would be in, say, the LR4, but even so, the Evoque isn't a vehicle that's liable to tear up race tracks or turn heads on highways with its acceleration. It doesn't feel underpowered, and the transmission is quite smooth in its default mode. Clicking the gear dial over to "S" makes for a more spirited driving experience.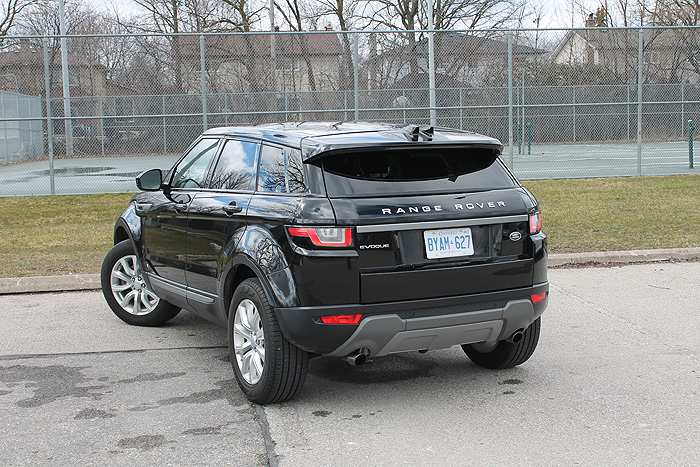 Fuel economy leaves something to be desired
This is a vehicle that's meant to be different from other Land Rovers, and that includes offering something more fuel-efficient. The 11.5 L/100 km fuel economy I finish with is far from superb, but it's light years ahead of, say, the Range Rover Sport I drove a few years ago, which ended up with one of the highest fuel economy numbers I've ever experienced in a test vehicle.
The Evoque offers decent room for four passengers (it carries up to five) as well as light cargo for weekend getaways.
The hard-top Evoque (a convertible is available for 2016) starts at $49,990 for the SE, and can go up to $63,990 for the far more exclusive Autobiography trim. As mentioned earlier, numerous options and upgrades are available.
The Evoque may not be like the other Range Rover models, but it still undoubtedly belongs in the lineup.
Photographs by Daniel Barron.
You can publish this article on your website as long as you provide a link back to this page.