This article was last updated on May 27, 2022
Canada:

Oye! Times readers Get FREE $30 to spend on Amazon, Walmart…
USA:

Oye! Times readers Get FREE $30 to spend on Amazon, Walmart…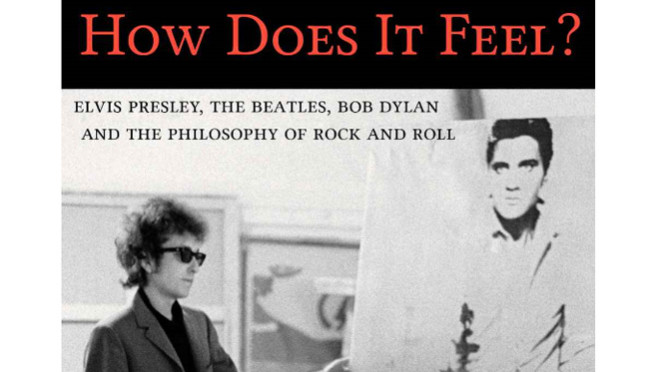 Grant Maxwell's philosophical book on rock and roll is difficult but rewarding
By Stephen Pate – Grant Maxwell's How Does It Feel?: Elvis Presley, The Beatles, Bob Dylan, and the Philosophy of Rock and Roll is one book I wanted to hate from the first page. Even the book's title is too long.
However, I have come to the opinion that, unless you like wading through the garbage can of Dylan's personal life or reading second-rate music criticism, How Does it Feel is the best book on Bob Dylan since Christopher Rick's Dylan's Visions of Sin.
The book is not just about Dylan, although he gets more than 50% of the book's discussion. How Does It Feel? the Philosophy of Rock and Roll is about rock and roll, the sound track of our lives. Using Elvis Presley, The Beatles and Bob Dylan as three artists who respectively created, and transformed rock and roll, Maxwell explores the philosophical aspects of rock and roll.
How does it feel?
The longish title says it all How Does It Feel?: Elvis Presley, The Beatles, Bob Dylan, and the Philosophy of Rock and Roll. The key is the word "feel." Maxwell postulates that our society, on the cusp of rock and roll in the early 50′s, was reaching the pinnacle of the age of reason or rationale modes.
Maxwell's proposition is that Elvis joined the world of rational thought, with its emphasis on reaching logical conclusions at risk of common sense or feeling, with the affective mode of how it feels. Does it feel good? Does it move you?
My son says, in discussing the book, that other cultures never forgot to consider feeling. Western culture got lost somewhere from the age of reason to the over-rationalized decisions of the National Socialists to euthanize the mentally disabled, cripples, and then 6 million Jews and the communists conduct genocide against millions of Russians.
Euthanasia made logical sense to the highly educated Germans raised on Friedrich Nietzsche and Martin Heidegger. That is not to say logic is not twisted today to justify atrocities because similar arguments are still being used. Nor does mere feeling create wisdom or compassion.
Today we live in world where we have dual roles of being rational in our work and external lives while maintaining deep connections to our feelings and rock and roll is a conduit to those feelings. Keeping those two opposing forces balanced is the trick of a healthy mind.
Religion and novelty
Maxwell discusses religion and rock and roll. John Lennon said The Beatles were more popular than Jesus which was blasphemy for many but true. Most people are more motivated by what music they are listening to than to what is being said from pulpits, despite attending a church of one kind or another.
When I was 14, I found a new religion in music – rock and roll and folk music, to my mother's life-long consternation. Brought up right-wing protestant, I dropped all interest in religion, which is not uncommon for teenagers. Despite a few forays back into other religions, music was and is the prime mover in my life and I think that reflects most people today, except people who seek solace in going back to the Bible or Koran.
Maxwell discusses novelty as a driver in the development of culture and rock and roll. Artists must re-invent themselves to maintain audience interest, which Dylan has tested over and over even to point of massive booing and condemnation from his old fans when he converted to electric.
The music that moves baby boomers is not the same as the music of Millennials. My youngest hate that I might like their music, which doesn't happen often. We're all stuck in learned modes.
Excuse that I am not discussing the book in detail. I don't pretend to give you a thorough analysis of How Does It Feel?
The reward is reading to understand
How Does It Feel? rewards you if you put the time in but it's not a light read like most books. It does not veer into the author's interpretation on criticism of the artists lives or work, as Dylan wrote in Gates of Eden,
At dawn my lover comes to me
And tells me of her dreams
With no attempts to shovel the glimpse
Into the ditch of what each one means…
How Does It Feel? is obtuse, difficult and laced with too many references for easy reading. By the time I had struggled to the end in a somewhat enlightened mental state, I knew I had to read it again.
For Pete's sake the book has a Flesch- Kincaid Grade Level of 17. We're always told to write at a Grade 8 level so your readers can easily get the point. How Does It Feel? the Philosophy of Rock and Roll eschews readability for erudition.
After reading the book once, I tweeted the author Grant Maxwell @ "Since you're the author you can say what you like, I still think its over done. There are simpler words to say the same thing."
Grant Maxwell rejects that. "If that's true, then the whole discipline of philosophy is redundant and pointless, a supposition with which I vigorously disagree." @grantmaxwell
Kindle to the rescue
After decades of slumming with the English language, I put Kindle to the rescue and re-read How Does It Feel? the Philosophy of Rock and Roll on my Kindle.
Kindle was made for this book and regressive readers. By touching the word on the screen, I was immediately provided a dictionary and Wikipedia entry for words like "concomitant".
However, what Kindle can't make easy is the long sentences and complex thoughts in this book. If you're willing to read for enlightenment then the book rewards beyond most of the books on rock and roll.
Sample excerpt – Chapter 1 Let's Get Real Real Gone For A Change
In principle new points of view are not as a rule discovered in territory that is already known, but in out-of-the-way places that may even be avoided because of their bad name. C.G. Jung, Synchronicity
The story I will tell about Elvis Presley is not a story he would have told about himself, at least not in these words. However, I suspect that he would have been sympathetic to the general trajectory of my interpretation of him though he may not have known much of the vocabulary used to contextualize the narrative arc of his life. Indeed, as the hermeneutic mode I am employing here suggests, the methods characteristic of literary interpretation can be applied just as fruitfully to biography, to the narrative construction of "real life." Presley and those who knew him felt that he was the catalyst for a profound transformation, not only in music, but in the American culture that the music both reflected and impelled. As Sam Phillips, Presley's first producer and mentor, articulated it the singer "may not have been able to verbalize all that—but he damn sure wasn't dumb, and he damn sure was intuitive, and he damn sure had an appreciation for the total spirituality of the human existence, even if he would never have thought of the Aside from situating this exposition within the proper scope of Presley s vital significance for understanding the last half-century of American culture, this observation by Phillips also serves to rectify a common misconception, namely, the stereotype of Presley as a dumb country boy.
How Does It Feel?: Elvis Presley, The Beatles, Bob Dylan, and the Philosophy of Rock and Roll – available from Amazon.com in Kindle for $5.11 .
Follow me on Twitter at @sdpate or on Facebook at NJN Network, OyeTimes and IMA News Buzz. You can also subscribe and receive notifications of new stories by email. The subscription form is on this page in the left and right columns.
By Stephen Pate, NJN Network
You can publish this article on your website as long as you provide a link back to this page.