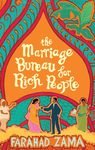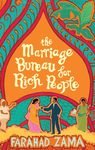 This book topped the list of 'Page Turners to pick up in 2009', published by Hindustan Times. The article said 'Set in an Indian Marriage bureau and billed as Jane Austen meets McCall Smith, the book is charming, funny and acutely observed.'
Author: Farahad Zama
Publisher: Abacus
Price: 295/-
I grabbed the book as soon as it was out, did it meet the hype & my expectations?
Read on!
Mr. Ali, freshly retired doesn't know what to do with his time. He has been interfering with his wife's daily routine and needless to say irritating her as well. She heaves a sigh of relief when he decides to open a marriage bureau; A Marriage bureau for rich people to be precise. Slowly the business picks up & so does the need of an assistant and here comes in Aruna.
She comes from a family which is going through a strained financial condition. Her father doesn't want to marry her off as she is the sole bread earner of the family. But then she can't help falling in love with one of the clients (ah! Sounds so romantic). But can love conquer?? Or rather will Love Conquer???
Via fixing marriages the book talks about various social issues like,
– Inter-caste marriage
– Divorce & re-marriage
– Late Marriage
– Standing up for a social cause (with a Singrur kind of situation thrown in)
– The rich n poor divide
I loved the book for its simplicity. It has an old world charm to it. With the way Vizag or the summer afternoons have been described it will for sure take you down the nostalgic lane.
There is subtle humor lurking around but I wouldn't call it a funny book for me it was an entertaining read. I also loved the way the author has worked around the relationships in the book, specially the father son conflict between Mr. Ali & his son Rehman. Towards the end of the book the author even goes into the details of a traditional Andhra Pradesh marriage and am sure people who can relate to the culture will love those portions.
The best part about the book is that it doesn't have much of a conflict or I should say that even if there are conflicts that arise in the story then you can relate to them. The characters are sometimes too good to be true but then in present times when daughters are becoming an object of lust for their father such story comes as a relief. It may look like a make belief world but then it looks much better then the world we are living in.
The only problem that I have with the book is that it is trying to slot itself as some other book/ author. As have written in the opening lines it is being compared to "The Ladies No. 1 Detective Agency." The purpose behind this could be a very simple case of a marketing gimmick as this is a debut novel but then I felt that the product being offered is good enough to survive and that is why there was no need of this gimmick.
I wonder Why do we have to compare ourselves with some foreign author to grab eyeballs??? Indian authors as per me write well enough to survive in the big bad world.
I also felt that the Title was a bit out of place as the book is more than just a Marriage Bureau for rich people. For me it is a love story, a social message, a contemporary view of marriage fixing but as is said all's well if ends well and what matters here is that the book is a wonderful read.
If you are looking out for a simple, sweet, with its heart at right place & a well told story, then this book is the one for you.
 
Click HERE to read more book reviews