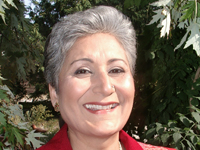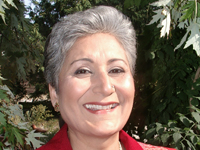 Raheel Raza was born in Pakistan where she received her primary and secondary education in Convent schools.  She graduated from Karachi University with a major in English and Psychology and has taken writing and public speaking courses in Toronto.  
Raheel started writing prose and poetry from a young age because she grew up in a culture where women were supposed to "be seen and not heard". Some of her work has been published in academic journals and she has received awards for creative writing. Her short stories, essays and poems have been published in books across North America. During her academic years in Pakistan, Raheel excelled in debate, drama and public speaking, winning many national prizes.
 
A fascination for travel led Raheel to completing a course in Travel and Tourism, and a career with Scandinavian Airlines. In 1979, she and her husband moved to the United Arab Emirates. Due to her airline and tourism experience, Raheel was invited to work with the Ruler of Sharjah to develop tourism to the Emirate. Soon after, she was acknowledged and interviewed as the only Asian woman working in the Diwan-i-Emiri (Ruler's Office) in Sharjah, UAE. As part of her work, Raheel travelled extensively throughout the Middle East, Europe, Far East and North America incorporating much of her experience into travel related articles.
 
In the UAE, Raheel started writing for a leading English newspaper, "The Khaleej Times".  Raheel writes about people, places and events because she believes "every person has a story to tell." An outspoken advocate for gender equality and activist for women's rights internationally, she contributed regularly to a series on Women in which she interviewed diverse women living in the Middle East, highlighting their special talents and bringing their issues to light.
 
In 1989 Raheel moved to Canada along with her husband and two sons.  Raheel works full time for the Ontario Provincial Government and freelances as a journalist and media consultant.  She has been acknowledged as the only freelance journalist to contribute to almost every section of The Toronto Star (Life, Diversities, Opinion, Insight, Condo Living, Religion, Business, Special Sections, fashion, Body & Soul and Talking Point).  Recently Raheel was a speaker at the Toronto Star Diversity series of lectures. She has been published in the Globe and Mail and contributes to ethnic magazines and journals in Canada and abroad.  She's written about South Asian weddings in "Today's Bride" magazine.  She won an award in the short story competition held by Toronto Libraries. The May 2005 Canadian Living magazine "Salutes Raheel Raza"
.
Through her work with print and electronic media, Raheel addresses a variety of issues like the status of women, arranged marriages, media stereotypes etc. She has spoken to diverse groups including the armed forces college on issues of National identity. She is winner of the Canadian Ethnic Journalists & Writer's Club award for excellence in journalism.  
Raheel was on the Board of Directors for IMAGE (Islamic Media Awareness Group) which produced SALAM, a half hour program on Vision Television for 13 weeks. She is member of many mainstream organizations and is actively involved in Interfaith Dialogue at various levels.  She has participated in interfaith media panel discussions on "Skylight" as part of Vision's multi faith programming and continues to participate in interfaith dialogues at Churches and in communities across Ontario.  Currently she is Director, Interfaith Affairs for The Snowstar Institute of Religion, where she promotes multi-faith dialogue. The National Christian-Muslim Liaison committee has acknowledged and awarded Raheel a plaque for her interfaith work.
 
As her contribution to Canada, Raheel volunteers her time to 'bridge the gulf' between all peoples and faiths. An experienced public speaker, she has become a well-known internationally by participating in seminars and panel discussions with regards to media stereotypes, gender equality, racism & discrimination, multiculturalism and many other topics. Raheel was the keynote speaker for a symposium by the National Judicial Institute in Montreal on Judging in the Context of Diverse Faiths and Cultures. She is a recipient of the City of Toronto Constance Hamilton award for working towards equitable treatment of women.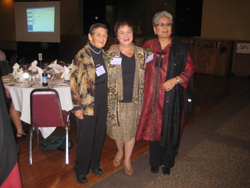 In a presentation to Members of Parliament and international diplomats at the House of Commons, Raheel received a standing ovation to her 30-minute speech titled "
Celebrating our Differences
". In June 2006, Raheel was invited to meet Stephen Harper, the Prime Minister of Canada following which she also had the honour to meet with Her Excellency the Right Honourable Michaëlle Jean, Governor General of Canada.  
A constant presence on television, she has appeared as a regular panelist on Jane Hawtin Live, Michael Coren, Ben Mergui Live, Vision, CBC, CTV, City TV, TVO, Faith Journal and Behind the Line on CTS, OMNI as well as on CBC and CFRB radio. WTN (Women's Television Network) aired a special documentary on Raheel titled "Family Dance" as part of a series on women who juggle careers, families and hobbies. Raheel also has the distinction of being the first South Asian woman to do the narration for the Gemini award-winning CBC documentary "Runaway Grooms".
 
Raheel enjoys organizing programs and uses her creative talents to bring communities together. She excels in organizing multinational shows in which she highlights the best from East and West. She has used this talent to successfully raise funds for The United Way for many years. As part of Asian Heritage month, she organized a cultural program for the Ontario Science Centre, which was very well received.  Raheel has written, and produced a social satire called Chai Latte, which was showcased at the Royal Ontario Museum Theatre and Living Arts Centre to a large multicultural audience.
 
Raheel also works with various Boards of Education on raising awareness of diversity and working towards a more inclusive curriculum; her name is included in the Community Role Models Resource Inventory developed by the Elementary Teachers' Federation of Ontario.
 
Raheel has co-produced a publication titled "Muslim Women and the Media" – a report and media contact list of "Muslim women professionals in the GTA".  The publication has been sent to print and electronic media as an educational tool for accessing a large section of the community. She also produced a media handbook titled "Managing Media" for The Canadian Council of Muslim Women and conducted workshops in many provinces to help the Muslim community in dealing with media issues.
 
Currently Raheel is producing a documentary on Religious Tribunals in Ontario and is author of a book titled THEIR JIHAD – NOT MY JIHAD.
HIGHLIGHTS OF ACHIEVEMENTS

First Muslim woman to lead mixed gender Friday prayers in Canada
Profiled in May 2005 issue of Canadian Living Magazine
First South Asian woman to do the narration for a Gemini award-winning CBC documentary called "Runaway Grooms", directed by Ali Kazimi
Profiled on Roger's Television "Canadians who make a difference" segment.
WTN (Women's Television Network) aired a special documentary on Raheel titled "Family Dance" as part of a series on women who juggle careers, families and hobbies
First Pakistani woman to be included in the Canada Heirloom Series titled Millennium
Profiled in Clamour Magazine, USA for interfaith dialogue across boundaries
Essay published In MOSAIC IN MEDIA – A publication of the Canadian Ethnic Journalists and Writers Club
Article from The Toronto Star included in A Multicultural Reader published by Harcourt Brace & Company 
Wrote and produced a social satire and comedy called CHAI LATTE at The Living Arts Centre for South Asian Heritage Month in May 2004
Sheridan College requested use of Globe and Mail article to use in a literacy assessment for first year students
Listed in the Community Role Models Resource Inventory for Elementary Teachers' Federation of Ontario
Successful United Way fund raiser for the past five years 
Master of Ceremonies at fund raising event for a South Asian Gallery at The Royal Ontario Museum  
Participant in Interfaith lecture/discussion series – People of the Book: sponsored by Holy Rosary Church, St. James Bond United Church and Holy Blossom Temple
Organized cultural program for Ontario Science Centre as part of Asian Heritage Month
Presenter of Diversity workshop with Durham Peel Human Resources and Federal Government, Canada
Article used in textbook called A Groundwork: Writing Skills to Build On published by Prentice Hall, Canada as remedial English course at Seneca College
Presenter at Torontoand York District School Board workshops for an inclusive curriculum
Presenter and Assistant Producer for
SALAAM
, a series on Islam, aired on Vision Television
SPECIAL PROJECTS

Producing a documentary on religious tribunals in Ontario
Denver University, USA: Lecture on Women and Spirituality
Ryerson University, Toronto: Lecture on Women in Scripture:
Koran and women
University of Toronto: Role of Media in establishing peace
Presenter at The Parliament of World Religions Annual conference in Barcelona, Spain.
Coordinated and taught a 12-part series on UNDERSTANDING ISLAM for Learning Unlimited in Etobicoke
Work with Boards of Education for diversity and equality  
Interfaith dialogue and conferences at various levels across North America
Panel discussions and workshops on Racial Barriers in Media across Canada
Member, speaker and fund raiser for INRFVVP 
(International Network for Rights of Female Victims of Violence in Pakistan)  
Speaker on a CD called Crosses are Burning to promote peace internationally 
2006 – National Christian/Muslim Liaison Committee
Snowstar Institute of Religion – Outstanding Contribution to Religious Life  
Canadian Council of Muslim Women – Muslim women who make a difference
Women's Intercultural Network - Volunteer award
City of Toronto Constance E. Hamilton – working towards equitable treatment of women
Canadian Ethnic Journalists and Writers Club - excellence in Journalism
Association of Progressive Muslims of Ontario
– Community Service award
Honorable mention at the 1995 Media Awards by The League of Human Rights of B'nai Brith, for writing part of a series in the Toronto Star on domestic violence  
Toronto Libraries – International Year of the Family short story competition

CONFERENCES AND PRESENTATIONS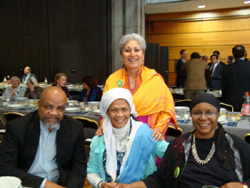 Law and the fine Line between Culture & Religion –
National Judicial Institute
National Identity – Armed forces College Toronto
Strategies for Combating Hatred in the 21st. Century – Faculty of Law, U of T
Panelist at the first Islamic Feminism Conference in Barcelona, Spain
Presenter on Media and Muslim Women – Faith and the Media conference, Ottawa
The Sharia debate in Ontario –  Andover Newton School of Theology, Boston
Women in Islam – Myth vs. Reality – Various Churches and women's groups
Volunteering our Time – Rotary Club, Forest Hill
Racism and Media –  TDSB as part of International Day of Elimination of Racism
Our Youth and the Millennium - Roy Thompson Hall
The Art of Charitable Giving - All Pakistan Women's Association
Participation & Acceptance beyond Diversities – Afghan Women's Organization
Celebrating our Differences - House of Commons, Ottawa
Media & Myths leading to Racism - York University
Racism & Discrimination – a media perspective, Pickering Town Centre
 Media, Muslims and Myths -  Concordia University
Cultural & Religious Stereotypes in the Media- 
Canadian Association of Journalists -  Women in Media conference
Media Perspectives on Development in South Asia, South Asian Partnerships

PUBLICATIONS

Challenging Racial Barriers in Journalism
Periodical Writers Association of Canada
Media Relations – a media relations handbook,
published for CCMW
Muslim Women and the Media – A report and
media contact list produced for CCMW
JOURNALISM

Canada:
Toronto Star: Life, Opinion, Religion, Insight, Special Sections, Business, Fashion, Body & Soul, op-ed.  
Globe & Mail: Facts and Arguments
Today's Bride Magazine:  South Asian Weddings
South Asian Profile: Social issues
Bloom Magazine: Regular column on diverse issues
USA:
Azizah Magazine
United Kingdom:
Zameen
Libas
ON THE BOARD OF DIRECTORS FOR
Snowstar Institute of Religion
Forum for Learning
Canadian Ethnic Journalists and Writers Club
Desiplayers
Creative Cultural Communications
MEMBER
MediaWatch
Canadian Journalists for Free Expression  
SPECIAL INTERESTS
Human rights/Gender equality
Cross Cultural Communication/Diversity
Interfaith Relations
Racism & Discrimination
Multi-faith dialogue 
Women in Islam              
Introduction to Islam  
MEDIA APPEARANCES
CTS – Faith Journal, On the Line, Behind the Story, Michael Coren
Rogers Television
TVO
Skylight for Vision T.V.
CBC
CTV
Ben Mergui Live
OMNI
WTN
The Broad Squad
on Jane Hawtin Live
Various mainstream and ethnic radio programs