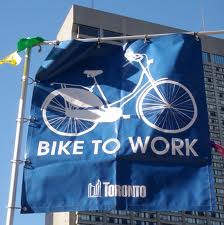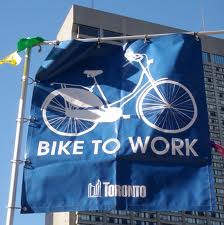 This is your chance to get on-board and do what you may have thought about doing. If you haven't thought about, maybe it's time you did.
May 29 to June 4 is Bike to Work Week, an event to promote this alternative means of transportation. This yearly event which has its roots in Europe has been gaining in popularity here in North America as those conscious of the environment are considering the greener options to getting around. If you aren't taking public transit right now and still driving, maybe this is your chance to at least spending this week dealing with something other than the gas-guzzling monster parked in your driveway.
Monday,May 30th is Bike to Work Day and the Group Commute is kicking things off in style:
The Group Commute was the event that started it all. Bike Month began as bike to work day, and the annual Group Commute and free pancake breakfast remains the marquee event of Bike Month. The ride leaves from various start locations at 7:00am and meets at Yonge and Bloor for 7:30am. From there the ride heads to Nathan Phillips Square for 8:00am to enjoy a complimentary pancake breakfast and other festivities.
Check out the web site for an interactive map showing the various starting points. Hey, free pancakes!
The City of Toronto has information about bike week and biking in general. June is Bike Month and the web site has a list of up-coming events related to Bike Month. For instance, on June 12 from 1pm to 3pm, there is an organised ride of the new Leaside Trail. As I scan down the list, I can see quite a number of organised rides so this could be an excellent opportunity to see your city like you have never seen it before. I can say from experience that riding a bike around Toronto gives you a completely view of the city that you do not normally see when driving. It is quite a wonderful time.
Did you know there is a "bike station" at Union Station?
A bicycle station is a secure, indoor bicycle parking facility designed to meet your transportation needs. The Bicycle Station at Union Station includes a change room, a mechanic stand and a variety of tools for customer use as well as a vending machine with emergency bike necessities such as tubes, tire levers, patch kits, energy bars and refreshing beverages. Security measures include a "man-trap" door system to prevent people following others into the station, 24 hour video surveillance as well as staffed hours during the day. The Bicycle Station is also a great place to get information on bicycling, walking and public transit in Toronto. The Bicycle Stations many features make it easier than ever to ride your bicycle in Toronto.
The cost is $21.53 per month or $2.15 per day but only during opreating hours, 8am – noon.
References
Wikipedia: Bike to Work Day
Bike-to-Work Day is an annual event held on various days in the Spring across the United States and Canada that promotes the bicycle as an option for commuting to work. Leading up to Bike-to-Work Day, national, regional, and local bicycle advocacy groups encourage people to try bicycle commuting as a healthy and safe alternative to driving by providing route information and tips for new bicycle commuters. On Bike-to-Work Day, these groups often organize bicycle-related events, and in some areas, pit stops along bicycle routes with snacks. Bike-to-Work Day was originated by the League of American Bicyclists in 1956 and is a part of Bike-to-Work Week, which is in turn part of National Bike Month.
Wikipedia: Bike Week: Canada
Bike Week is a yearly international event that originated in Europe. It is typically a seven day event that advocates the importance of bicycling as a means of transportation. The event has been steadily gaining popularity in North American cities over the past decade. Bike Week takes place during the second week of May or June and is typically an entire week of city-wide cycling supplemented with events. The central aim of the event is to give citizens of a city the opportunity to help the environment and exercise in a fun and social way. Participants include professional cyclists, celebrities and individuals who choose cycling as a chief means of transportation for the week.
In Canada Bike Week occurs in either May or June because Bike Month is typically from May 25 to June 25. Calgary, Edmonton, Toronto, Ottawa, Victoria and Halifax are among the cities that participated in 2009.
Biketoworkweek.org is committed to furthering bicycle commuting across the world by promoting:
* Bike to Work Day
* Bike to Work Week
* Bike to Work Month events
If you have a bike to work event, have bicycle commuting information that others would find helpful, please click on the Wiki link and add the information for your site. Alternately, you can use the contact link at the top of the page to send the webmaster (me) the information, and I will make sure it's added correctly.
Other ways you can help include spreading the word! Write about your local bike to work events and include a link to http://biketoworkweek.org and the word will spread. Every article helps.
If you have other ideas or comments, please feel free to use the contact link.
Commute by Bike: Bike to Work Week
Click HERE to read more from William Belle
Article viewed at: Oye! Times at www.oyetimes.com