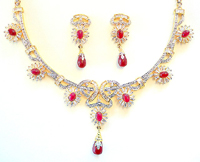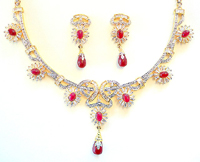 Mangalsutra Jewelry and Bollywood Jewellery are really Hot right now as Gifts.
Each year millions of people spend hour upon hour in large shopping malls, browsing for the perfect holiday gift for their family and friends. However, dealing with frustrating crowds, limited parking and lengthy lines is not for everyone. With online shopping more secure than ever before, finding the perfect holiday gift is no further away than a consumer's home computer.
Unique Handmade Silver Jewelry
When shopping this holiday season, consumers can find the perfect holiday gifts at RomikaJewels.com. The site offers silver jewelry and gold plated jewelry at affordable prices. Each piece designed by Romika is unique and could stand alone as a piece of original art. The innovative sterling silver designs incorporate gemstones like rubies, topaz, amethyst, rhinestone and aquamarine to create beautiful versatile pieces perfect for any occasion. Romika's Sterling Silver Jewelry Collection also includes sterling silver pendants, earrings, beads, necklaces, bangles and bracelets. RomikaJewels.com specializes in Mangalsutra Jewelry, Bollywood Jewellery, Polki Jewelry, and Kundan Jewelry.
Romika is a Rising Star among Indian Jewelry Wholesalers
Already worn by stars of ET Canada, Romika is making a name for herself throughout the entertainment and fashion world. Not only are the unique and beautiful designs appealing to many shoppers, but the quality of the jewelry itself makes it stand out from many other silver designers. The pieces manufactured are inspected by a team of quality control specialists before leaving the art export unit where they're created. Thus, every piece of jewelry is created with the highest level of standards.
Customer service is a priority within the Romika Jewels Company. Romika understands customers need to feel secure in their purchases. Thus, she offers a 30 day money back guarantee on online purchases. Combined with great quality and unique designs, Romika customer service features outshine the rest of the sterling silver industry.
Consumers looking for a Christmas gift, birthday gift, anniversary gift of a "just because" gift can easily find something perfect at RomikaJewels.com.
| | |
| --- | --- |
| | |
For more information regarding the nature of this release, please visit: www.romikajewels.com.
Call 1-888-2-ROMIKA or 416-271 6088