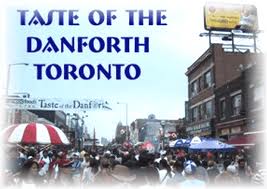 This article was last updated on April 16, 2022
Canada:

Oye! Times readers Get FREE $30 to spend on Amazon, Walmart…
USA:

Oye! Times readers Get FREE $30 to spend on Amazon, Walmart…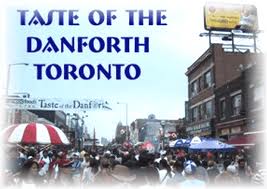 Anybody say food? Toronto has the annual Taste of the Danforth festival showcasing the mostly Greek culture of The Danforth which has expanded to include other cultures of the area. Check out the official web site and why not pop down for a walk around the area and a bite to eat out in the street. Things are blocked off so you've got yourself a nice pedestrian mall. Check Environment Canada as I see there is a 60% chance of showers. Don't forget your umbrella.
It was another carry over lotto weekend. Both Friday's Lotto Max and Saturday's Lotto 6/49 had no winning ticket so the Lotto Max of Friday, August 12th is estimated at $30 million and this coming Wednesday, August 10th's 6/49 jackpot will be $7 million (approx). I warn you that when we check our tickets on Monday, let's not be counting on not going back to work. If we're lucky, we may get a winning play. Boooooooooo!
Yes, I'm a bit of a movie nut and was out there Friday evening to catch the new offering Rise of the Planet of the Apes. (my review here) Even if you've never seen any of the movies in this series, this one is a great standalone story and with a rating of 80% from Rotten Tomatoes, it's not just me who is saying it's good.
As well, from the past two weeks, here are a few others to add to your list. Friends With Benefits with Justine Timberlake and Mila Kunis may be a formula romantic comedy but it worked. (my review here) Captain America: The First Avenger is a comic book blockbuster action adventure but it's a good one. (my review here) I recommend it.
Crazy, Stupid, Love was a great middle aged divorce story where true love wins in the end. Do I hear the expression "soul mate"? (my review here). Your Western has horse ridin', gun shootin', tabaccy spittin' and whiskey drinkin'. What's missing? Aliens, of course! Cowboys and Aliens is quirky but well done. (my review here)
Finally I have to mention The Trip. Here's a film which consists of two guys talking. Yep, you heard me, just two guys talking. No car chase scenes, no special effects, no big time blockbuster explosions; just two guys talking. While that may at first glance seem to be the last thing you'd want to see, I can assure you it's hilarious. (my review here) Our protagonists are two British actors slash comedians who verbally joust with one another at the dinner table, in the car and out on walks and I was chuckling if not outright laughing along with the rest of the audience during the entire running time of the film. Admittedly it's an acquired taste but it goes to show you that you don't need a budget of hundreds of millions of dollars to put together something which is entertaining.
Busted on Facebook, busted on the Internet
Keeping secrets on the Internet? You may want to rethink what you're doing. Yes, we all laughed at Anthony Weiner tweeting racy photos of himself saying we would never do such a thing but believe it or not, we're leaving an electronic trail of our activities on the Internet which potentially could get us in hot water. See Relationships: On-line, oh so not private and busted.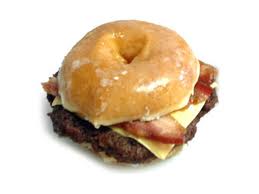 Food
Glen Asher takes an amusing look at how Americans are stuffing themselves. See Americans love their extreme eating for a caloric intake that will make your diet look good in comparison.
Couple that with The Krispy Kreme Burger. What!?! Yep, make yourself a cheeseburger but substitute two Krispy Kreme glazed doughnuts for the bun. OMG! This is true? Apparently this culinary hit took off in the southern United States and is now a big treat at fairs. Gee, it's the main course and dessert wrapped up into one easy meal. *laughs*
Good luck to all of you in your world. See you around the pages of Oye! Times.
6/49: Wed, Aug 10, 2011: $7 million
Lotto 6/49: One chance in 13,983,816
Lotto Max: Fri Aug 12: $30 million (No MaxMillions)
Lotto Max: One chance in 28,633,528
All the latest winning numbers
You can visit the Lotto web site and check out all the latest winning numbers including Poker, 49, Lottario, Keno, Pick 4, Pick 3 and Payday. Of course, all the Encore numbers can be found there as well.
References
Wikipedia: Annual events in Toronto: August
August
* Roncylicious, a showcase of the diverse flavours of Roncesvalles Avenue, running August 4th through 31st, with over thirty participating businesses.
* The Canadian National Exhibition (CNE, or "the Ex"). (official web site: August 19 to September 5)
* The Taste of the Danforth festival showcases the mostly Greek culture of The Danforth and has expanded to include other cultures of the area. (official web site: Aug 5, 6 & 7)
* Toronto Buskerfest – A festival of Street Performers: August 25 -28, 2011
I have been to buskerfest a few times and it is always a blast. If you haven't been, you have to try this out. Funny, entertaining and sometimes simply amazing.
* Taiwanfest previously known as TCF (Taiwanese Cultural Festival). (official web site: August 26 – 28)
Click HERE to read more from William Belle
Article viewed at: Oye! Times at www.oyetimes.com
You can publish this article on your website as long as you provide a link back to this page.