You can publish this article on your website as long as you provide a link back to this page.
This article was last updated on April 16, 2022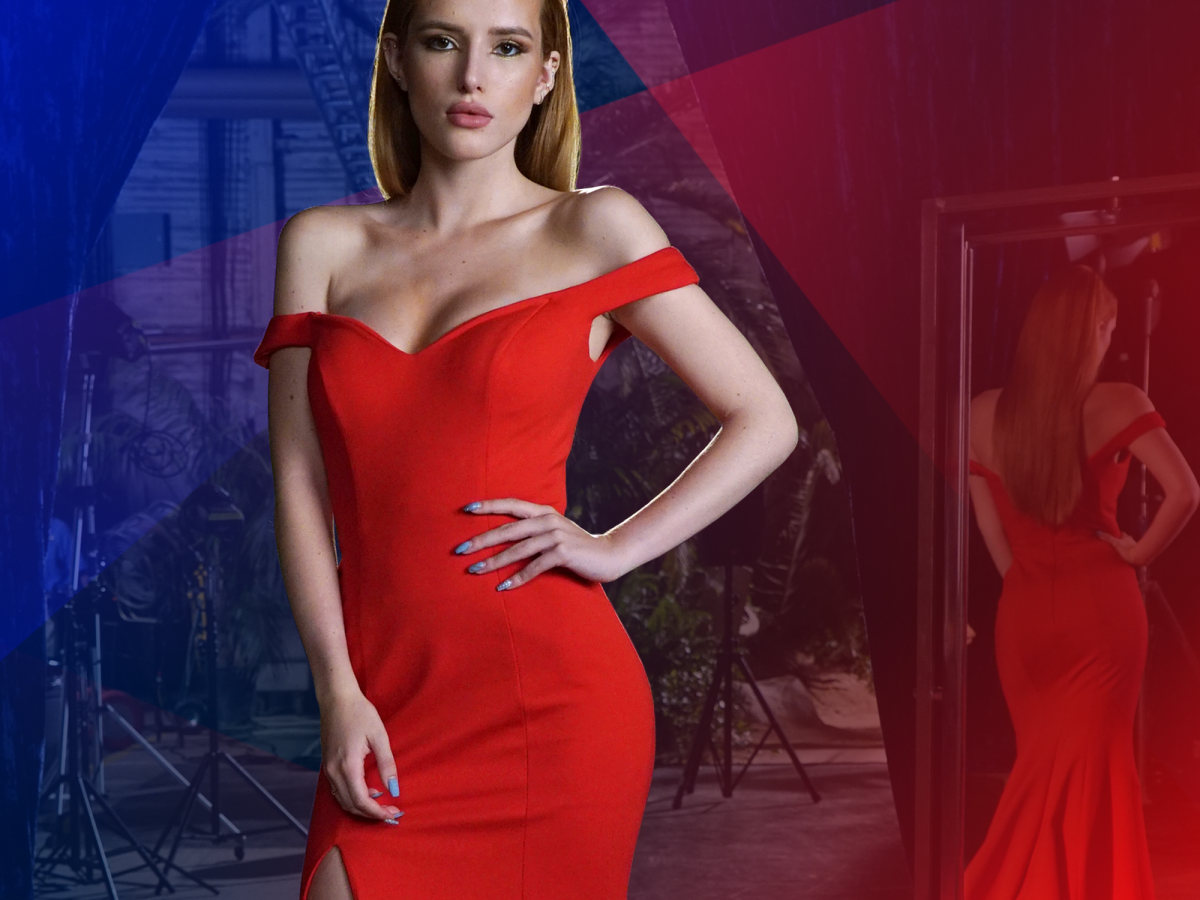 Few days go by when I don't wonder what it's like to be famous. Not because I myself wish to become the subject of the headlines I write, or have millions of followers on every social media channel, but because it is both a fascinating gift and a curse. The double-edged sword of fame is as alluring as it is intimidating, and no one knows that more than Paige Townsen, a cross between Bella Swan and IRL Bella Thorne, and the main character in Freeform's new addicting teen series Famous in Love.
With the words "Freeform," "Bella Thorne" and "famous" all mixed together, you probably have an inkling of what kind of show to expect here. Need a hint? It's also from the executive producer of Pretty Little Liars, so it's safe to say that it's going to go over very well with fans of the juicy teen drama . The series premieres on Freeform April 18 at 9 p.m., and (in a unconventional move), the network has also decided to upload the rest of the first season immediately to Freeform.com, On Demand, and Hulu, so hooked viewers can immediately binge the rest of the season. (Though Entertainment Weekly has deemed Famous in Love "too annoying to binge and not addictive enough to warrant waiting a week between episodes.")
Still, the show is still a fun guilty pleasure to dive into. Fans of the book series of the same name upon which the series is based, you'll notice some pretty glaring differences, but in the end it's close enough — with many more salacious twist and turns. In addition to new hook-ups and plot twists, the show is also heavy on cameos from YouTube stars, B-level names, and an array of other semi-famous people, making it a one-stop shop to fulfill all your cheesy Hollywood desires.
So, let's get started and finally see just how famous in love Paige Townsen becomes.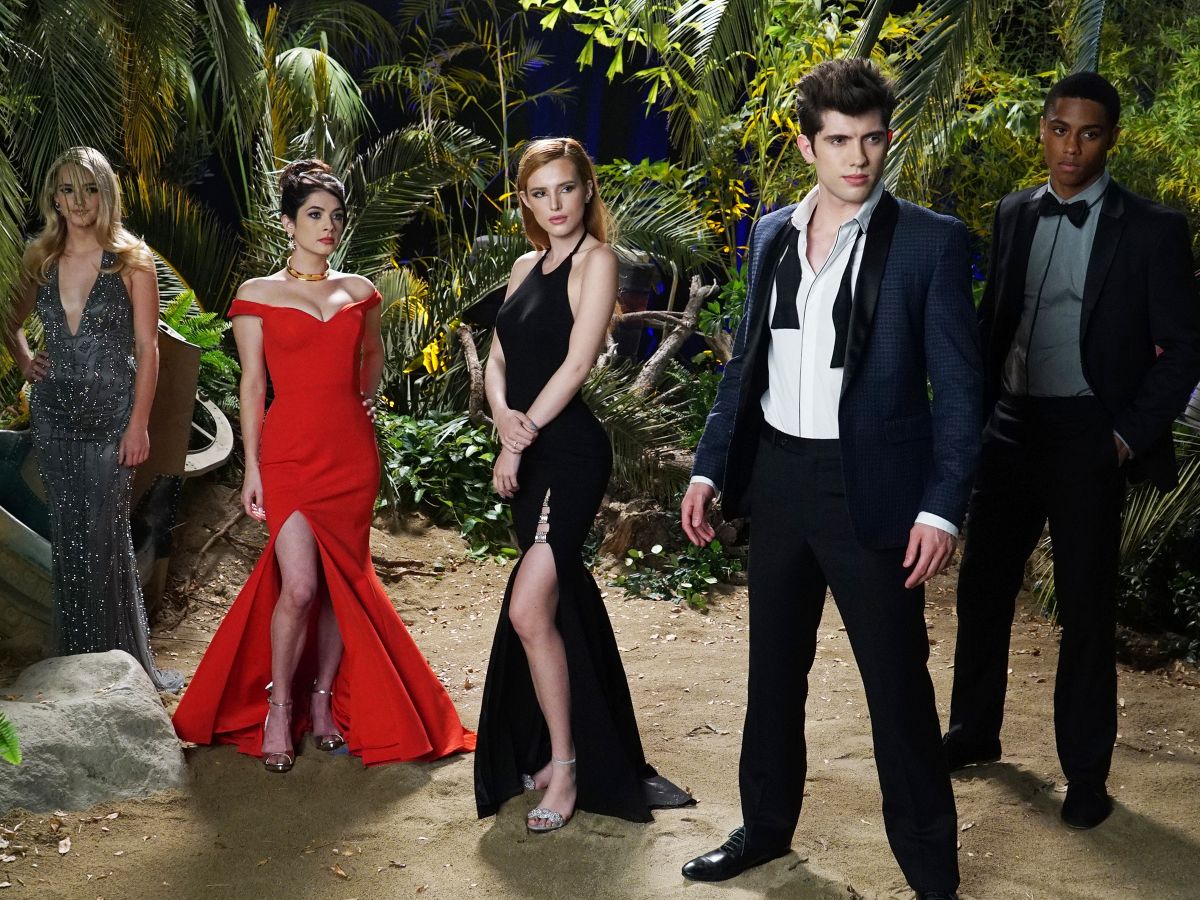 Photo: Freeform/Eric McCandless.
Episode 1 — "Pilot"
Paige Townsen is just your typical SoCal college student who lives with her two best friends, Cassie (Georgie Flores), a spunky and unfiltered brunette with a surprising secret pastime, and Jake (Charlie DePew), a fit, budding screenwriter and director who harbors feelings for Paige. The three of them are just the best of friends, and everything seems hunky-dory, which means that they won't be for long. Given her advanced economic courses and obsession (OBSESSION) with school, clearly Paige is supposed to be bookish (but with perfect eye lashes and hair). Her parents always told her that a good education is the key to any career, and she lives and breathes by this creed.
One day, Cassie gets wind of an open audition for the role of August Roch (not to be confused with August Rush), the lead character in a super popular book series, Locked, and suggests that she and Paige go audition just for shits and giggles. (This show gets super meta.) But, despite their fooling around, Paige actually delivers an A+ audition (watch out, Emma Stone) and wows the producers, who call her back to read with one of the leading men of the film: former child star and resident Hollywood bachelor, Rainer Devon (Carter Jenkins). His mom, Nina (Perrey Reeves), also happens to be in charge of the film's production. It's clear from the moment we meet her that she is as aggressive as she is manipulative, but she puts on a good front — especially in front of her not-too-smart son.
As Paige gets closer to landing the lead role, we are introduced to a raven-haired mean girl, Alexis (Niki Koss) who also happens to be Ashley Benson's doppelgånger. Alexis used to star a TV show with Rainer and another popular actor, bad boy Jordan Wilder (Keith Powers — my favorite character), and had her sights set on playing August because she is broke as a joke and can't land any roles. It's clear that a girl-feud between the two young actresses is brewing. Meanwhile, there's a bro-battle in the mix with the wedge between Jordan and Rainer getting deeper and deeper due to gossip headlines reporting that Rainer's ex-girlfriend, Tangey Turner (Pepi Sonuga), hooked up with Jordan behind Rainer's back. They've all been in show biz for a while so you know there' s murky back story to it all that we don't know — yet.
And would you believe it, little ole Paige Townsen landed the role of a lifetime! Truly incredible. Her make-out scene and chemistry with Rainer, who will play one of her love interests and Jordan, who will play the other, just stole the hearts of everyone in the room. (Plus — they could hire her for a lot less than another real actress.) She is well on her way to becoming famous! By the end of the episode, Paige is walking a red carpet into a night club, debuting as August Roch,while secretly freaking out because: homework. Oh, and Jordan is sleeping with Rainer's mom, which is why he has a role in Locked.
So, how Famous in Love is Paige Townsen on a scale of Disney Channel extra (1) to Jennifer Lawrence (10)?
2. Her name may be in lights outside the club, but no one knows who the eff she is.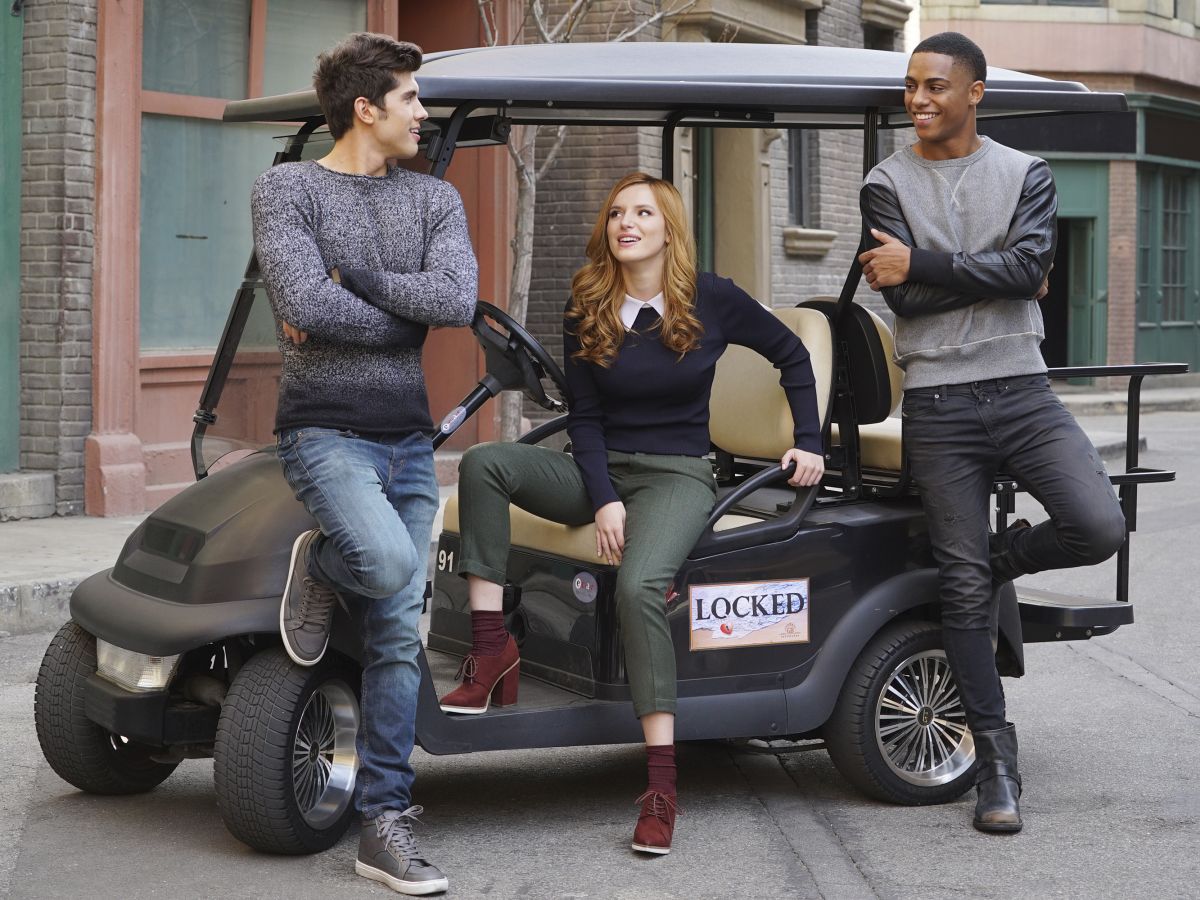 Photo: Freeform/Eric McCandless.
Episode 2 — "A Star is Torn"
Let's do a quick rivalry recap: there's Rainer versus Jordan, Alexis versus Paige (although Paige doesn't totally know it yet), and Jake versus Rainer (although Rainer doesn't totally know it yet). But what fun are three feuds when you can have four? Nina (Rainer's mom, who is secretly sleeping with his ex-best bro, Jordan) is embroiled in battle with a little celebrity blogger whose YouTube videos appear to run the town's tabloid scene — our own millennial Hedda Hopper.
Very quickly into the episode, we are reminded just how famous Paige is getting (example: "She's gonna be a big star!"), but Paige still is prioritizing her education over all the glitz and glamour because she is #humble. She meets with Nina to tell her that she refuses to drop out of school, to which Nina replies, "Being a movie star isn't a choice." While Paige is complaining about becoming too famous to finish her econ class, her poor friend Cassie is getting herself into some trouble with an unnamed and unknown older man whose house she keeps visiting. It's clear she is doing something for him, but we don't know what until the end of the episode, when we realize she is cleaning his house, topless, fulfilling a strange fetish that I'm sure exists in L.A. Later, we learn that this sketch man is not only a Somebody in Hollywood, he is Nina's former boss and they still have major beef.
Speaking of beef: Tangey is stirring a pot of her own by telling her ex, Rainer, that Jordan is "ten times the man" he will ever be. Ouch. Definitely fresh wounds all around, but we still don't know WHY they hate each other so much. It's becoming clear that Rainer is very self-absorbed, enough so not to notice that his ex-best bro and current nemesis is consistently sleeping with Rainer's own mom in a totally creepy "Stacey's Mom" kind of way.
Things aren't going so well for Paige either, as she tries to "rip the tags off" her budding relationship with Jake. They make googly eyes at each other from across the kitchen for what feels like hours until Jake cuts it off clean — to save his friend (and unspoken love) from the stress of dealing with a boyfriend while also transitioning from a nobody to a very famous person. Paige is getting really stressed because she has to tell her parents that she is about to be Famous, but is scared that they will disown her for putting school on the back burner. While attending a super swanky event (her real public debut), Paige's flirtation with Rainer reaches a head when she realizes that she can trust him to look out for her during this major life change. (They make a secret hand motion to signify when Paige feels overwhelmed and needs Rainer to step in — sweet.) It's only a matter of time before the tabloids pick up on this growing on-screen friendship.
Paige finally spills the beans after her parents catch her coming home from the premiere, which went splendidly, as she is introduced as the "new face in Hollywood". Of course her mom is a huge fan of the book, and her dad is not so happy (which I get but, like, come on dad). She promises them she will balance school and fame (ha!) and as she does, a girl approaches her table, and asks for Paige's autograph. "Paige, this is incredible! You are famous already!" her mom gushes, ecstatically.
So, how "famous in love" is Paige Townsen on a scale of Disney Channel extra (1) to Jennifer Lawrence (10)?
4. She signed her first autograph! Although at this point, she is mostly known as August, her Locked character, and not as Paige herself, so she still has a ways to go.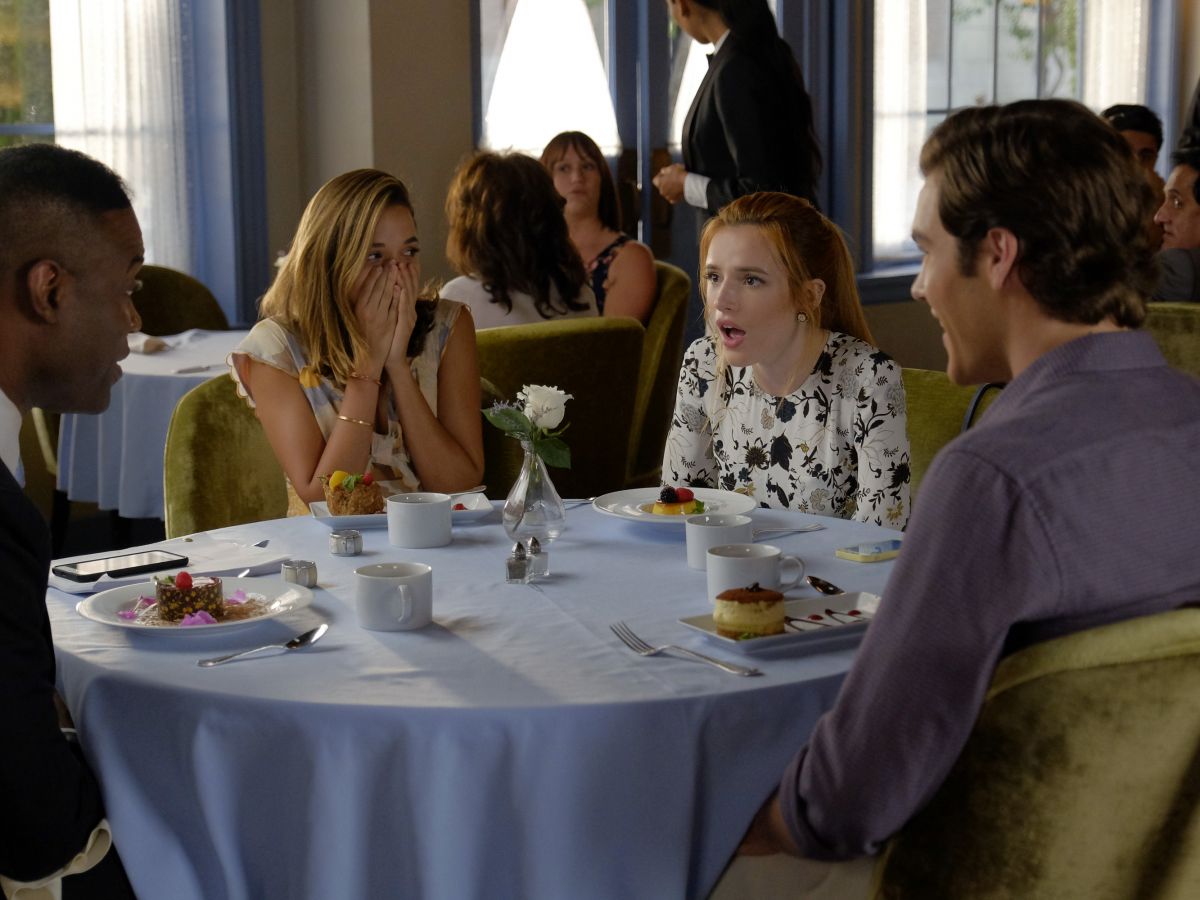 Episode 3 — "Not So Easy A"
With her parents sort-of blessing, Paige is starting to make major strides in becoming the famous actress that everyone knows she was destined to be — while STILL worrying about her econ paper!) Nina pressures Paige again to put her acting career first ("Are you too busy to be the star of a major motion picture?!" she yells at exasperatedly. Paige's answer? No, it's just… school. We know Paige, we know.) But even though it's pretty obvious that Nina isn't a huge fan of Paige, but she is a fan of how naive she is. Paige meets with an agent and squeals in delight over how much she is being paid for the role, but it's obvious she is getting screwed over but doesn't know it.
During a " Vanity Fair teaser spread" photoshoot (think, Twilight prom but with industry strength fans), Paige decides to make things right between her and Jake. You see, Paige, in a fit of jealousy, accidentally ruined Jake's chances of having his script read by one of Alexis' connections and she feels really guilty about it. To appease the situation, she decides to suck up to Alexis in order to guarantee Jake a meeting with a Hollywood exec. (Aw.) Alexis takes full advantage of this and makes Paige switch dresses with her during the shoot, and even go menial tasks just to embarrass her. It's like Hollywood hazing, and it's mean, but probably a very real thing in the actual show biz. It works though — but a little too well. Alexis offers to help Jake with the script, personally (wink, wink), and the two head off to the desert together. Paige is pissed, but not too pissed because her crush on Rainer is reaching exponential levels. Every time they see each other (which is a lot) they act like they are seeing each other for the first time. It is equal parts cute and obnoxious. When he isn't making moves on Paige, Rainer is slowly, but surely, mending his relationship with Jordan. The two exchange apologies and watch the sunset together while drinking Izzy in a total Seth Cohen and Ryan Atwood moment of bromance.
But of course, trouble is brewing somewhere in Tinseltown and Nina is the one stirring the cauldron. Jordan's big secret is that he is being blackmailed by a middle aged woman who could be an ex, a relative, or just about anyone. She demands $50,000 or else she is exposing him to the world (aka the YouTube gossip sensation). But Nina can't have that, so she sets up the woman by hiding a bag of white powder (cocaine?) in her car, and then calling the police on her. She goes to jail, and Nina looks smug AF (which is ironic because earlier in the episode Nina convinces Rainer to take a major pay cut for his lead role in order to keep the movie afloat, but he soon realizes that he took the pay cut so that Jordan could get extra money — no one knows Nina and Jordan are sleeping together).
Oh, and the woman arrested? It was Jordan's mom! Ah!
So, how "famous in love" is Paige Townsen on a scale of Disney Channel extra (1) to Jennifer Lawrence (10)?
5. Paige does get to wear Jennifer Lawrence's red Oscar dress for a minute before Alexis demands it off her back, which is close to being J. Lawr, but not enough to be famous. Also, please remember that she still hasn't SHOT ANY SCENES FOR THE MOVIE YET.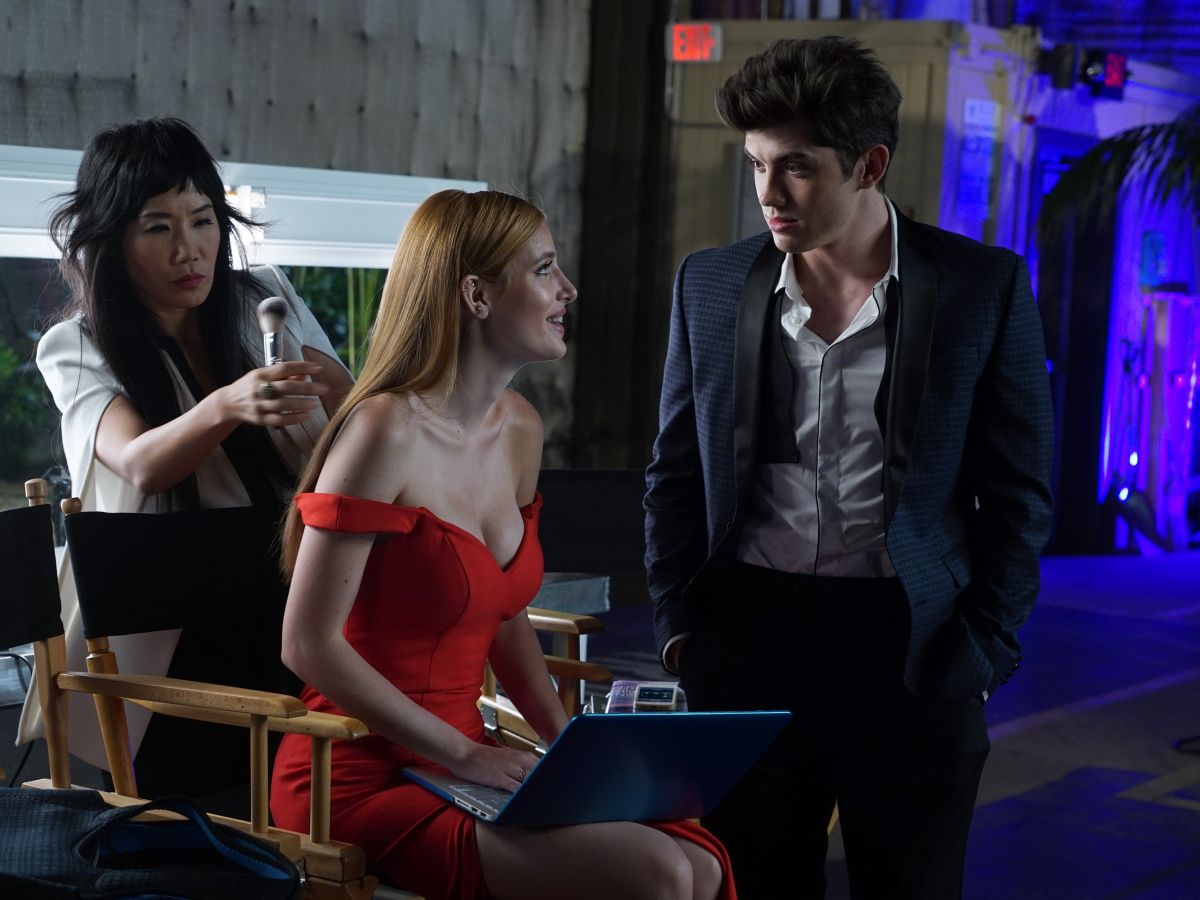 Episode 4 — "Prelude To Diss"
"I really like her — she's special," this is what Rainer says about Paige, early on in episode 4, which is really something considering I think a total of about three days have gone by since the two have met. But, it's time to put cynicism behind because we finally get to see Bella Thorne acting as Paige Townsen acting as August Roch. Phew — four episodes in and we finally get to the meta goodness of the series.
We haven't checked in with Cassie for a minute, but things are not looking so hot for her (even though I love her flirtation with Cute Set PA Boy, Adam, who you might recognize as Bearded Poetry Man from 13 Reasons Why). Cassie doesn't have enough money for tuition as a result starts visiting new clients houses to clean them topless. Yikes, girl! Jake and Alexis are basically a couple (which upsets Alexis' ex-girlfriend, another actress on the set of the film).
While Cassie is barely holding it together, Paige is on the set of Locked — stage 9 — making all the magic happen. It's a $200 million movie, and, in the words of the film's director, Wyatt: "THERE 281 PEOPLE IN THE CREW AND YOU'RE THE STAR OF THIS ONE PAIGE." No pressure, right? Luckily, on set, Paige has Rainer by her side to defend her and give her presents. He gives her a necklace with a "P" on it and asks her on a legitimate date. Paige refuses, because she doesn't want to just be another notch on his belt, or a letter on his long list of necklace receiving girlfriends. ("Selena got an 'S', Tangey got a 'T' and I guess I'm just the next letter in line" a pouty Paige tells her broke and struggling friend, Cassie.) Speaking of Tangey, she is head over heels in lust with Jordan who really is just freaking out over his mom, and Jordan's mom, and the fact that all the women in his life are batshit crazy.
So, how "famous in love" is Paige Townsen on a scale of Disney Channel extra (1) to Jennifer Lawrence (10)?
7. She's famous enough to receive a letter necklace from Rainer Devon, and she appears on Conan.
Click HERE to read more..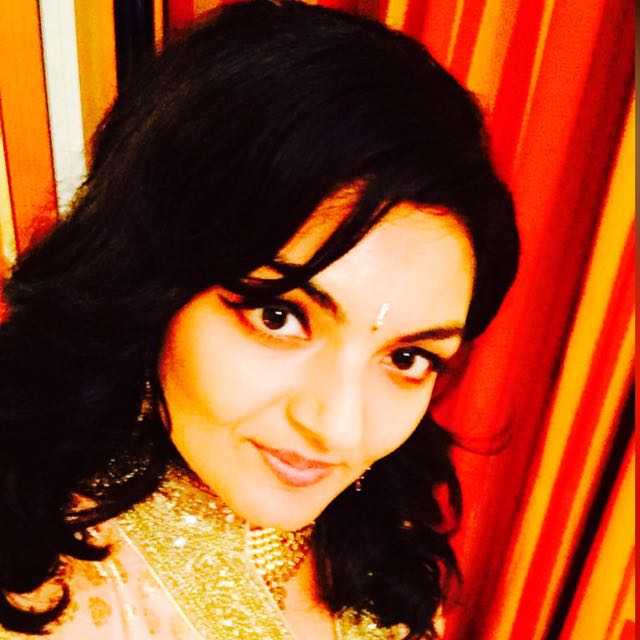 Vote for Shikha Dhingra For Mrs South Asia Canada 2017 by liking her Facebook page.

You can publish this article on your website as long as you provide a link back to this page.