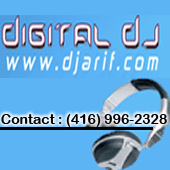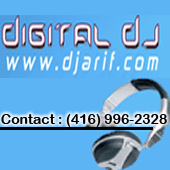 Are you planning a special event and want a professional disc jockey [DJ] to Cater to Your Specific Needs?  
Whether it's an Engagement, Wedding, Milestone Birthday, a Debut or an Anniversary… We are one of Toronto's EXPERTS in DJ Entertainment Services! Let us help you with your event! We are Competitive in Pricing and we pride ourselves in providing a Good Valued Service. We Care about your event! This is what brings us our repeat clients and referrals! Give us a call, we will be more than happy to provide you with information and/or create a custom package, once we understand what you really want and require.
* We take MUSIC very seriously, not only because it's what we do, but, we believe, that you should get GOOD VALUE. Your event is an important one, with numbers of guests ranging from 100, 300, 600, 800 people, leaving this responsibility to a young and/or the in-experienced individual can be overwhelming to that person, and hence, not turn out as you anticipated. We offer Professionalism, Excellent Value and a team of Experienced DJs.
* Reputation is Very Important! If you have attended an event or party where the party was rocking, you've heard good things about a particular DJ or they've been recommended by more than one person, then chances are that DJ has a great reputation and should be one you call.
* Talent, Experience, Demand, Professionalism, & Reliability, are KEY factors when hiring a DJ Company. 
Weddings – are our Specialty
Your entire reception can be from 6-9 hours in which there are several events taking place, items including: ceremonies, official entrances, creating a smooth ambiance for dinner service, co-ordinating post dinner entertainment, speeches, videos, slideshows, performances and prepared dance routines.
The expectations of the DJ Service Provider to be part of these events have significantly increased, and it's a very important part of the Event Going Smoothly! This is where we have been known to help by assisting with the evening planning, music suggestions selections for your entrances/dances, wireless microphone and dedicated PA Systems for your speeches. In this process of co-ordinating the evening, this is part of our service to help you get organized.
You can hire a DJ to just play music, or you can hire us (Your Digital DJ) djarif.com to create a lasting positive impression!
We have Packages based on Popular Requests …If you are still curious, contact us, we'd love to hear from you. Give us a call 416-996-2328 or email us at djarif@djarif.com
A Few "Testimonials"

"You have Amazing Talent – Excellent New Years Eve Party!" ~ NawabIndianCuisine.ca
"Great Party" ~ Rebecca ~ Dr.Date.com (Winner of the Grand Prize Draw)
"You Were Very Good at MyBindi Comedy Show After Party!" ~ MyBindi.com
"Our Reception at The Liberty Grand would have not been the same without you, everyone had a GREAT time!" – Amy Rayan
"Thank You so much for all your efforts and patience" – Sanjiv & Sanjana [Sanjana, the famous remix Singer 'Sanjana' from mybindi.com]
"You ARE Our Best DJ and Would Recommend YOU in a Heartbeat!" – Minesh Dhattani – FuzionBanquets.com
"Hey Arif, You were Superb! … I must say, between when you played at Friday's Event, and when DJ Jiten Played on Sunday's Event, You were As good as DJ Jiten, but, we liked your music selections better!" – Attendee
"We had an amazing time. Thanks for all your help/guidance – especially with the ** courage :-). You blended our first 2 slow (totally different ethnics) songs really well. I think that I'm one of the few brides that had a 'Wicked' time dancing all night at the reception." – Sareena & Bran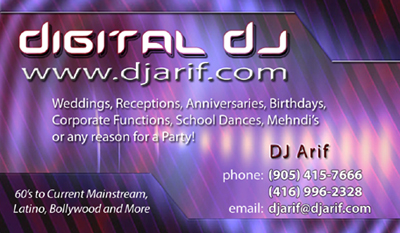 DJ Arif: 416-996-2328