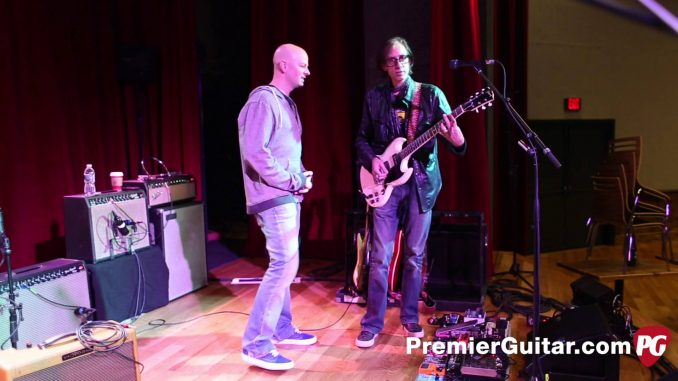 Get a Gibson J-45 Standard for an unbelievable $1,999 plus 100s of other Gibson, Fender, Marshall, Roland items online with free shipping
By Stephen Pate – $1,999 is the lowest price I have ever seen for a new Gibson Modern Classic J-45 Guitar Vintage Sunburst.
This guitar, the workhorse of guitar players, is usually $2,199 or more. During Boxing Week the Gibson J-45 is $1,999 at LA Music, including free freight in Canada.
The J-45 has the quintessential Gibson acoustic guitar sound, the sound that you hear from rhythm guitars on a million records.

Check out this Premiere Guitar Rig Rundown from singer songwriter Lucinda Williams. Her stage gear is almost totally Gibson J-45's. I can see that – great tone and consistency day after day.
Lucinda Williams latest release is the double CD Down Where the Spirit Meets the Bone

.
That's just one of the LA Music deals available with Gibson guitars from $599 and up.
Over at Long and McQuade, they only seem to have only Godin, Ibanez and Epiphone this Boxing Day. One of the reps I know at L&M was pretty discouraged by the weak lineup for their Boxing Day. Granted L&M may price match but I've tried that on Boxing Day and lost the deal while they fill out paperwork at L&M to slow you down.
Those are OK guitars but they are not going to get your heart pumping like a new Fender Stratocaster, Telecaster or Gibson Les Paul or J-45. The beauty of Box Day is getting that awesome guitar at an unbelievable price.
The best part is you can shop these
LA Music
deals from anywhere in Canada. If you want to go the to store, head on down but the price does not get any better.
I've bought from LA Music online and the gear arrives on time and in perfect condition. Gibson and Fender are making their instruments with lasers and NCC machines with hand assembly. The days of quality issues are past. Last year I bought a Tele and a Strat online and they were perfect.
Good guitar hunting.
Follow me on Twitter at @sdpate or on Facebook at NJN Network, OyeTimes and IMA News Buzz. NJN has a site icon or Favicon you can save to your desktop. You can also subscribe and automatically receive notifications of new stories by email. The subscription form is in the left and right columns.
By Stephen Pate, NJN Network