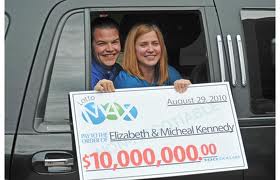 You can publish this article on your website as long as you provide a link back to this page.
This article was last updated on April 16, 2022

Okay, maybe "I" didn't win, but somebody in Ontario is laughing their head off. News outlets are reporting that the ticket for the big one was sold in Ontario. Sure enough, a visit to the
Lotto Max web site
proves we have a winner although I have no idea where the other news outlets know that winning ticket is in Ontario. Am I missing something on the site?
Oh yeah, 2 Maxmillions were also won and once again, Ontario is the lucky recipient. Time to get out those tickets and verify the numbers! Maybe I don't have to go to work on Monday. Of course, what am I going to do for the rest of the weekend? How will I contain myself? I better keep quiet about it. Heck, I'm going to end up with every Tom, Dick and Harry, even my wife's thirty-second cousins twice removed phoning me for a hand-out. Ha!
According to Lotto Max, with the fifty million having been won, the big pot comes back down so next week, Feb 4, it will stand at $21 million. However, since only two out of thirteen Maxmillions were won, they are going back up for grabs next week. The OLG is showing 14 Maxmillions for Feb 4.
Lotto Max: Fri Jan 28/11: $50 million plus 13 Maxmillions
6/49: Sat Jan 29: $6 million
All the latest winning numbers
You can visit the Lotto web site and check out all
the latest winning numbers
including Poker, 49, Lottario, Keno, Pick 4, Pick 3 and Payday. Of course, all the Encore numbers can be found there as well.
Good luck to all of us!
Click HERE to read more from William Belle.