It's no coincidence that I became a dedicated thrift shopper in 7th grade, the year I hit my adult height of 6'2". (Yes, you read that correctly. I was a six-foot preteen. This is why I'm now so good at not giving a f*ck.)
Add to my height the fact that in the mid-'90s, every mall store was stocked with platform shoes and wide-leg pants — two items that remain on my list of personal nightmares — and you can see why I turned to the world of cheap secondhand clothes. I honed my thrifting skills, acquired some basic alteration know-how, and set about making myself a wardrobe of stuff that actually fit.
While I've become pretty handy with a sewing machine, there are a handful of simple tweaks any novice can learn which can really improve thrift-store finds — and don't even require a thread and bobbin.

Remove The Sleeves
So many '80s secretary blouses and flowy '70s dresses feature bold prints and statement collars and ruffles. I'm way into that. But off the rack and on my body, these things can add up to a whole lot. To dial back a look from costume rental to statement piece, often all it takes is snipping off the sleeves. I cut them off right along the armhole seam. It simplifies the look significantly, and I can still layer jackets and sweaters on top when it gets cold out.
Madewell Love Song Minidress, $148, available at Madewell.

Belt It
A lot of items that have a great print—old caftans or robes, say — might not have the best shape to them. I often fix that by experimenting with folding and belting the waistline. When a dress is too large around the middle, I'll frequently fold it over itself and use a belt to secure it, giving it a nice nipped-in look with great movement. I'm not so into wide belts lately, but skinny belts aren't great at holding this look together. Solution? I layer two or three skinny belts together.
Warehouse Pleat Dress with Contrast Belt, $85.15, available at ASOS.

Cuff The Sleeves
Is a shirt looking just a bit too boxy? Or does that dress feel a bit too stodgy? I always try it with the sleeves rolled up a bit — and pin them that way. Safety pins are probably the simplest way to get all your clothes to fit just right. They're not just for stylists!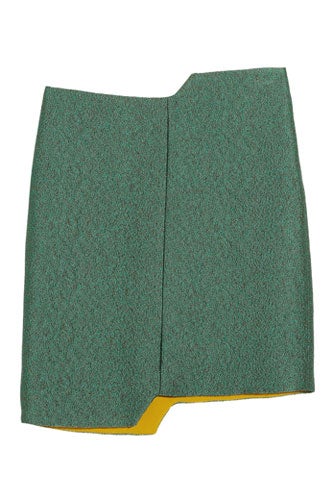 Cut The Hem (Up To There) — A lot of cute skirts and dresses tend to hit me just above the knee — which is unacceptable because, these days, I'm mostly interested in a calf-skimming midi length or an obscenely short hem. Since you can't magically lengthen things, this means I'm hacking my skirts into minis. I try it on and make a little snip with a pair of scissors about an inch lower than I think I'll want to go (I can always cut it shorter later). To figure out if I need to bother hemming it with a sewing machine, I do a test snip on an inside seam. Does it look like the fabric will fray? Many silks, knits, and poly-blends won't, which means I can carefully trim away a few inches without touching my sewing machine.
Chayalan Step Cutout Woven Mini Skirt, $480, available at Net-a-Porter.

Recut The Neckline
Again, a lot of fabrics can be cut without fraying. I test an inside seam, and if I'm good to go, and if it's not unraveling, I just cut a scoop shape into what was previously a high-necked item. (Don't mess with cutting it into a V — that shape usually takes some reinforcement to hold up.) Or sometimes, I just remove the collar. I try to look at a piece for its component parts, and ask myself what it would look like with each removed.
Most important though, is the psychology of all of this. You have to trust your judgment and cut carefully and deliberately, but not worry too much about screwing it up. After all, this is what's great about thrift shopping: The cost is low, and even if your alterations go awry, you've invested fairly little. Cut that dress too short? You can probably recast it as a shirt. Neckline too low? You can layer a slip or tank under it. And so on. Worst-case scenario? You've got the cutest cleaning rags of anyone you know.
Photographed by Shanita Sims
Click HERE to read more from Refinery29.