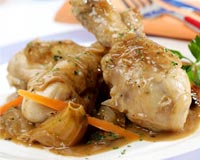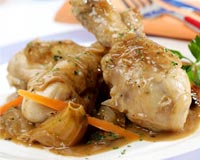 Baked Chicken
Ingredients:
Chicken 2 portions (without skin)
Lemon juice 2 tsp.
Ginger garlic paste 1 tsp.
Green chilies Four
Oil 1 tsp.
Plain flour 20 gm.
Salt and pepper as per taste
Lemon wedges and coriander leaves
Method :
Wash and dry chicken
Chop green chilies fine or grind to paste.
Mix well with ginger, garlic & lemon.
Apply this on the chicken with oil and allow it to marinate for 3-4 hours
Pre heat the oven
Mix salt and pepper in flour. Sift.
Arrange chicken on a grill rack skin side down.
Sift half the seasoning over the chicken and bake for 15 minutes.
Turn the chicken over and sift the remaining flour and grill for another 15 minutes till brown.
Garnish with lemon wedges and coriander leaves.