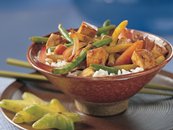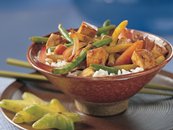 Ginger Pork
Serves 6
Ingredients:
2 lbs. pork cubes 1-inch size (may be cut from pork chops)
Flour
3 tbsp. cooking oil
1/2 c. chicken broth (may use bouillon cubes
1/3 c. soy sauce
2-4 tbsp. sherry
1 sm. clove garlic, minced
1 tsp. ground ginger
1/4 c. chopped green onion (or regular onion)
1 tbsp. honey
1 can water chestnuts, drained and sliced
Directions:
Dredge meat in flour.
Heat oil in large skillet or electric fry pan.
Add half meat; brown quickly. Remove and brown rest of meat. Pour excess oil from pan.
Combine chicken broth, soy sauce and sherry. Add other ingredients. Place in pan with meat. Simmer covered 15 minutes or until meat is tender.
Add 1 can drained, sliced water chestnuts or bean sprouts (or canned). Heat through. Serve over hot fluffy rice.