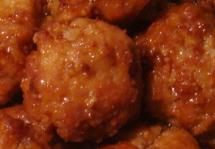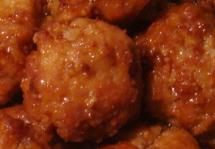 Lion's Head
Ingredients:
2 lb ground pork butt
2 scallions, finely chopped
2 slices ginger root, finely chopped
2 tbsps dry sherry
2 tbsps cornstarch
1 tbsp salt
3 tbsps lard
1 lb Chinese cabbage (bok choy), quartered lengthwise
1 cup chicken stock
Directions:
Mix together the pork, scallions, ginger, sherry, cornstarch and half the salt. Shape the mixture into 6 to 8 meatballs.
Melt the lard in a deep pan. Add the cabbage and remaining salt and fry for 30 seconds. Place the meatballs on top of the cabbage and pour the stock over the top. Bring to the boil, then cover tightly and simmer gently for 30 to 45 minutes. Serve hot.
Note: Alternatively, the meatballs may be fried in a little lard, with a little soy sauce and sugar added, before placing them on top of the cabbage.