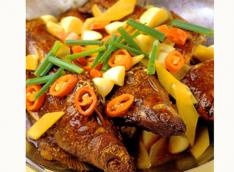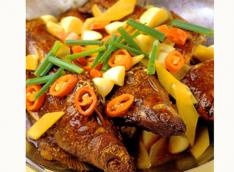 Deep Fried Spiced Fish
Ingredients:
1 ½ lb whole fish (sole, cod, halibut), cleaned and scaled
1 tsp minced ginger root
3 scallions, chopped
2 tsps salt
2 tbsps dry sherry
Oil for deep frying
1 tsp ground Szechuan or black peppercorns
2 tbsps sesame oil
Lemon slices to garnish
Directions:
1. Score the fish by making diagonal slashes on each side. Place the ginger, scallion, 1 tsp of the salt and the sherry in a dish and add the fish. Leave to marinate for 30 minutes.
2. Heat the oil to 180°C/350°F. Deep fry fish until golden brown. Drain on absorbent kitchen paper and place on a dish.
3. Sprinkle with the ground peppercorns and the remaining salt. Heat the sesame seed oil and pour over the fish. Serve hot, garnished with the lemon slices.