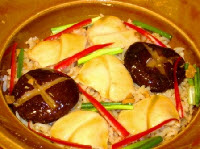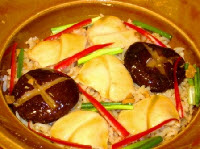 Steamed Abalone
Ingredients:
8 fresh abalones
1/4 cup each of shredded ginger, shredded green onion, and cilantro
3 stalks of green onion
Directions:
Wash abalones, wipe dry, and put on a plate.
Put green onion stalks and ginger on abalones, steam for 6 minutes, discard green onion.
Place shredded green onion on abalones, pour on some boiling oil (approx 3 Tbsp) and soy sauce to taste. Garnish with cilantro.