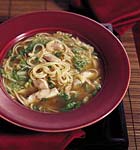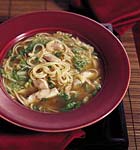 Chicken Noodles Soup 3
Ingredients:
1 c. diced cooked chicken
3/4 c. (3 oz.) fine egg noodles
6 c. water
6 c. chicken stock
1 (5 oz.) can water chestnuts
1 (5 oz.) can bamboo shoots
Directions:
Cook noodles in 6 c. boiling, salted water for 3 or 4 minutes. Drain well and keep hot.
Heat the stock with the diced chicken, water chestnuts, bamboo shoots, and the juice from their cans. Bring to boil and let simmer for a few minutes.
To serve, put the noodles into individual warm soup bowls and ladle the soup over them.