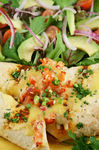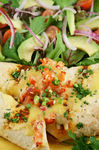 Chicken Enchiladas
Ingredients:
Enchilada Sauce (makes 3 cups)
2 tablespoons all-purpose flour
2 tablespoons chili powder
1 teaspoon ground cumin
2 tablespoons corn oil or 2 tablespoons canola oil
1 (8 ounce) can tomato sauce
1 teaspoon salt
1/4 teaspoon garlic powder
1 (14 ounce) can chicken broth
Filling
1/2 cup thinly-sliced green onion
3/4 cup shredded monterey jack cheese
3/4 cup cheddar cheese
2 cups shredded cooked chicken
1 (4 ounce) can dice green chilies
corn oil or canola oil , as needed
1/4 cup chopped cilantro
1/4 cup sour cream
salt
pepper
72 inches corn tortillas
nonstick cooking spray
Preparation:
Enchilada sauce directions:. Heat corn or canola oil in large sauce pan; stir in flour and chil powder; cook for 1 minute. Add remaining ingredients, bring to a boil, and simmer for 10 minutes. Filling. Heat oven to 350°F. Prepare enchilada sauce below. In a medium bowl, mix chicken, green onions, 1/2 cup cheddar, 1/2 cup monterey jack, sour cream, chiles, and cilantro. Stir in 1/2 cup enchilada sauce. Season with salt and pepper, set aside, heat 1/2 inch corn or canola oil in large pan. Fry tortillas, one at a time until soft (10 seconds per side). Drain on paper towels, spray 9″x 13″ baking dish with non-stick cooking spray. Spread small amount of sauce in bottom of dish. Spread 2 heaping tablespoons of chicken mixture in each tortilla& roll up. Place seam side down, side by side in prepared dish. Pour remaining sauce over, top with remaining cheeses and bake until bubbling, 15-20 minutes. Garnish with extra sour cream, sliced green onions and chipped cilantro.