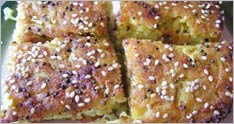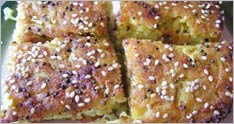 Handvo
Ingredients :
1 medium bottle gourd
3 tbsp coriander chopped
3-4 green chillies finely chopped
3 cups buttermilk
¾ tsp soda bicarb
1 tsp each urad and channa dal
½ tsp each cumin and mustard seeds
4-5 tbsp oil
Salt to taste
For grinding together :
1 cup rice
1 cup yellow moong dal
Method :
Take butter milk in a large vessel.
Add salt, soda and flour, mix well.
Keep aside for 6-7 hours.
Grate bottle gourd and squeeze out excess water.
Add gourd, coriander and greenchilli.
Heat oil in a pan, add urad & channa dals, and seeds.
Allow to splutter, pour half in the batter, mix thoroughly.
Put in a greased oven proof deep container.
Pour remaining seasoning on top.
Place in a preheated oven at 280ºC for 10 minutes.
Reduce to 200ºC or 180ºC for 40 minutes or till done.
Check by inserting a skewer which should come out clean.
Slice into wedges and serve hot.