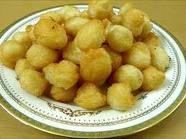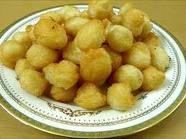 Kanji Vadas
Ingredients :
For the kanji :
¼ cup split mustard seeds
1 tbsp black salt
1½ tsp chilli powder
Salt to taste.
For the vadas :
2½ cups moong dal, soaked for 4 hours
1 tsp green chilli-ginger paste
¼ tsp hing
½ tsp saunf
Salt to taste
Other ingredients :
Oil for deep frying
Method :
For the kanji :
Mix all the ingredients and crush it to a fine powder.
Mix this powder in 1½ litres of water. Afterwards cover it and keep refrigerated for 24 hours and allow all the flavours to mix.
For the vadas :
Drain and grind the moong dal to a course paste by using a little water.
Put the saunf, chilli-ginger paste, hing and salt and mix it properly.
Make your hands wet and take 2 tbsp of the dal paste on your palm or on a sheet of wet plastic and shape into a circle of 25 mm (1″) diameter.
Repeat the same procedure for the remaining paste.
Deep fry in hot oil till vadas turn golden brown in colour.
Drain on absorbent paper and keep it to cool.
How to proceed :
Soak the fried vadas in water for 1 hour.
Press each vada lightly between your palms to drain and squeeze out the excess water.
Place the vadas in the kanji and allow them to soak for at least 1 hour.
Serve chilled.