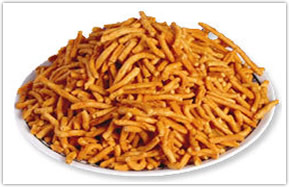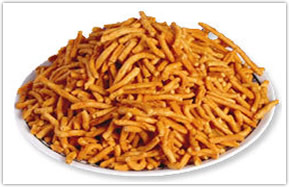 Ganthias
Ingredients:
500 gms besan
1 tsp papad khar
1½ level tsp salt
2 pinches asafoetida
1 tsp coarsely powdered black pepper
1 tsp ajwain
8 tbsp oil
oil for deep frying
For the ganthia chutney
1½ teacups sliced green papaya
1½ teacups slit green chillies
3 tbsp oil
½ tsp mustard seeds
a pinch asafoetida
3 tbsp besan
salt to taste
Method:
Heat 1 teacup of water in a vessel, put the papad khar and salt and boil until the solids dissolve.
Sieve the besan and put the asafoetida, pepper powder, ajwain and oil.
Rub the oil into the besan thoroughly.
Put the salt solution and a little extra water to make a soft dough.
With the help of a ganthia jhara (special perforated ladle), press a little batter at a time into the hot oil and deep fry for 1 minute.
Repeat the same procedure for the rest of the batter.
Ready to serve hot with ganthia chutney.
For the ganthia chutney
Heat 2 tbsp of oil in a vessel and sauté the mustard seeds.
Put the asafoetida, papaya and green chillies, ¾ teacup of water and salt.
Cook for 2 minutes. Apply the remaining oil to the gram flour and rub properly. Sprinkle this besan on the papaya and green chillies mixture.
Cover and cook for 5 minutes. Mix properly.
Ready to serve.