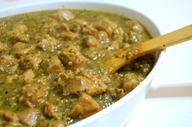 You can publish this article on your website as long as you provide a link back to this page.
This article was last updated on April 16, 2022

Mexican Authentic Chili Verde
Ingredients:
1/4 cup vegetable oil
2 large yellow onions
6 lbs cubed pork stew meat
fresh ground pepper , to taste
1 tablespoon ground cumin
6 cloves garlic , minced
1 tablespoon sea salt
4 fresh jalapeno peppers , seeded and chopped
2 yellow bell peppers , seeded and chopped
4 1/2 quarts chicken broth
8 fresh poblano chiles , seeded and chopped
1 cup cilantro leaf , coarsely chopped
3 lbs fresh tomatillos , husks removed
Preparation:
In a large stock pot over high heat sear the pork in the vegetable oil until browned. Remove the pork from the pot, reserve 3 tablespoons oil in the pan. Saute the chopped onion and garlic seasoned with salt and pepper in the reserved oil until onions are tender. Add the cumin, then stir in pork and chicken stock. Simmer for 1/2 hour. Add in poblanos, jalapenos and bell peppers. Puree the tomatillos and cilantro in a blender, and add them to the pot. Cook for an additional 30 to 45 minutes. Serve with Mexican/Spanish rice and refried beans.