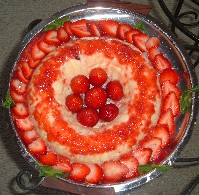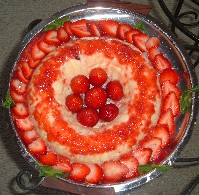 Vanilla Mousse with Strawberry Sauce
Ingredients :
For the mousse :
5 teacups milk
28 tsp sugar
14 tsp china grass cut into
small pieces
2 tsp vanilla essence
200 gms fresh cream
For the strawberry sauce :
1 teacup fresh strawberry puree
2 tsp cornflour
8 tsp sugar (approx.)
juice of ½ lemon
1 tsp butter
Method :
For the mousse :
Boil the milk with the sugar.
Combine the China grass in 1 teacup of cold water and stir on a slow flame until it get dissolves completely.
When the China grass is completely dissolved, put the boiling milk and boil for a further 2 minutes.
Strain the mixture and cool to a lukewarm stage. Beat the cream.
Put the beaten cream and the vanilla essence and stir well.
Pour into wet fancy moulds and allow it to set in the freezer compartment of a refrigerator.
Chill completely. Just before serving, loosen the sides with a sharp knife.
Invert on a plate.
Serve ice-cold with strawberry sauce.
For the strawberry sauce :
Combine the cornflour and sugar in 1 teacup of water.
Allow it to cook and keep on stirring until the sauce is thick and clear.
Remove from the fire. Put the strawberry puree, butter and lemon juice and mix well.
Allow the sauce to chill.